A legend in the business of sportbike crash protection, Shogun frame sliders are well known for their ability to reduce damage to your motorcycle and come at a reasonable cost. Using their proprietary composite slider element construction, Shogun sliders help prevent scrapes, dents and cracks to your motorcycle's frame, engine cases and bodywork by withstanding impact energy and holding your bike's frame away from the pavement as it slides. All Shogun frame sliders are precision machined for an exact fit and simple installation. For most bikes, we have these frame sliders available in your choice of either black or white slider elements.
Shogun Frame Sliders are not yet available on our website. To order a set for your bike, call MIKE at 866.931.6644 ext 804. If you prefer email, send a note to FORUM at RIDERSDISCOUNT dot COM with SHOGUN ZX10R FRAME SLIDERS in the subject along with the model and year of the motorcycle you ride and we'll get back to you right away.
Available in black or white for most late-model sportbikes.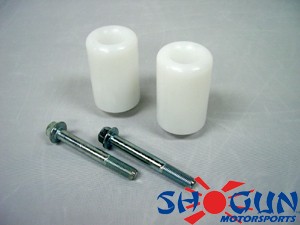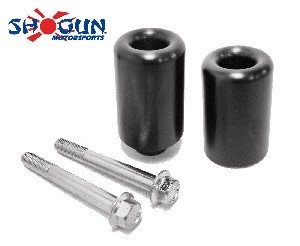 Kawasaki Ninja frame sliders.