Discussion Starter
·
#1
·
Now you can enjoy a ride through the rain without the need to feel like you're wrapped in layers of heavy, damp towels with an Elite Series II Rainsuit from Tourmaster. In the not-so-distant past, motorcycle rain gear that fit over regular riding jackets seemed like they had a lot in common with garbage bags: they were made with crinkly plastic, tore easily and often felt like a sweat box because they weren't designed so much to keep you dry as they were to keep water out. This piece of Tourmaster rain gear is nothing like that, starting with a full-length mesh liner on the inside that improves air circulation and prevents the rain suit from sticking to your skin. Air scoops on the front chest pocket and under the arms can be used to allow extra air to come in and keep you cool when the rain isn't coming down in droves, however, you probably won't sweat too badly to begin with since the nylon shell itself is more like a heavy duty wind breaker rather than a plastic bag. A zipper runs from the crotch all the way up to the neck making it easy to get into or out of this motorcycle rainsuit. There's also a clever hood which can be tucked up under your helmet to keep the rain from driveling down your neck and onto your back. Be prepared by having this rain suit tucked away with your bike!
We have these rain suits in a variety of colors and sizes to suit your needs – you can order either by
going to our website
or simply by calling TJ at 866.931.6644 ext 817 for expert sizing guidance and fast shipping. If you have any questions, you can also send us an email – FORUM at RIDERSDISCOUNT dot COM is the address with RAIN SUIT in the subject line and we'll get back to you right away.
All Tourmaster Elite II Rain suits have 3M retroreflective piping on the upper area so other road users can spot you more easily in poor conditions.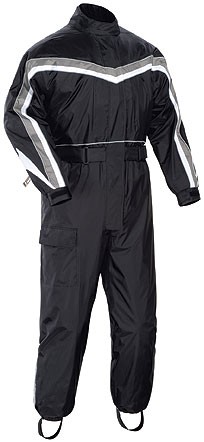 In addition to the loops that go under your feet, straps at the waist and at the end of each arm help you keep the suit closely fitted to your body.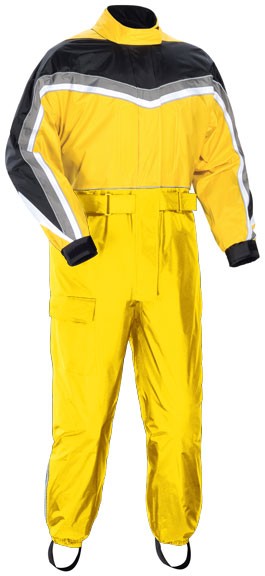 Our favorite feature – Tourmaster's patent-pending Aqua-Barrier helmet hood. This stows out of the way when not in use, but can be a lifesaver when the rain is cold. If you've ever had freezing water dripping down your back, you know what a lifesaver this can be!