Discussion Starter
·
#1
·
Spidi XP3-S boots bridge the gap between their high-end Spidi XP7 race boots and the X-One street boots. XP3-S boots are ideal for the rider who wants an excellent balance of road racing protection in a more flexible all-around type of boot. To do this, its outer shell is fabricated from a combination of leather, polyurethane and Lorica to provide impact absorption and abrasion resistance. These materials were chosen not only for their protective properties, but also to impart qualities that will make the boots easily last for years of road and track riding. Abrasion resistance is looked after by a Lorica and cowhide outer shell that is sewn together using multiple rows of stitching in all critical seams. This is assisted by lashings of hard plastic protectors that cover the heel, outer ankle and the shin. Up front, a large stainless steel toe slider (which can be replaced when worn down) guards the toes from pavement impingement and adds a degree of crush protection too. A flexible swatch of plastic is married to the area above the toes to keep even the gnarliest of toe pegs from wearing through the leather.
What we really like about these boots, aside from the aforementioned protective properties, is the level of comfort they provide. A three-dimensional mesh liner is used throughout the boots' interiors. On one side of this will be the foot while in certain high-impact areas, a shock absorbing polyurethane material is appropriately positioned on the other side. This is further aided by the hard plastic exterior armor to provide reliable impact protection. Still, the boot is not rigid to the point that it's difficult to walk around the paddock or the streets and the vulcanized rubber sole delivers no-slip traction rain or shine. Getting into the boot is simple too, with a zipper that runs along a protective gusset on the inner-facing side, the boot opens wide to allow your foot easy access. To help keep water out, most vents are located on the back of the boot.
These
Spidi XP3-S boots
are also CE Level 2 certified for cutting and impact protection. They're available in three different colors schemes as well, the white/black you see here, solid black and red/black.
For more information, call Mike at 866.931.6644 ext 804 or send a note to FORUM at RIDERSDISCOUNT dot COM with SPIDI XP3S BOOTS in the subject line and we'll get back to you right away.
Spidi XP3-S boots come in black/white (shown), red/black or solid black colors.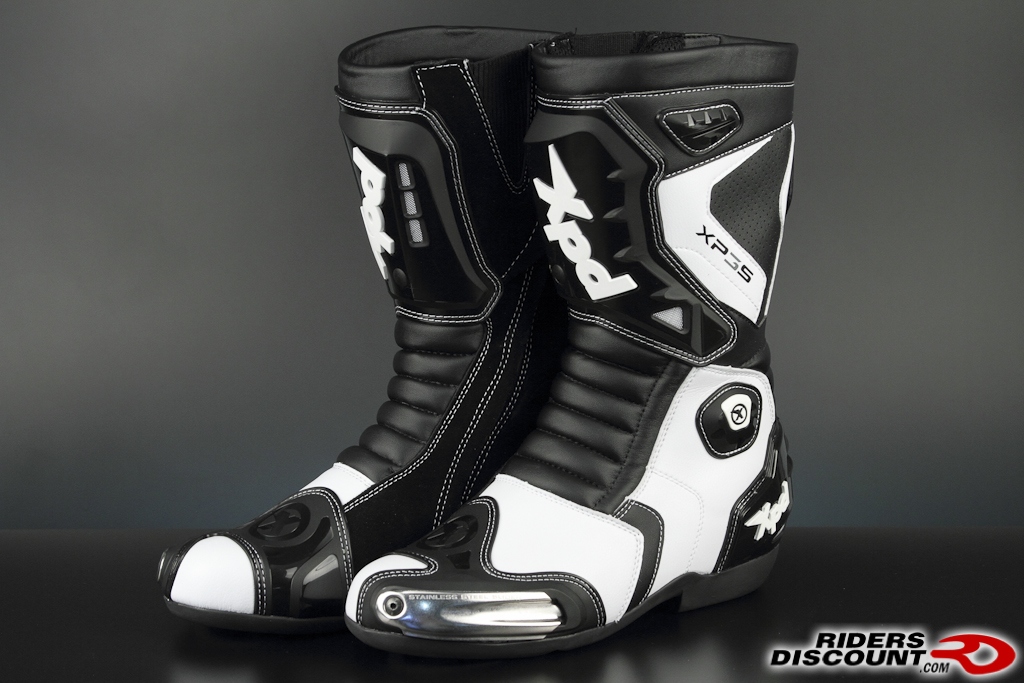 Because these boots are designed with real-world performance in mind, the perforated microfiber is located mostly on the rear half of the boot's upper. This helps to prevent water intrusion while at the same time promoting cooling efficiency.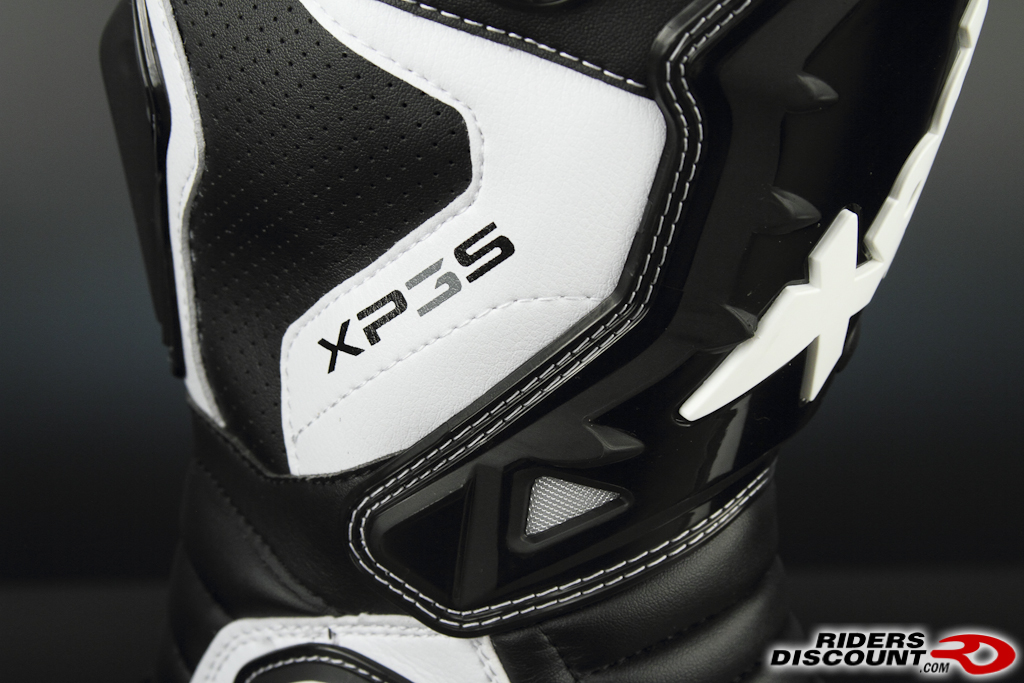 Ventilation performance is further aided by five sets of screened vents that are molded into the polyurethane protectors on the upper and back sides of each boot.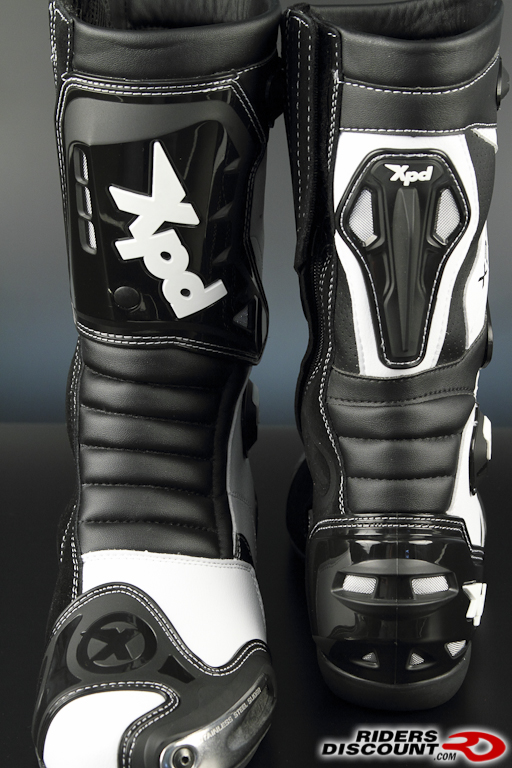 The side of the boot that faces the motorcycle is almost entirely covered with a 2.2mm layer of suede. This not only eases movement against the bike, but it also acts as insulation against engine and exhaust heat.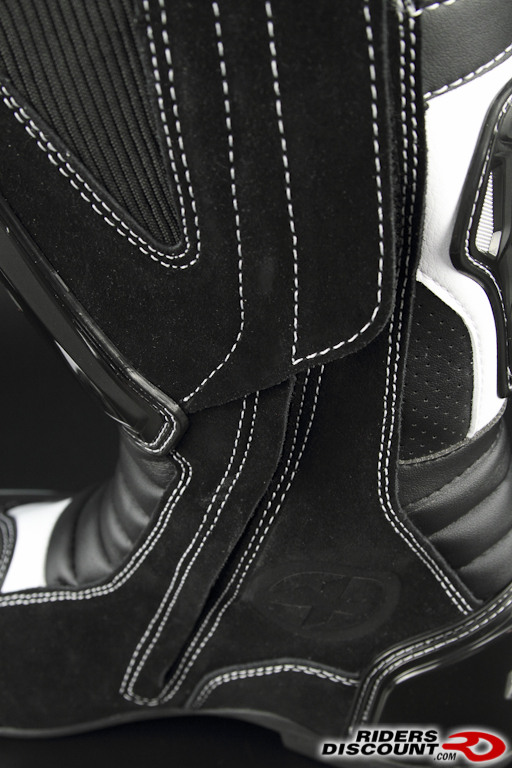 Each footbed is made with multi-density materials to ensure a comfortable place for your feet. The Air Tech arch support design and three-dimensional inner mesh liner keep moisture and sweat in check while you ride.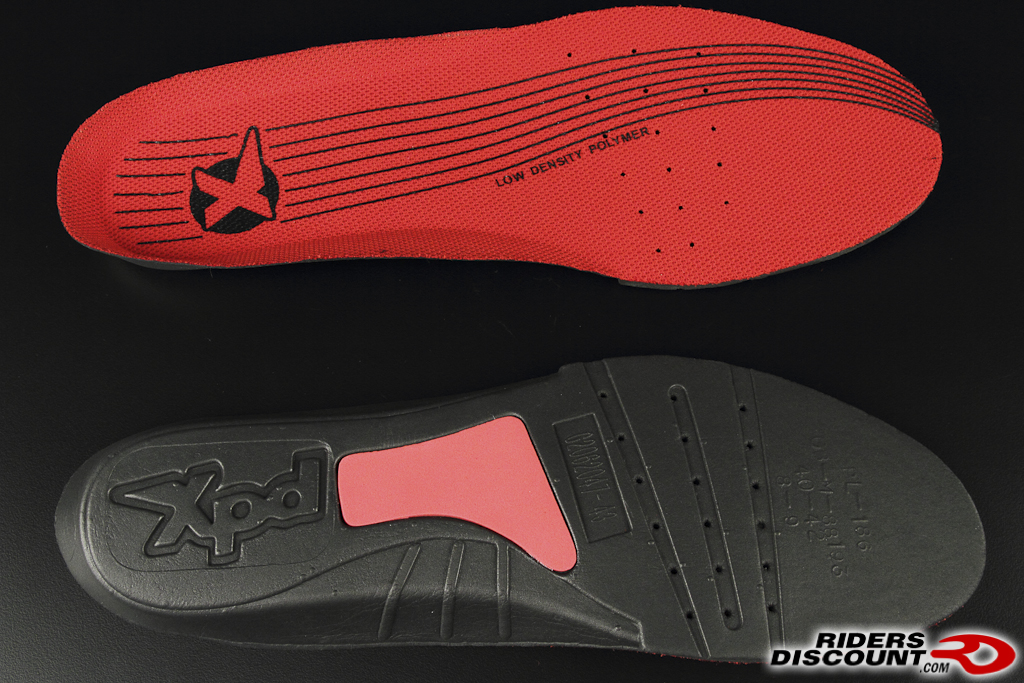 In the interest of preserving the upper toe box's integrity, especially on the shifter side, a durable, yet flexible plastic cover keeps the leather intact. Another feature that isn't standard on many riding boots (but should be for those that corner low), stainless steel toe sliders come with the XP3-S, straight out of the box.