Discussion Starter
•
#1
•
Spidi Carbo Six leather gloves were developed in conjunction with some of the best riders in the world for maximum feel and safety. Each glove is assembled using a combination of 70 different swatches of leather that are held together in strategic areas using Keramide synthetic fibers. Clarino microfiber is also used just behind the outer fingers of the palms because, unlike leather, it retains grip even in wet conditions. This makes controlling the bike easier in poor riding conditions. Keramide thread - which is derived from the same fibers as used in Kevlar, is employed to assemble areas of the gloves that are most likely to come into contact with the ground in a hard impact. External hard armor in the form of carbon fiber and steel-mesh protectors, can be found in all the right locations on the exterior of the glove including the ulna, knuckles and the back of the hand. Each of these protectors is designed not only to attenuate impact forces, but also improve abrasion resistance and prevent the glove from catching on the pavement in a sliding type of crash.
These gloves do run a bit small, so we recommend that you talk to us before ordering. For more information you can read about these gloves
on our website
and then call Mike at 866-931-6644 ext 804 or send an email to FORUM at RIDERSDISCOUNT dot COM with the subject SPIDI CARBO SIX GLOVES in the subject line along with the size and color you want and we'll get back to you right away.
Spidi Carbo Six gloves are available in three different colors: white, red/white/black or black.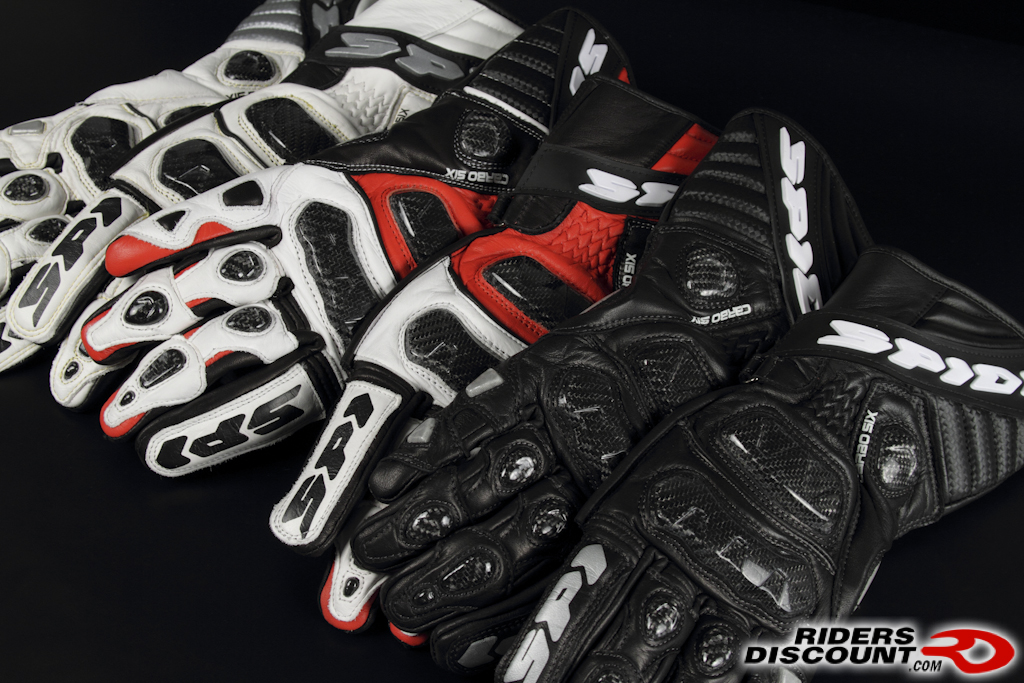 Palms are reinforced in key areas for abrasion resistance and a sure grip on the bars. Notice also the Clarino leather pad just behind the pinkie, ring & index fingers.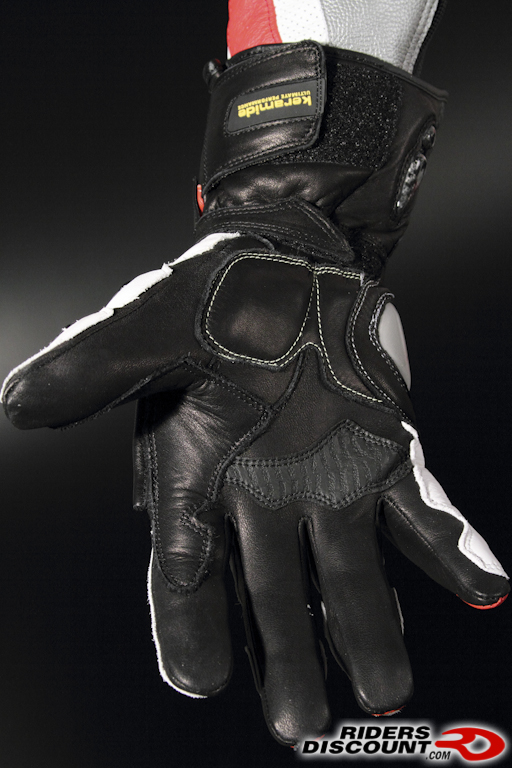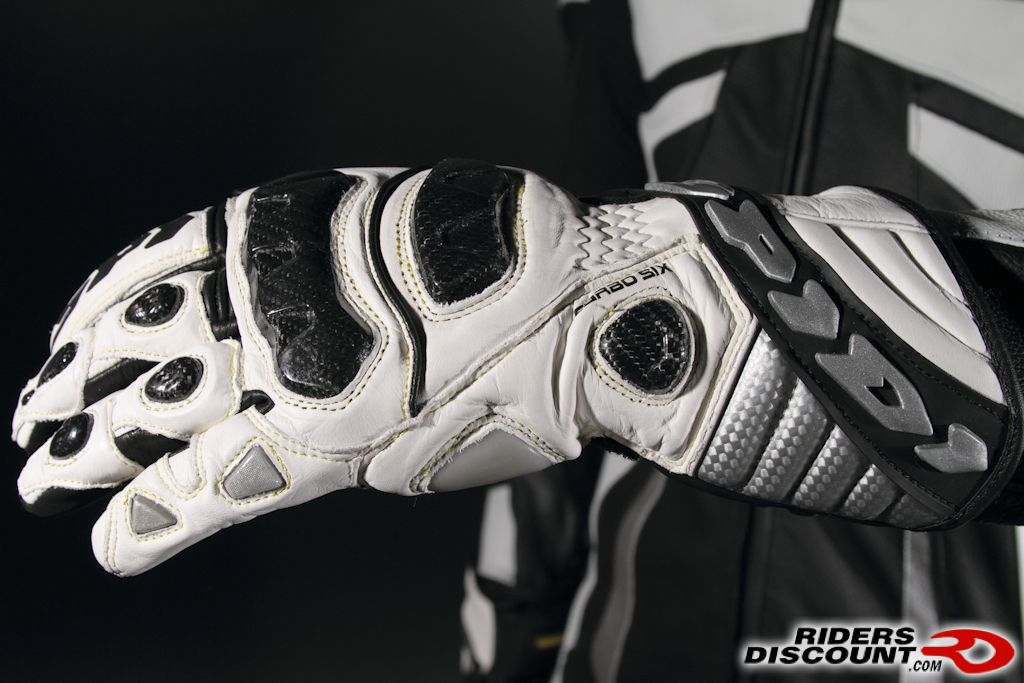 On the side of the glove that's most likely to come into contact with the ground in the event of a crash, steel-reinforced plastic sliders have been installed. These are designed to allow the glove not only to withstand the slide, but they also disperse impact forces and just as importantly – prevent the gloves from catching on the pavement.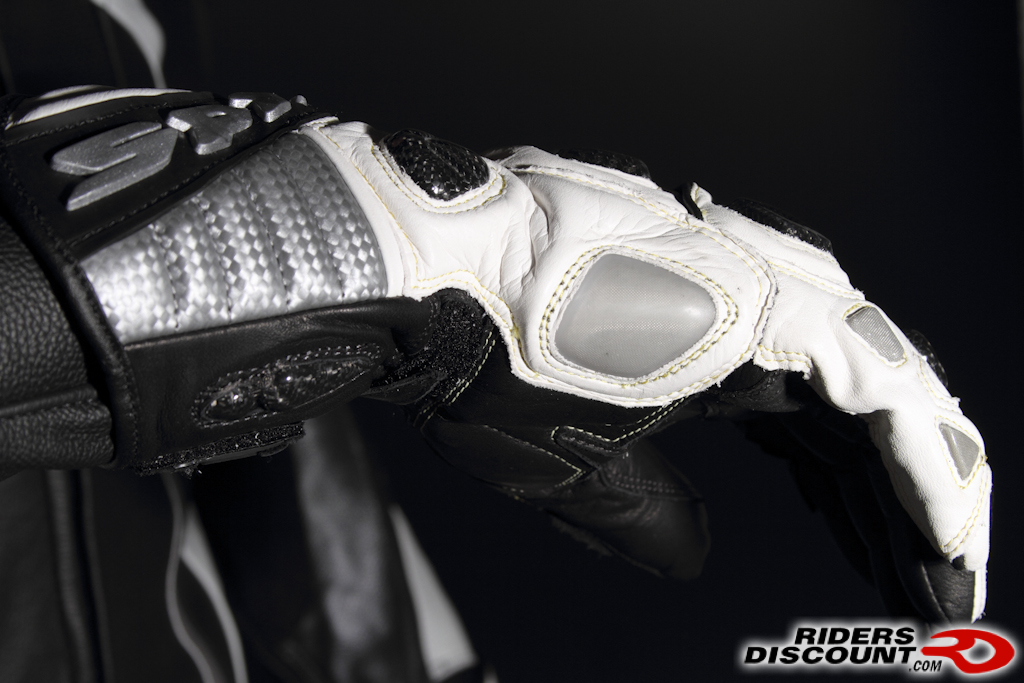 We counted eleven separate carbon fiber protectors on Spidi Carbo Six gloves.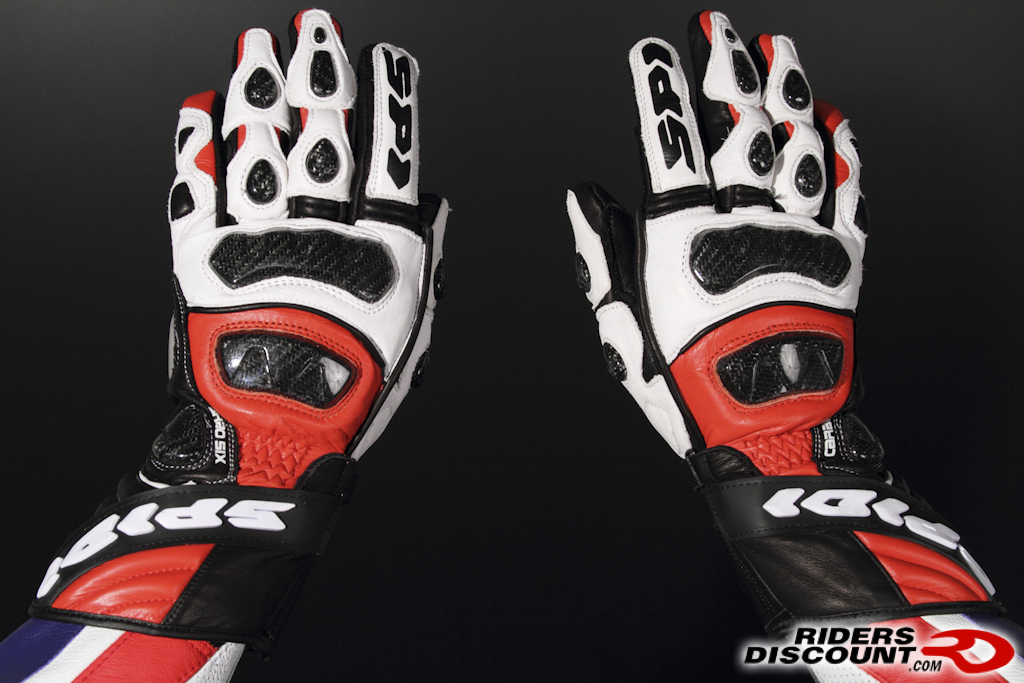 Suprotech impact-absorbing padding is placed under each piece of hard external armor. This silicon-based material arranged in several layers so it is flexible and easily conforms to the shape of hand below.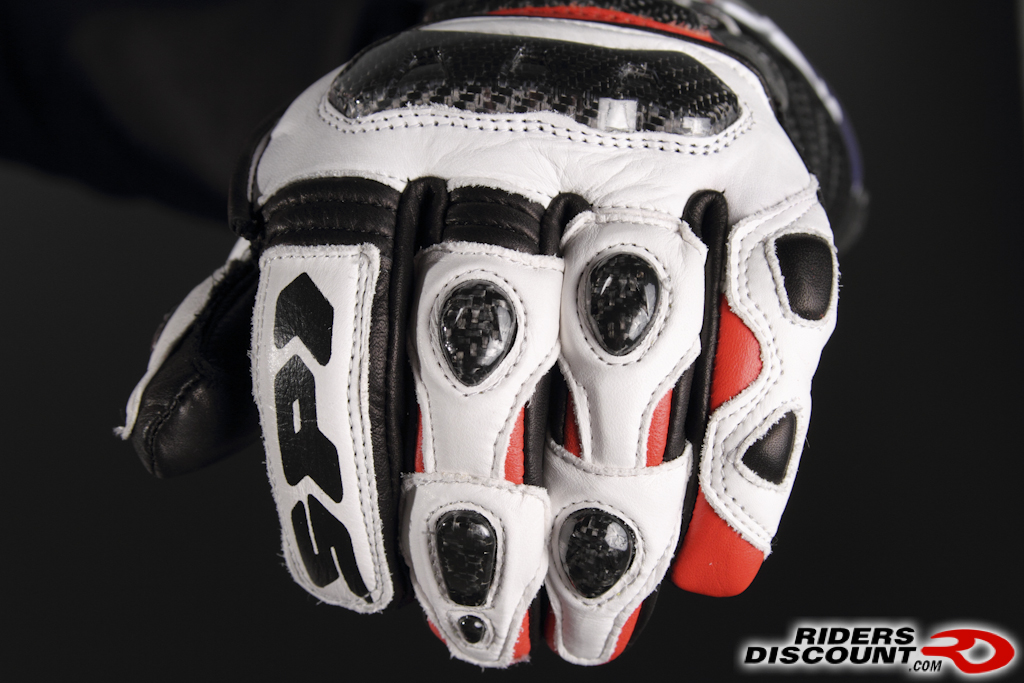 In addition to the pieces of hard armor on each side of the Carbo Six glove, extra layers of leather are sewn in place to add even more abrasion resistance. If you look closely between the black leather used on the thumb and the white leather for the knuckles, you'll see a "roll" of leather protruding form the side of the glove. A seam is buried under this roll of leather for extra safety.