Save weight and get an accurate air/fuel reading on your bike when it's on the dyno or when using an aftermarket auto tune system with these Smog Block-Off Plates from Graves Motorsports. These AIS-removal plates allow you to easily delete the air induction system on the cylinder head of your motorcycle, thus eliminating emissions equipment that would otherwise make it difficult for your engine tuner to produce an accurate (and more powerful) fuel map. By removing all of the AIS plumbing, you'll clean up the area below the airbox as well. All kits include easy-to-understand instructions and all the required hardware to complete the job.
Available for all ZX10R models and years.
These are not available on our website, call Mike at 866.931.6644 ext 804 to get yours shipped fast. If you have any questions send us an email: FORUM at RIDERSDISCOUNT dot COM with GRAVES SMOG BLOCK OFF PLATES in the subject line and we'll get back to you right away.
CNC-machined plates cover the air intake ports on top of your bike's engine after the removal of the AIS system allowing the most accurate fuel map to be made.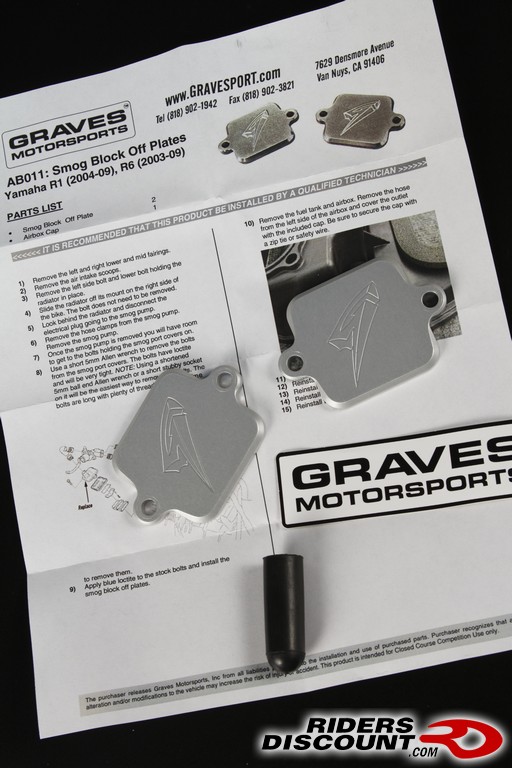 Simply re-use the OEM hardware. Your dyno tuner will thank you as your bike will produce a more accurate A/F ratio reading. As a result, your bike can be made even more powerful!