Protect your toes from getting caught between the swingarm and rear sprocket with a shark guard from GB Racing components. This simple-to-install device could literally be the difference between a minor crash from which you get up and ride away or major surgery to repair mangled or missing toes. This is cheap insurance for any motorcyclist! Some bikes even come equipped with bungs for attaching a chain guard while others require drilling and tapping the swingarm to install. Made from the same long glass filled nylon as used in other GB Racing components, this shark guard is strong, very rigid but still surprisingly light.
Unlike shark guards from other manufacturers, GB Racing has added a "fin" to the aft-facing side of their unit so that it can be mounted even closer to the drive sprocket. This increases safety without getting in the way of most common paddock stands or swingarm sliders.
GB Racing shark guards are not yet available on our website – call MIKE at 866.931.6644 ext 804 for more information. You can also email us with any questions you have – send those to FORUM at RIDERSDISCOUNT dot COM with SHARK GUARD in the subject line and please be sure to include the model and year of your motorcycle for accurate availability.
All required hardware is included with each GB shark guard. For models already equipped with bungs for attachment, GB produces exact-fit models that require no drilling or tapping of the swingarm to install.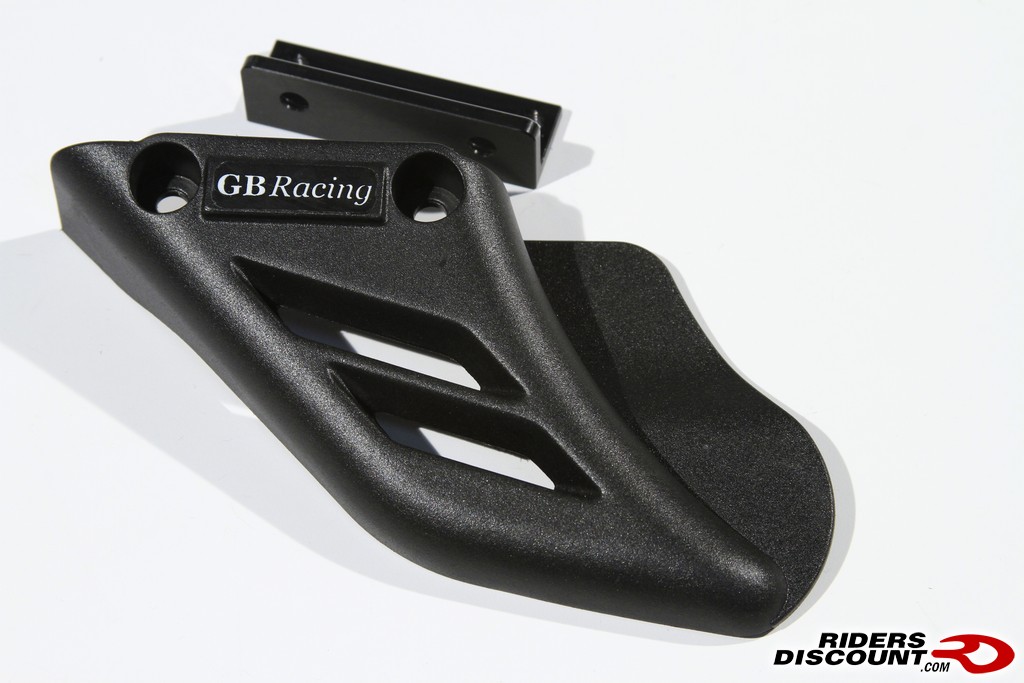 We installed a GB toe guard on our Daytona 675 project bike. Notice how the fin on the aft side lays very close to the chainwheel to provide the best protection possible.