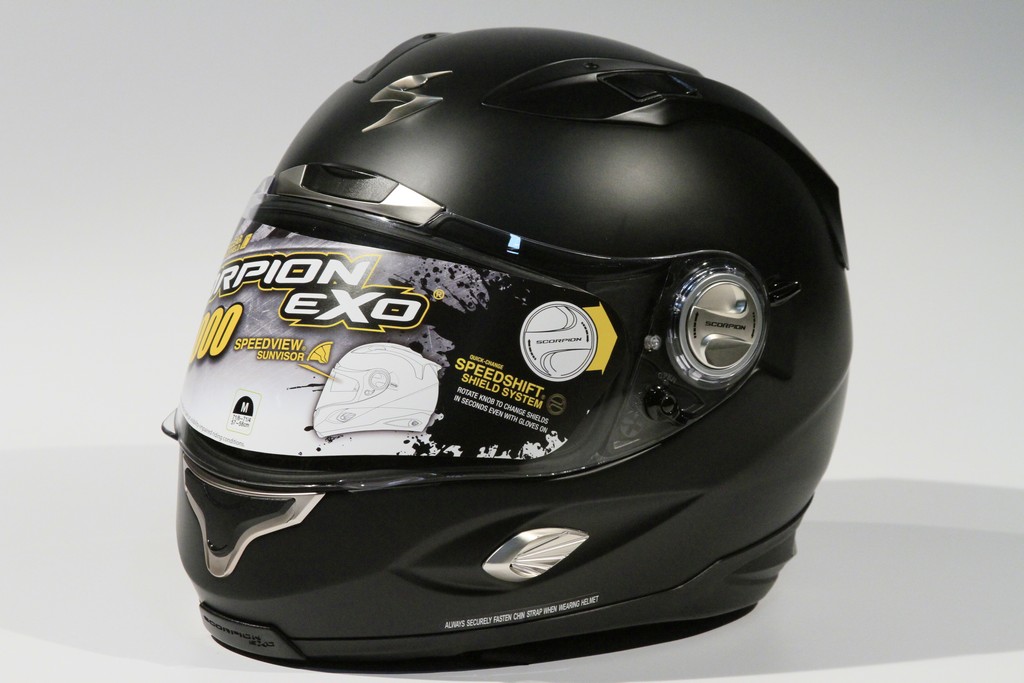 5
The EXO-1000 helmet from Scorpion brings to the world its unique AirFit inflatable cheek pad design for a truly custom fit without the need to fuss with various cheek pads or send your helmet off to a specialist to get it perfectly sized. The system uses a pneumatic pump that can be inflated by the user after putting on the helmet so the cheek pads mold themselves around the face. It's a pretty slick design and it provides a secure fit, every time. The composite shell is made with a fiberglass/Kevlar construction, so it passes Snell and DOT certifications for road use. A fully adjustable ventilation system front and rear is easily used with gloved hands to keep you cool on hot days. Further aiding in convenience, the Scorpion EXO 1000 helmet has an integrated SpeedView retractable liner which negates the need for you to carry an extra smoked shield with you, so you're always ready for the ride, day or night. A fully removable KwikWick liner is designed not only to be washable, but it also does an excellent job of removing moisture from your head, furthering hot weather comfort.
Scorpion EXO-1000 helmets are available on
our website
or simply by calling TJ at 866.931.6644 ext 817 for expert sizing guidance and fast shipping. We have a wide variety of colors available in addition to the solid matte black shown below. For further enquiries, send an email to FORUM at RIDERSDISCOUNT dot COM and please be sure to specify what size you need and the color you want for accurate availability.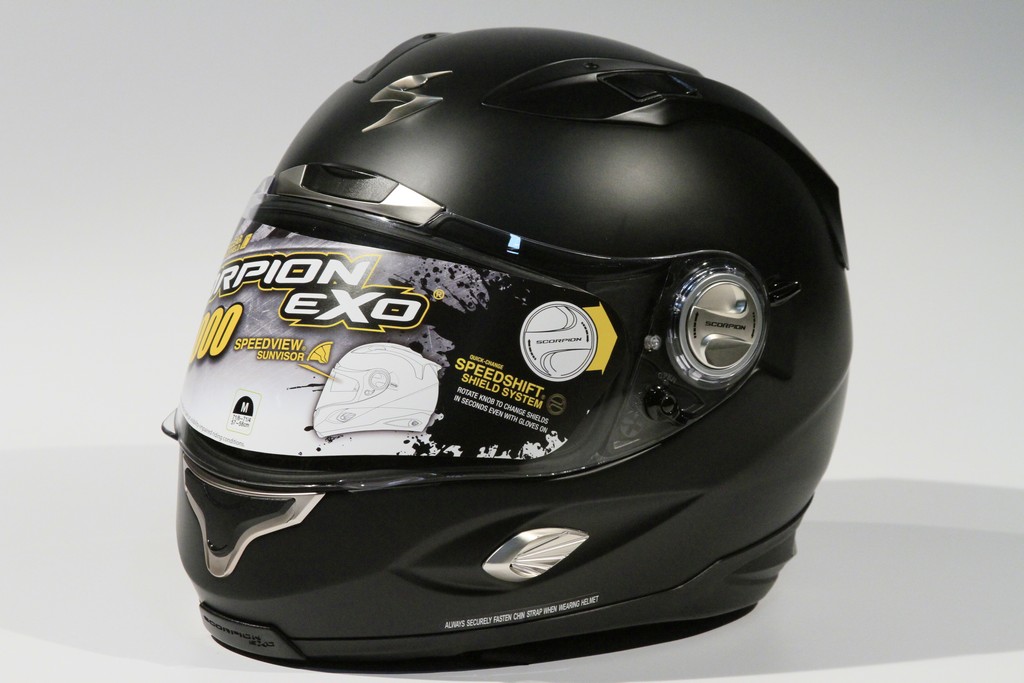 The AirFit inflatable cheek pad system is controlled by the two valves seen here on the inside of the chin bar. The large red button is used to pump up the cheek pads while the small silver button deflates them. All this can be done quickly when putting on, or taking off the helmet.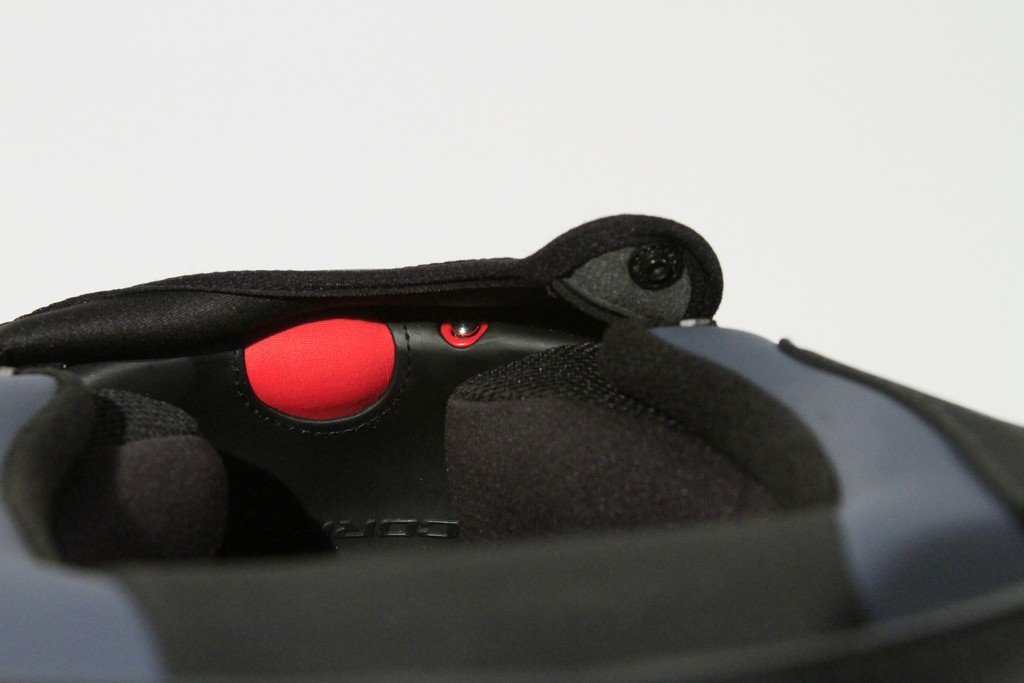 User adjustable ventilation can be found on the chin, forehead and on top of the head as well as on the back of the helmet.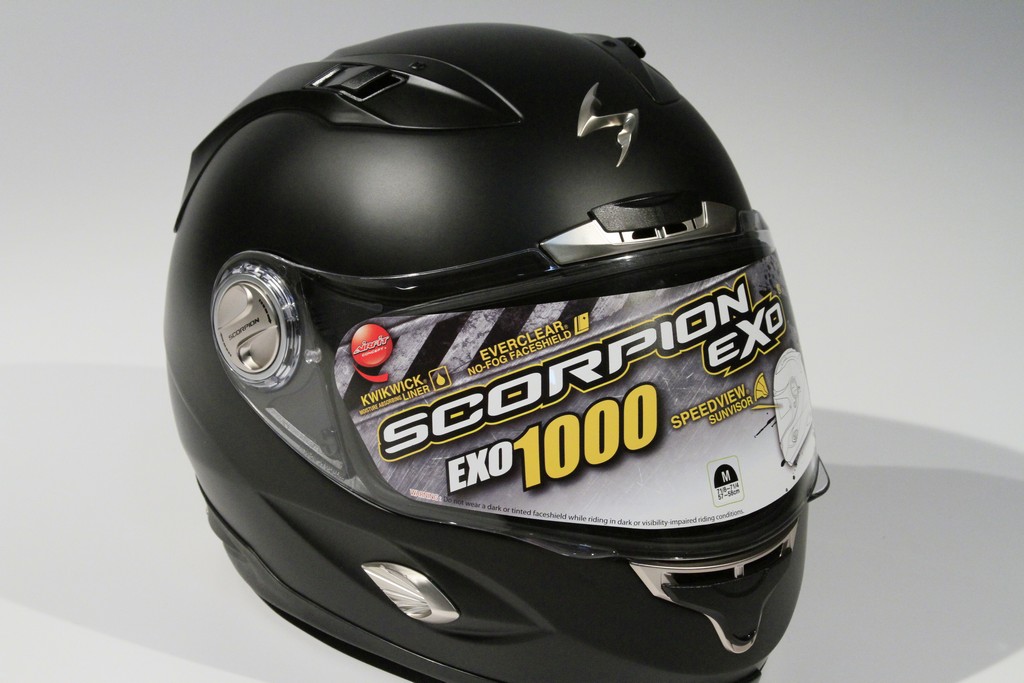 Notice the lower front and rear side vents – these rely on air passing by the helmet at speed to draw air from the inside out to the atmosphere, keeping you cool in the process.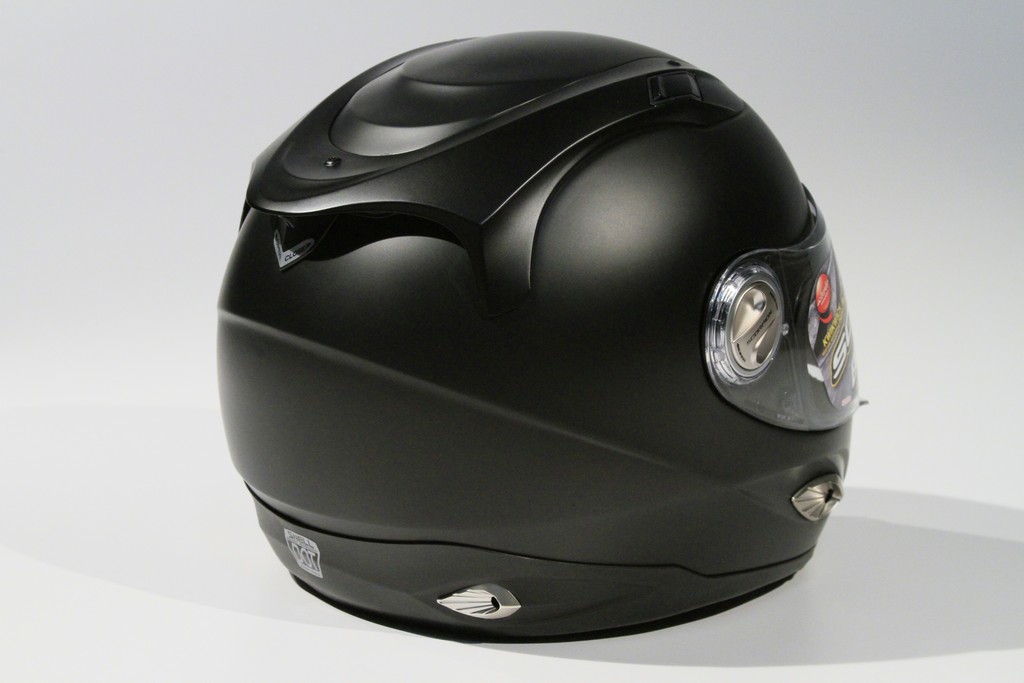 With the quick-change visor flipped up, you can see the SpeedView retractable sun shade deployed. By negating the need to carry an extra visor, this one feature is quite convenient for those of you that like to pack light.