The rLiNK motorcycle security system from Scorpio is the most advanced and user-friendly system we've seen to date yet it's simple enough for anyone with a basic understanding of motorcycle maintenance to install. Scorpio has been in the business of building motorcycle alarms for quite some time but this system in particular is unique because it offers you the ability to observe your bike's movements from ANY computer with internet access thanks to a GPS receiver/transmitter that's installed on the bike. But it's more than just an alarm system, the device also allows you to keep track of where you've ridden through interactive maps (which can be automatically uploaded to Facebook and Twitter if you wish) which gives you segment times, provides a virtual odometer, top speed and much more! It even includes a rider down notification system that will alert a pre-designated emergency contact under certain "rolling accident" conditions when you're in trouble. All of these features can be accessed and controlled either with a compatible mobile phone or by using the rLiNK website. GPS theft tracking is free for the first year upon activation ($59.95 through rLiNK's website). You must purchase a monthly subscription to use all of the other GPS services for a mere $9.95/month. Still, when you think about, that's a small price to pay when compared to the deductible on most insurance plans, let alone the additional features mentioned above.
Once you've installed the Scorpio rLiNK on your bike, the system works using RFID technology to automatically arm/disarm the alarm system based upon the presence of the included key fob. You can also control the alarm manually with the push of a button like a conventional car alarm. When armed, if anyone bumps, moves or starts the bike, the system will automatically send you an SMS and email alert at which point you can go to a computer (or smart phone) and see exactly where your bike is and decide what to do from there.
Optional accessories include a perimeter sensor that alerts you when someone gets near the bike. Perimeter sensitivity is adjustable based upon your needs. There's also a 120db "smart siren" which can be programmed to act in different ways depending on what's going on around the bike. For example, you can set it to chirp if someone gets near as a warning. The siren also has its own battery backup. Finally, you can add an ignition disable kit which will not allow the bike to start when the system is armed.
In the event your bike is actually stolen, it is possible to send law enforcement access to a special emergency account so that they may also track the location of your bike. Even in an actual theft event, should the battery be disconnected, the rLiNK's own battery backup system will store over 1,000 position reports on its own flash memory and transmit them automatically to your account.
The rLiNK system comes with a universal fit installation guide that works with any bike that has a battery and an ignition switch. We also have an optional OEM adaptor harness which allows true plug and play installation available for most late-model motorcycles.
This system works
ONLY
in Canada and the USA.
While we've yet to add Scorpio rLiNK products to our website, you can call Mike at 866.931.6644 ext 804 to order this system today. Shipping in the contiguous 48 states is always free and if you have any questions, you can send an email to FORUM at RIDERSDISCOUNT dot COM with RLINK in the subject line along with the bike you ride and the extra equipment you want (siren, perimeter sensor and/or ignition disable) and we'll get back to you right away.
The heart of the rLiNK system. From top clockwise: main control unit with GPS receiver, RFID module and remote transceiver key fob. Unless you're using the manual arm/disarm function, you can keep the remote in the pocket of your favorite motorcycle jacket for hands free operation.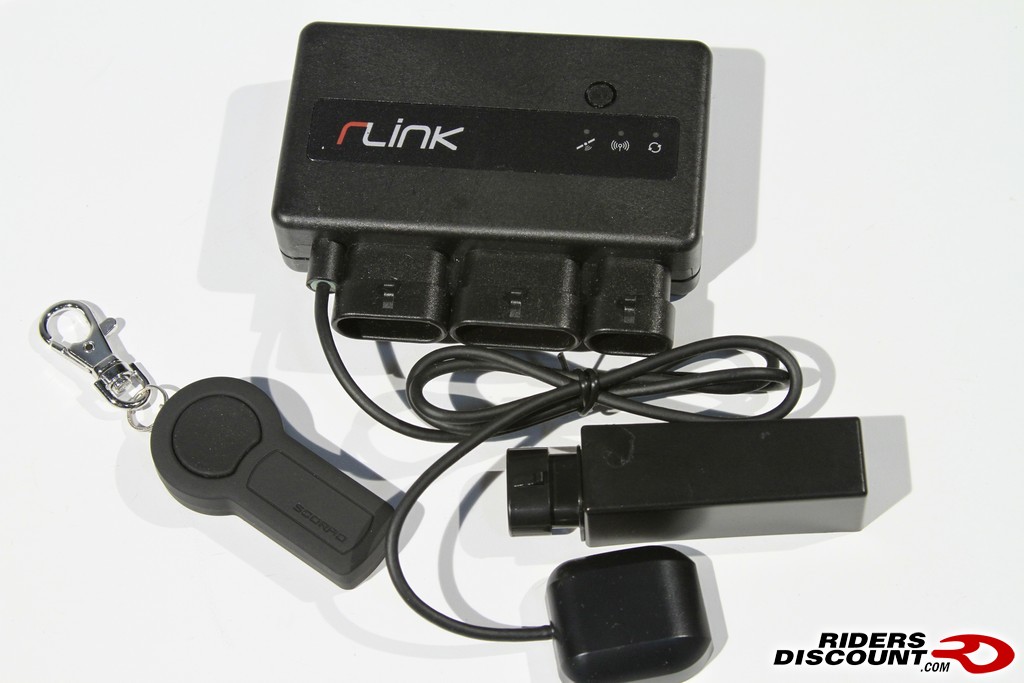 A model-specific wiring harness is available for most late-model motorcycles. While it's not required, this makes installation a snap.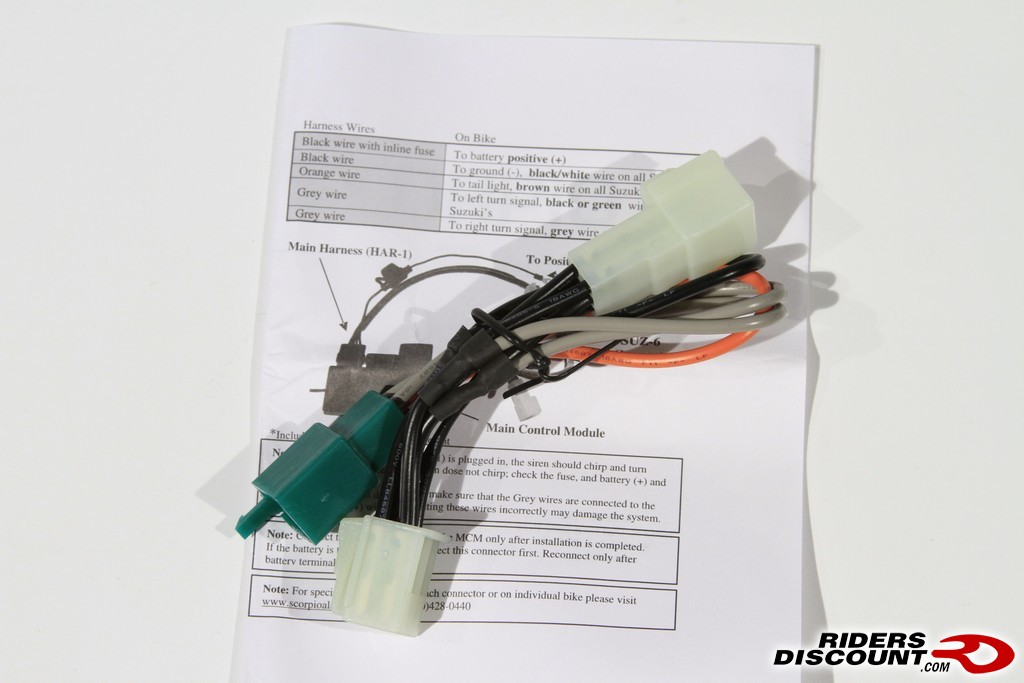 Optional perimeter sensor is small and lightweight. Scorpio recommends that it be installed under the seat the seat of most applications.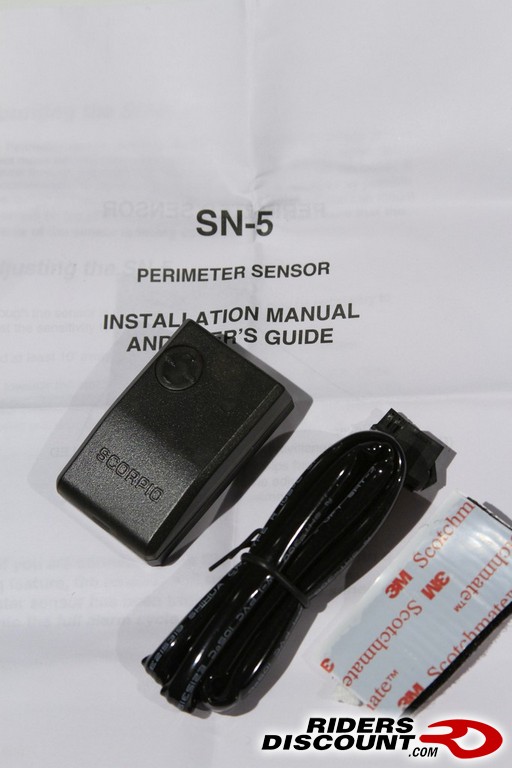 Here you can see the entire basic Scorpio rLiNK alarm system with all the included accessory harnesses. This system will work not only on your motorcycle, but ATVs, snowmobiles and personal watercraft can also take advantage of this system with the universal installation adaptor seen in the lower left corner of this picture.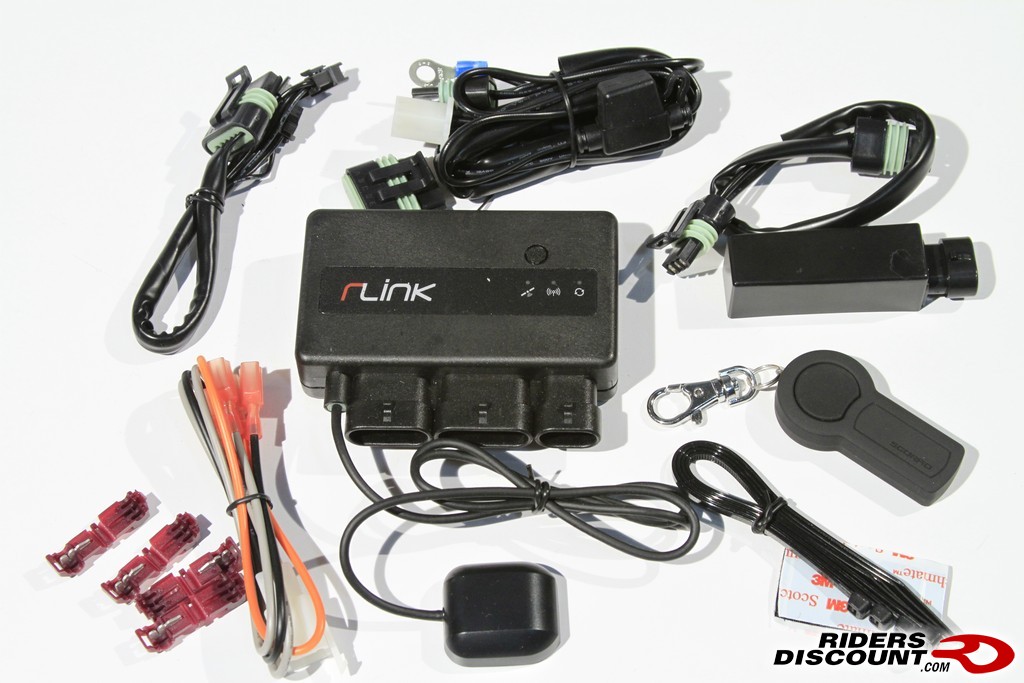 This shot gives you an idea of the home screen interface provided by rLiNK after activation. With this system you can look at your previous rides over the last year, control account settings and keep a close eye on your bike even when you're on the other side of the planet. A really cool feature allows you to setup a geofence anywhere which will send you an email/SMS alert when the bike enters or exits any area you designate.

The iPhone interface is simple to use as well and allows access to just about every feature that you have on the desktop computer interface.