Discussion Starter
·
#1
·
I know this has been done before, but I think I went a little more in depth. This will be my first attempt at a how to so bear with me. This install for the Rifleman 1/5 was done on my baby, a 05 ZX10R. I cannot tell you how long it will take to install it as I was documenting and taking notes. I will try to attempt to go step by step with pictures all the way to simplify the whole process. Just so you know, this will not be a simple take apart the throttle and put it back together, it will take some time. I wrote this article so that anyone that does not have that good of a mechanical knowledge should be able to follow it.
REMEMBER ALWAYS READ THE WHOLE ARTICAL FIRST, AND AS ALWAYS IF YOU DO NOT FEEL COMFORTABLE DOING THE INSTALL… DON'T DO IT
When I show you how to get to the second locking nut, it would be a good time to check your spark plugs, change your air filter, remove secondary butterflies, and put in your block off plates. Look at that, killing 5 birds with one stone.
One more thing, you will hear me refer to Drivers side and passenger side. I am not talking about rider and passenger on the bike. It is just to let you know where on the bike as if you had the same orientation to a car.
First you will need to gather all the necessary tools to complete the job.
Here are the tools that I used:
Dremel with cut off wheel and grinder
Screw drivers one long flat head and One Power Philips head
Allen wrenches. Sizes T Handle 3mm, 4mm, and 5mm and 8mm. One L shaped one 8mm
Dikes
10mm socket and Ratchet
One rubber tie down
One rear wheel stand
And of course the Rifleman 1/5
Here we go.
This is my baby in all its glory.
It is best to use a rear stand for stability
I started with the teardown of my throttle. There are two Philip head screws on the back side.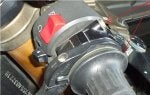 Here is a better view from the back.
I also took the bar end off to make the throttle easier to move so I could work on it better (8mm). I had to use the L shape Allen wrench to break it loose but I used the Allen T wrench to tighten it.
After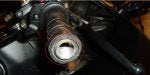 You will need to slip the throttle housing dust cover off so the two pieces will come apart. (Sorry so dirty, I did not realize it until I took the pics)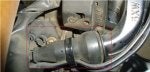 Like so