The 6900 motorcycle gear bag from Ogio provides everything you need with no excess baggage – perfect for your leathers, helmet, boots and gloves. Ogio's legendary bag construction is designed not only for convenience, but longevity too. We've been more than pleased with our Ogio bags on our trips across town and across the planet because they're durable with wide-open pockets and a smart layout. So far, baggage handlers have been no match for these bags! Everything about the Ogio 6900 has a purpose: its narrow profile is designed to fit snugly between a pair of bikes packed on the bed of your truck or in your trailer. Boot and helmet pockets are ventilated, so your gear won't get too funky on the journey between your ride and home base. And all pockets are purpose built with big, reliable zippers that are easy to grab. As with all Ogio moto luggage, the number in the bag's name is its storage capacity; 6,900 cubic inches (113L) is available for all your motorcycle apparel within this particular gear bag.
These bags just became available, so they're not on our website just yet – call TJ at 866.931.6644 ext 817 to order yours today. They come in stealth black or "Diego" colors. Should you have any questions regarding this particular piece of Ogio luggage, or any of their other travel products, please send a note to FORUM at RIDERSDISCOUNT dot COM with OGIO 6900 in the subject line and we'll get back to you right away.
To help carry the 14" tall by 34.5" long by 19" deep bag, a shoulder strap comes standard. This bag is ideal for the occasional trackday rider or someone looking for one place to keep all of his gear for a quick grab and go. Of course, you can use it for your regular travel needs too.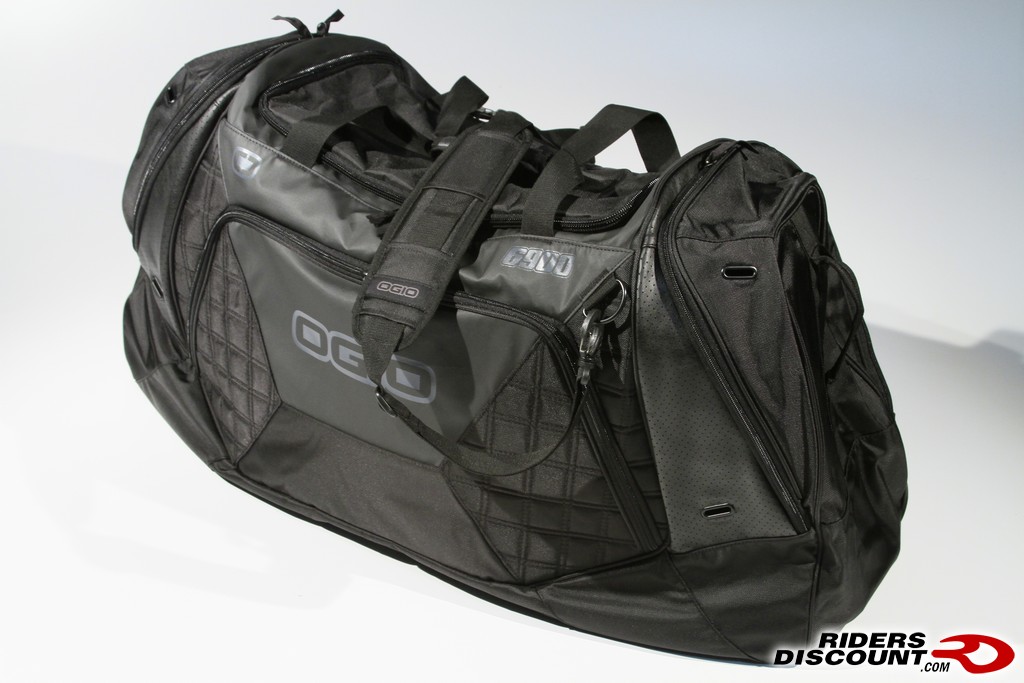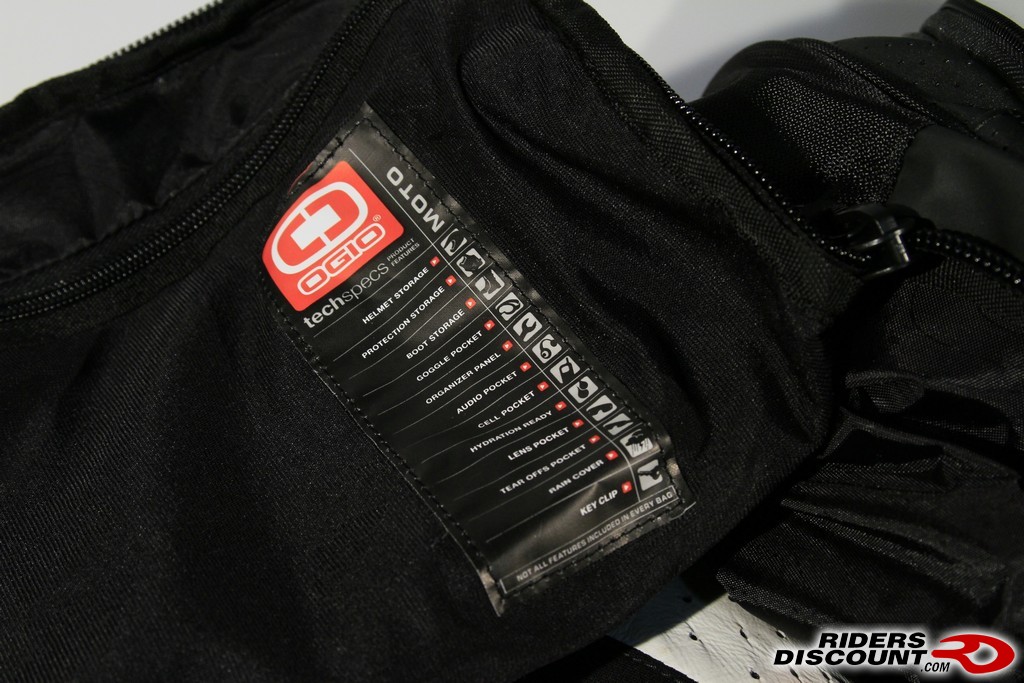 We found plenty of room in this bag for large boots, a large helmet, a one-piece leather suit, gloves, back protector and undersuit. Still, after all of that there was room for more!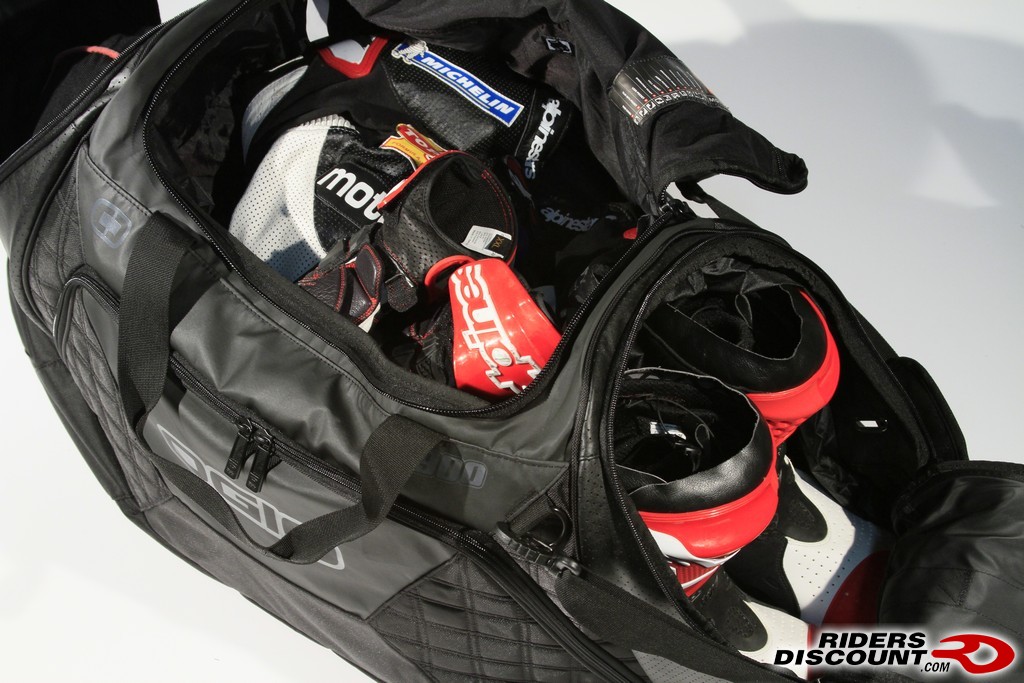 Helmet pocket is big enough for motocross lids while the front pocket folds open with plenty of room for an extra t-shirt and jeans.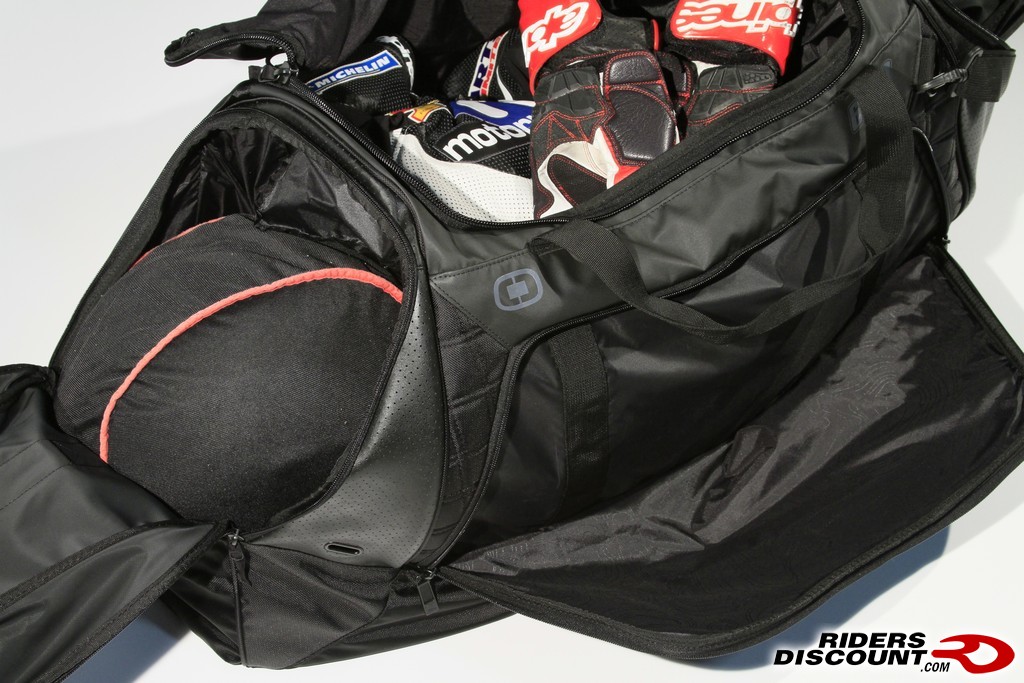 Narrow bag suitable to be stuffed behind the seats in your extended cab pickup truck.
Also available in Diego color scheme.