RidersDiscount.com now has Leatt STX Neck Braces in stock! Call Mike at 866.931.6644 ext 804 for expert sizing guidance and to assure you get one of the first new neck braces for street and track riders. MSRP starting at $395.
Designed specifically for street and track riders, the Leatt STX Road reduces the risk of traumatic neck injury to the wearer by working with the helmet to limit extreme movements and reduce stresses encountered by the cervical spine in the event of a crash. The STX is engineered to provide additional protection by nearly seamless integration with your current protective equipment. A back protector and aerodynamic hump will not inhibit the proper use of the device which is compatible with full face and modular helmets. Simply put it on over your standard riding gear and increase your level of safety at the track or on the road. Just like seatbelts and helmets only became common equipment in the latter half of the 20th century, we suspect that, as neck braces like the Leatt brace serve the benefit of riders, it too will become standard equipment on the road and at the track.
Countless offroad riders have relied on Leatt Neck Braces for enhanced neck protection with many of them becoming staunch advocates of the technology after involuntarily putting one to the test themselves. Now, Leatt has refined their proven neck safety equipment for use by the road-going community with the STX Road Neck Brace. Leatt was the first company to offer significant neck protection specifically for offroad motorcycle riders after careful development of the original Leatt Brace by one Dr. Chris Leatt. Being a rider himself and witnessing firsthand the realities of C-spine trauma, Dr. Leatt gave up working towards a specialization in neurosurgery to pursue a new goal of creating useable neck protection for motorcyclists. Since then, Leatt has continued to refine his company's neck braces through careful regard to medical studies, investment of an in-house research facility and input from other test houses around the world. Of course, users provide much input to augment scientifically-sound neck protection devices for riders of an increasingly-expanding range of disciplines.
Range of Movement
While we've seen photos of riders modifying their suits in order to install serious neck protection in the form of offroad-specific neck braces, the range of motion you need to ride normally isn't always there. Leatt's other neck braces are well-suited for offroad applications but do not permit a comfortable range of motion as required for road-going motorcycles. Getting into a full tuck and looking through a corner while leaned over/forward is difficult with the table of a Leatt offroad neck brace occupying the space between the shoulder and the edge of the helmet. The new Leatt STX Road Neck Brace addresses these concerns without requiring any modification to your current gear. Its unique Scapula Wings (which are adjustable for fit) on the rear of the brace are designed to flank an aerodynamic hump while the aft portion of the brace (table) sits just above the hump. If your current hump does not inhibit your ability to get into a full tuck, the slim design of the aft table will not take much out of your ability to look up and around either.
Pathology of Cervical Spine Injury
The neck consists of seven separate vertebrae separated by intervertebral discs, all of which are held in place by three separate columns of ligaments. Through the middle of each vertebra travels the spinal cord with nerve roots protruding at laterally either side. Instability or fractures of these vertebrae from trauma may lead to misplaced bone or soft tissue that press or stretch the spinal cord leading to neurological deficit: tingling, loss of feeling, differing degrees of paralysis or death. Up to 39% of cervical fractures lead to some sort of neurological damage and most fatal neck injuries occur at the C1 (atlas) and C2 (axis) vertebrae with the latter being most vulnerable since 1/3 of neck injuries occur there.
These and other injuries to the neck are usually the result of any single or combination of forces from hyperextension (neck backwards), hyperflexion (neck forward), lateral hyperflexion (neck sideways), axial loading (vertical compression) or posterior hypertransalation (whiplash). The Leatt STX Neck Brace is designed to address these conditions by first limiting movement of the neck and then taking up these forces so as to transmit them to other more durable parts of the body, making the crash more survivable for the wearer. In doing so, the neck is first prevented from moving outside of its normal, safe range while at the same time the amount of force it is exposed to is reduced – all of which reduces the likelihood of injury.
Alternative Load Path Technology
To prevent injury to the wearer, the STX-Road Neck Brace is designed to work with a helmet to transmit forces of dangerous head movement to the rest of the body. In doing so, Dr. Leatt has stated that 50% of the force to the neck is bypassed and transferred to the chest and back. In other words, the Leatt Neck Brace dissipates the load that would have solely been taken up by the neck over a much larger (and stronger) area of the body. In extreme circumstances where impact forces are very high, the Leatt neck brace has crumple zones that are engineered to fail and, in doing so, further absorb impact energy to reduce the risk of injury to the wearer. This same concept of engineered fail safe mechanisms is common in automobiles with crumple zones and safety belts that are designed to collapse or release, respectively, when the forces they encounter pass a specific threshold to absorb energy and reduce occupant injury.
Ease of Use
What good is a neck brace if it's cumbersome to put on and wear? The Leatt STX Road, when sized properly, should not inhibit your normal range of movement on the bike. You can look up, down, sideways and over your shoudlers with its enhanced neck protection. And like other good riding gear, once you get moving, the device becomes almost imperceptible with its light chassis that's made of polyamide resin and reinforced with fiberglass. Operating the zipper on your jacket or leathers is taken care of too, with a recess built-in on the front side so you won't have to fumble with the device when zipping up. Similar to their offroad neck bracers, the STX fits over your regular riding gear with no modifications necessary and you do not need to wear any additional equipment for proper use. For fitting, the user can adjust a sliding pin mechanism on the left and right side of the neck brace so as to make it fit a wider range of chest sizes too. The scapula wings on the back are engineered to keep the brace comfortably in position and help seat the device correctly in the event of an impact.
By splitting in two pieces fore and aft, you can easily put on and remove the neck brace. This is also a critical part of the design to allow emergency medical crews ease of access to an airway in the event of an unconscious rider where they can simply remove the brace with a low risk of inducing further neck injury.
Proven Safety Performance
Anecdotal evidence is nice, but it's not enough. Leatt has invested a great deal of time (and money) in testing their products using a sensor-equipped crash dummy in-house at their Cape Town, South Africa laboratory to acquire a greater understanding of what it takes to provide reliable neck protection. Not only that, but their empirical data has been independently verified by other labs to prove their products work and Leatt also took an important role in developing the CE-certification standards for motorcycle neck protection devices. For these reasons, many riders – and not just top riders, are investing in a Leatt Brace for their own safety, shouldn't you?
For more information, call Mike at 866.931.6644 ext 804 or send an email to FORUM at RIDERSDISCOUNT dot COM with LEATT STX ROAD NECK BRACE in the subject line and we'll get back to you right away.
The Leatt STX Road Neck Brace is available in two colors. Here is standard version which has an MSRP of $395.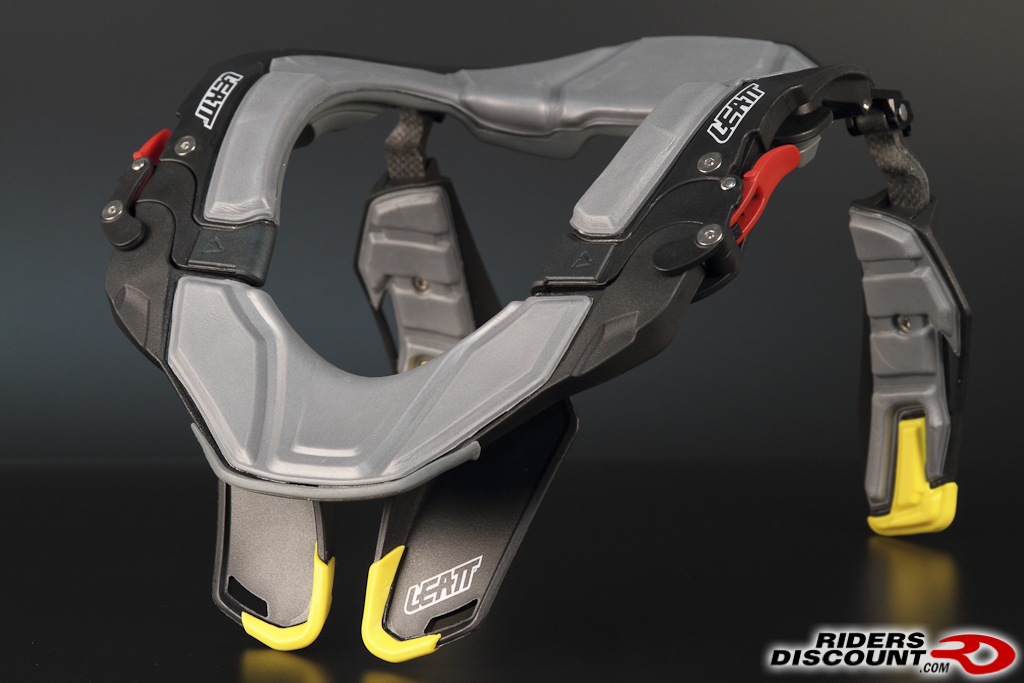 The Leatt STX Road Neck Brace is also available in a limited edition Jason Britton black version. MSRP $410
You can clearly see the red clasps which easily identify themselves to emergency personnel should the rider be unconscious and need immediate attention. Should the situation demand it, these clasps allow the device to be quickly and easily removed.