Discussion Starter
•
#1
•
We don't mind riding in the rain. In fact, some of us actually go pretty well in it to the point that we even enjoy it … except for one little thing: soaking wet riding gear that's covered in road debris. Worse than that is when it's cold and water has its way with you by sucking the heat out of your body. To combat this problem, quality waterproof motorcycle clothing is a must and Icon's PDX wet weather gear can answer the call. PDX rain jackets and bibs are constructed with Tasloc heavy-duty nylon that resists ripping and tearing. On the inside, a mesh liner helps the outer shell stand off from your clothing so you don't feel like you're trapped in a garbage bag and allows a high degree of flexibility. All Icon PDX waterproof motorcycle clothing is designed to fit over your regular riding gear.
To keep the weather out, Icon's PDX Waterproof Rain Jacket has a zipper on the front that's covered with Velcro-closure flap to impart an extra seal and keep the wind out. Drawstrings are employed around the waist as well as elastic wristbands to keep the jacket from turning into a blimp as you ride. Up top, a clever hoody is included that can be concealed in the high collar when you're on the move. To deploy the hoody when you get off the bike, simply reach up and unsnap the Velcro tab that holds it out of the way to keep your head dry when you're not wearing a helmet.
Icon PDX Waterproof Bibs have your lower end covered too. Because they are suspender-type waterproof pants, you'll have to put these on before you get into the jacket. Like the PDX waterproof motorcycle jacket, these are designed to be worn over your gear and include a large waterproof zipper that runs along the outer side of each leg. These help you get into the bibs no matter how big your boots are. Removable stirrups at the bottom help prevent the PDX bibs from crawling up your legs. If you've ever used brand new rain gear only once because it melted against your exhaust after two miles, Icon has you covered with a cloth patch on the inside of either leg lower. These heat shields prevent the waterproof pants from becoming perforated when they contact a hot exhaust pipe.
PDX wet-weather riding gear keeps the wind out and the rain at bay so you'll stay warm and in control when you're riding in less than ideal conditions. Now that autumn is here, it's a good time to stock up on some waterproof riding gear. Icon PDX equipment is available in
men's
and
women's
sizes. Call TJ at 866.931.6644 ext 817 to order. You can also email us with any questions you have, send those to FORUM at RIDERSDISCOUNT dot COM with ICON PDX RAIN GEAR in the subject line and we'll get back to you right away.
Jackets are available in black, infantry (olive), hi-viz yellow and mil-spec orange.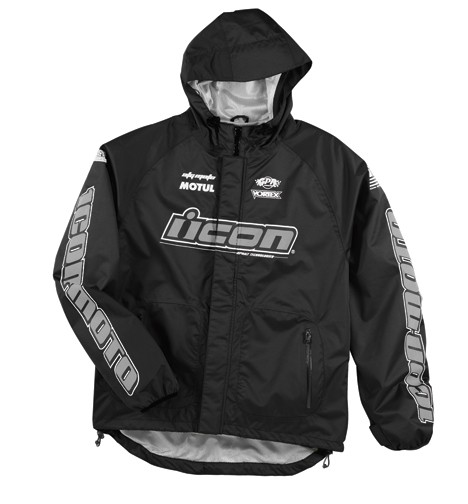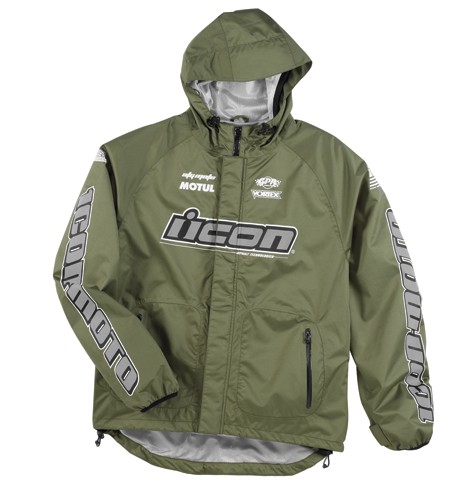 All Icon logos are retroreflective to make yourself more visible to other road users.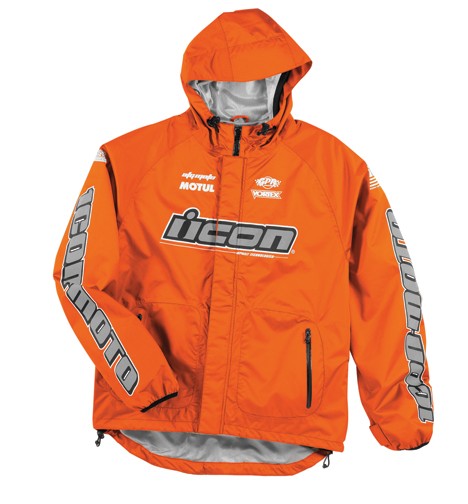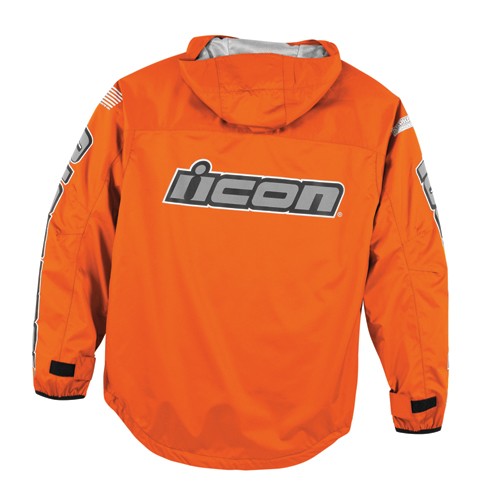 Bibs come in hi-viz yellow, black or mil-spec orange.