Okay, so many of you may already have a TRE unit, you should still consider this simple mod. After conversing back and forth w Garth and Redline i decided to go ahead and do this. Its simple, straight forward and can be done within an hour.
First things first, remove your tank and air box. which is by far the most time consuming part of this task. If you don't know how to do this search other threads and become well acquainted to the procedures for future maintenance.
DISCLAIMER NOTES:
This particular Mod standing alone or in combination with other performance enhancing Mod's is in need of thourough testing, ie dyno time with before and after A/F ratio readouts to give verifiable documentation of its worth or not and may ultimately require a custom map costing more $$$. If you notice your bike is running lean or rich failure to take action could result in damage to your motor. I didnt retune my map because i was running a little rich to begin with. However I will custom tune it this summer. I strongly believe a custom tune is good for any bike regardless of its mods in order to achieve peak performance.
This particular how-to applies to the 1st gen however, and while the following gens use the same principle there may be some minor detailed differences. It has been noted that the second gen's screws are highly torqued and often strip out.
What you'll need:
-#2 Phillips head screw driver *magnetic may help*
- needle nose pliers (to help remove the butterflies from their location, and if you drop a screw)
Once you get the air box out of the way you'll be able to clearly see what is known as the secondary butterflies (the top set is the secondary):
*this is not from a kawi but to give you an idea*
Then you'll carefully remove the two screws securing the valve from each port. Don't sweat it if you drop a screw or valve, that's where the pliers come in. If you'd like to play it safe tuck some paper towels into the throttle body housing to catch anything that may fall. *Apparently the second gen's screws are held in w loctite exercise caution to avoid stipping them out
if you've ever noticed the buzz when you turn you key "on" its the fuel pump priming along with the exhaust valve closing and secondaries opening i.e.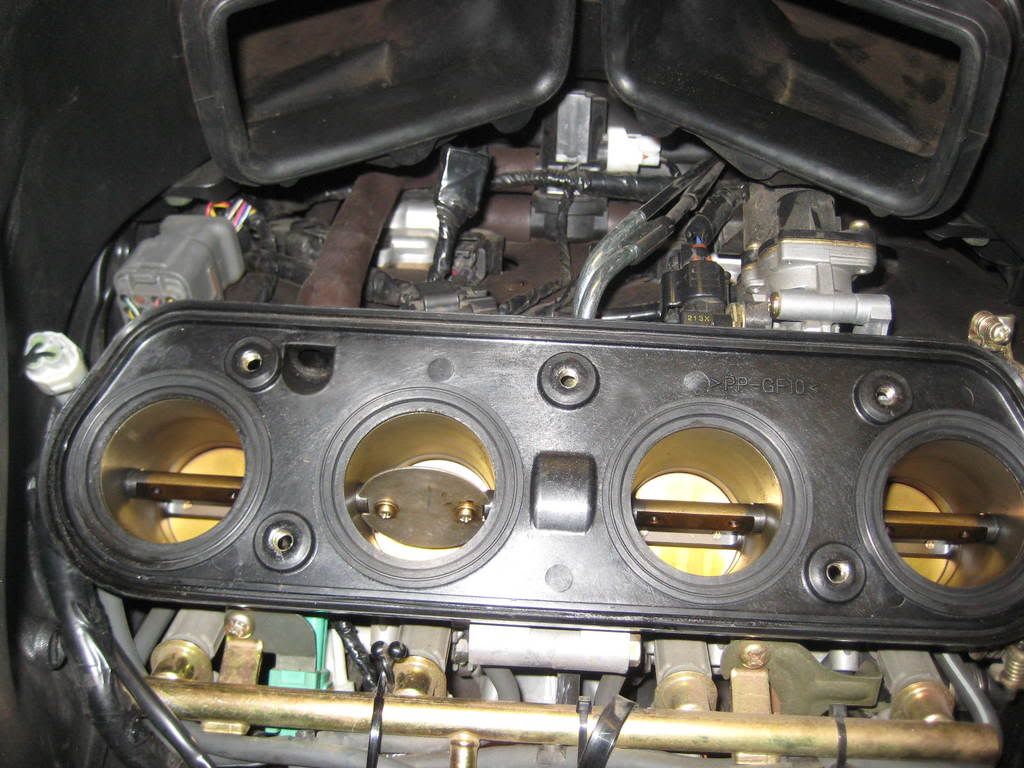 all but one valve has been removed in this picture.
the following pictures are obviously with the bike turned off:
please excuse my mechanic, he is still in training:lol:
the finished product:
and a bag of butterflies :thumbsup: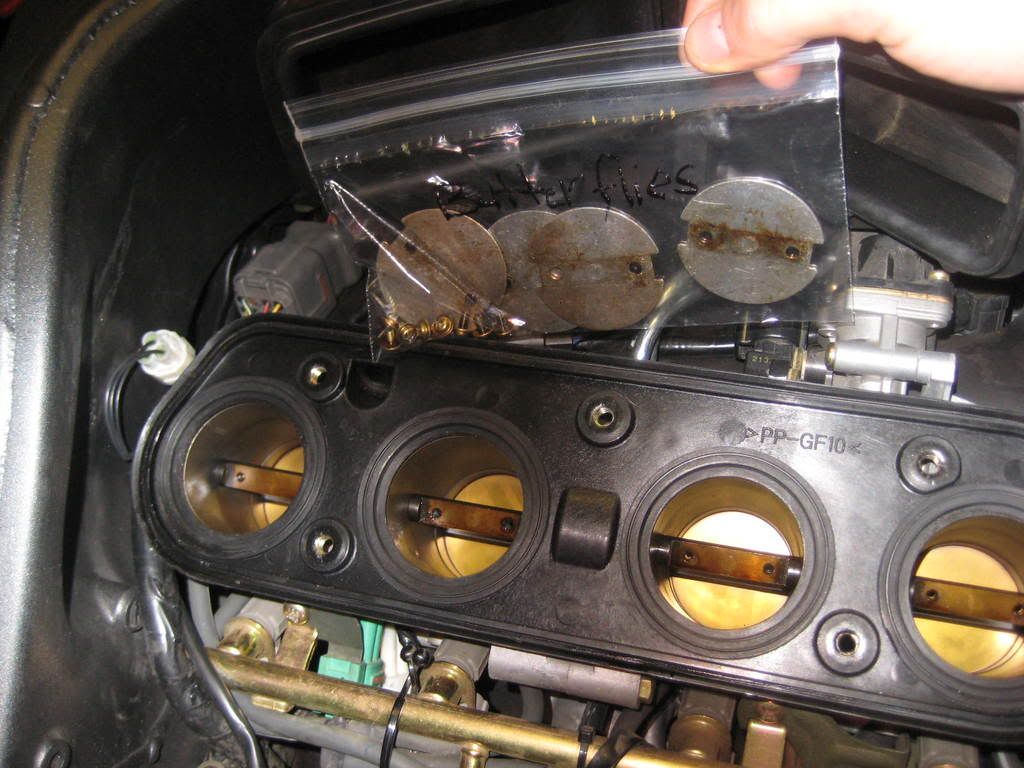 here's a dyno chart and my research, compliments of Garth: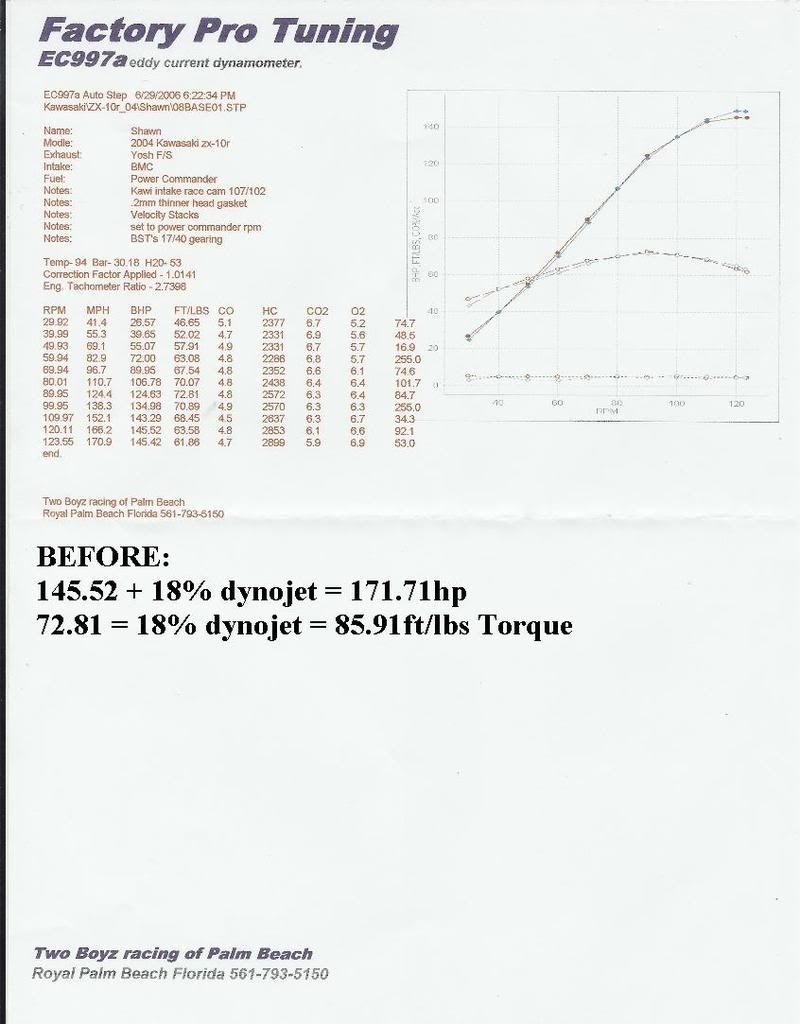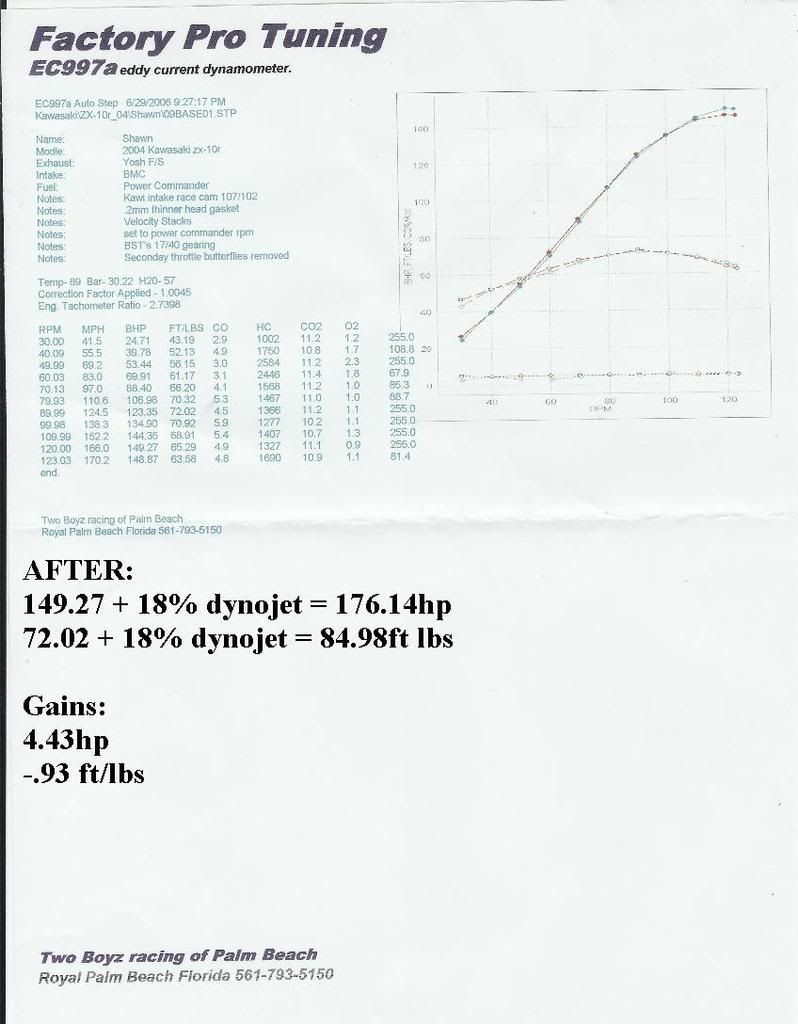 [/quote]
here is some FYI from Garth:
"Hey guys, hows it goin..... I just wanted to add a bit of info to this thread.... I'm currently attending MMI Orlando.... well my instructor for my Kawasaki elective just came back from California to go visit kawasaki to get all the updates for 08 and such and one of the things he had questioned was secondary valves intake side and exhaust side..... the guy he was talking to was the guy who actually writes all the kawi tech books.
Anyways.... his explination for those valves are simply noise emmissions and they are not doing anything for power..... Basically all manufactuers pumping products into the US have a strict noise and exhaust emmissions that they have to put all this stuff onto............ ever run a bike with individual pods on the bike, the sucker is SCREAMING LOUD..... I thought of that theory a while back ago and it made sence to me, if they arent doing anything useful why have it at all ya know....
So yeah thought I would throw that out there.... thats directly from the mouth of the guy who writes all the kawi material here for us in Irving California at KHI HQ's
so rip them out guys!!!!!!!!"
I just pulled the flies out and it was real lean down low and fat on the high side.

What I did was turn off GIPro and had it dynoed again. I love it much smoother on and off throttle. The exhaust sounds so much better down low.

I lost 1hp at max but gained 8.7hp at 8600 from my last dyno run on 3/08.