Discussion Starter
·
#1
·
Three years of research and development led up to the introduction of HJC's most advanced helmet, the RPS-10. This was made possible after a considerable investment in their manufacturing and testing facilities. During that time, twenty different prototype designs were produced with each being tested for, among other things - stability, noise, vibration and aerodynamics in HJC helmet's purpose-built wind tunnel. Each successive prototype was an enhancement of the previous version until the development team was satisfied with the final product. Every aspect of helmet design was put under scrutiny, from ventilation to shell construction to crash safety.
The HJC RPS-10 has three user-adjustable intakes on the front of the helmet: one at the chin and two more on top of the head. The ones up top are particularly unique as they use a rolling mechanism to allow incremental intake adjustment over six different positions. All buttons are easily adjustable with a gloved hand. These intakes are all complimented on the interior by an Advanced Channeling System (ACS) which efficiently directs incoming air through ducts molded into the EPS foam liner, over the skull, and out the back of the helmet. Keeping the rider's head cool is easily accommodated with this system.
The RPS-10's shell construction is totally new as well and currently, only six engineers at HJC's facility are permitted to operate the molding equipment used to produce each one of the three different shell sizes that cover the entire RPS-10 size range. This molding process creates a shell that is lighter than the conventional manner for laying up a fiberglass helmet mold. The materials used to create the helmet, what HJC refers to as their Premium Integrated Matrix construction, are a combination of carbon fiber weave, aramid fiber (sometimes used in body armor production) and fiberglass. These materials are laid into a mold that accurately places each layer so that a precisely metered amount of binding resin can be used to produce consistent shells from lot to lot. Due to this technique, each shell is light, yet strong and HJC claims that the RPS-10 is the lightest Snell M2010-approved full face helmet currently available on the market.
Inside the shell, a fully-removable comfort liner uses a Gingkomin anti-bacterial fabric covering to repel offensive odors. Still, you can safely wash and reuse the liner when dirt and moisture overpower these countermeasures. For users that must wear glasses when riding, the RPS-10 helmet liner has groves integrated into the design to accommodate glasses without pushing them into the temples. Protecting the rider's eyes is a new faceshield design with a push-button locking mechanism that is designed to prevent the visor from unexpectedly popping open when looking sideways or behind. This visor is also Pinlock anti-fog ready and blocks 95% of UV light transmission. A tool-less visor changing mechanism allows the user to easily change from a clear, to a smoked or a mirrored visor as conditions require.
Because HJC RPS-10 helmets are brand new, sizing and availability is limited, especially in size large. Call TJ at 866.931.6644 ext 817 to order. You can also email us with any questions you have –send those to FORUM at RIDERSDISCOUNT dot COM with HJC RPS10 in the subject line and please be sure to include the size you want and we'll get back to you right away.
The HJC RPS-10 Patriot color scheme.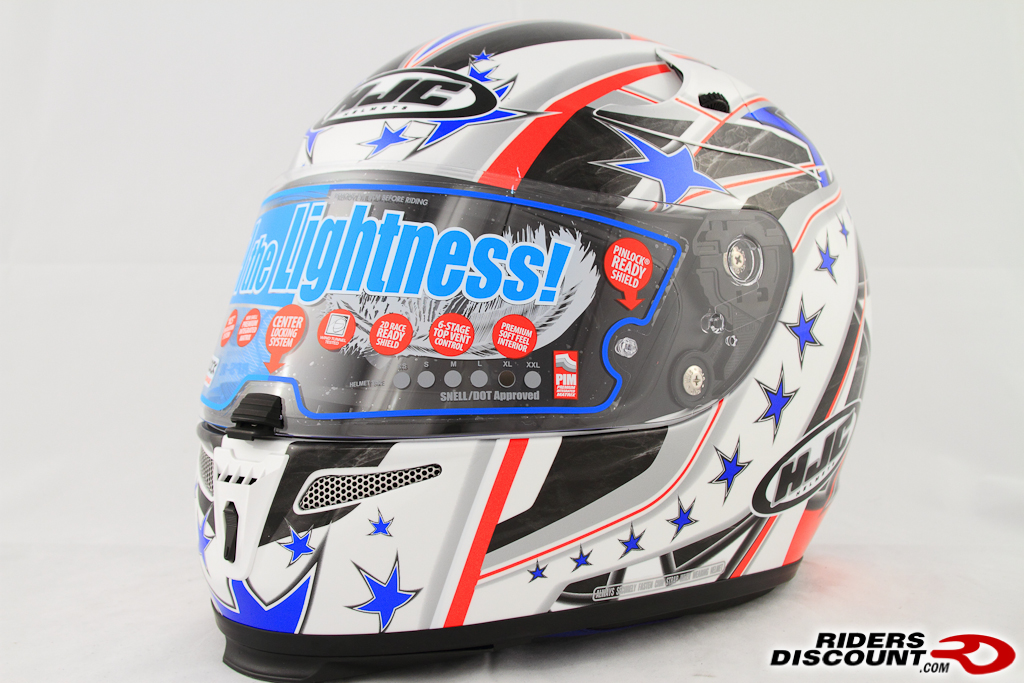 Notice that the helmet is not perfectly round just above and in front of the temple. This is part of HJC intent to produce a stable helmet with reduced wind noise.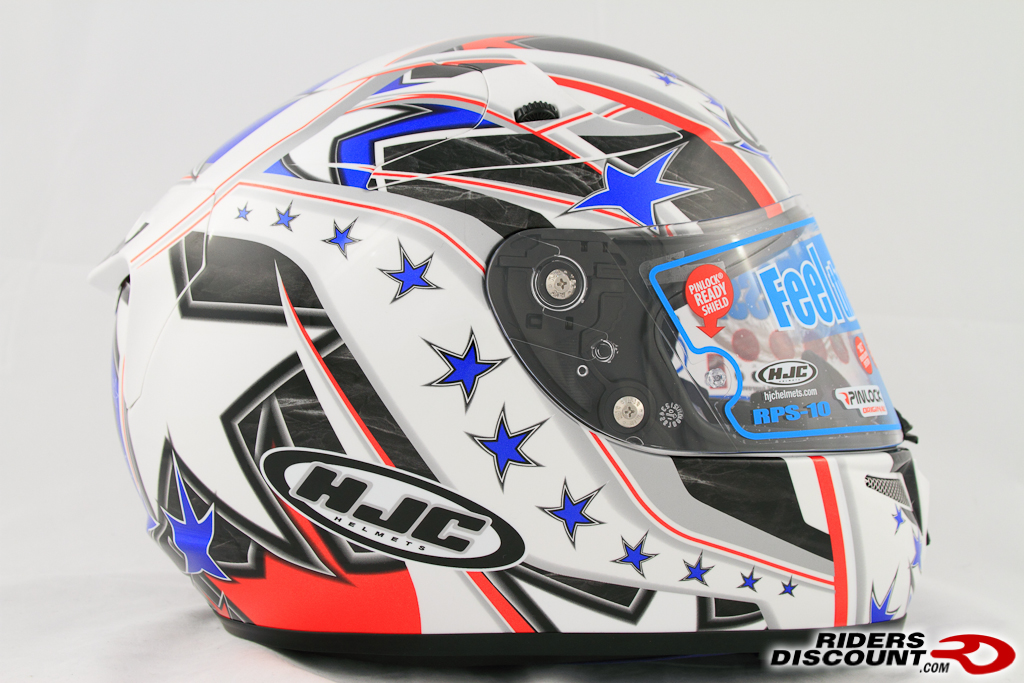 The large "wing" on the back of the RPS-10 reduces wind lift while at the same time improving ventilation efficiency.
Snell M2010 and DOT approved.