Discussion Starter
·
#1
·
Goodridge Superbike Pro stainless steel brake lines greatly increase the efficiency of your motorcycle's brake system by reducing the amount of effort required at the brake lever to create effective stopping power. This is because every critical component of these stainless steel braided brake lines employs an all-metal construction that resists expansion due to heat and pressure much more effectively than OEM rubber brake lines. Furthermore, these components easily resist wear and tear to the point that
Goodridge guarantees them forever
. In testing, Goodridge stainless steel brake lines are proven to take 20 feet out of a stop made at 100mp/h when compared to OEM rubber lines. This easily makes them one of the most cost-effective upgrades you can make to your motorcycle, especially from a safety and performance standpoint.
With bikes becoming more and more compact, while the steering head of their frames seem to keep getting bigger - space is at an even greater premium. This is another advantage of the 1-into-2 brake line format. With only one line coming off the master cylinder, you have more leeway in setting your controls just the way you want, without having to compromise space for comfort. A metal T-junction splits the single line into two for routing the stainless steel lines to each front brake caliper. We've used these very same brake lines on our own racebikes for the reasons listed above.
Each kit is made with black-coated stainless steel hoses and includes all the required stainless steel banjo bolts and crush washers.
We have kits available for all 2006-2010 (2011 coming soon!) Kawasaki ZX-10R models.
For more information, call Mike at 866.931.6644 ext 804 or send an email to FORUM at RIDERSDISCOUNT dot COM with GOODRIDGE SUPERBIKE PRO LINES in the subject line along with the model and year of the bike you ride and we'll get back to you right away.
Goodridge Superbike Pro Racing Kits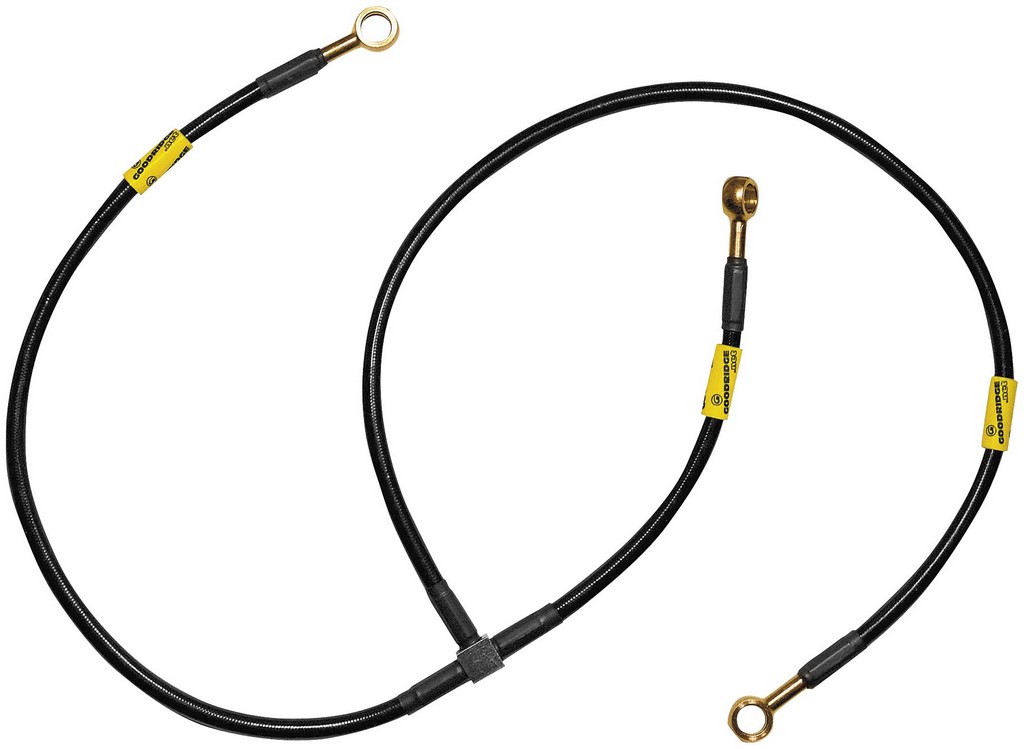 With a single line coming off the master cylinder, it becomes much easier to run the brake lever as steep as you need. If you have a bike with throttle cables that are run under the clip-on, the benefits are even more useful when space is at a premium.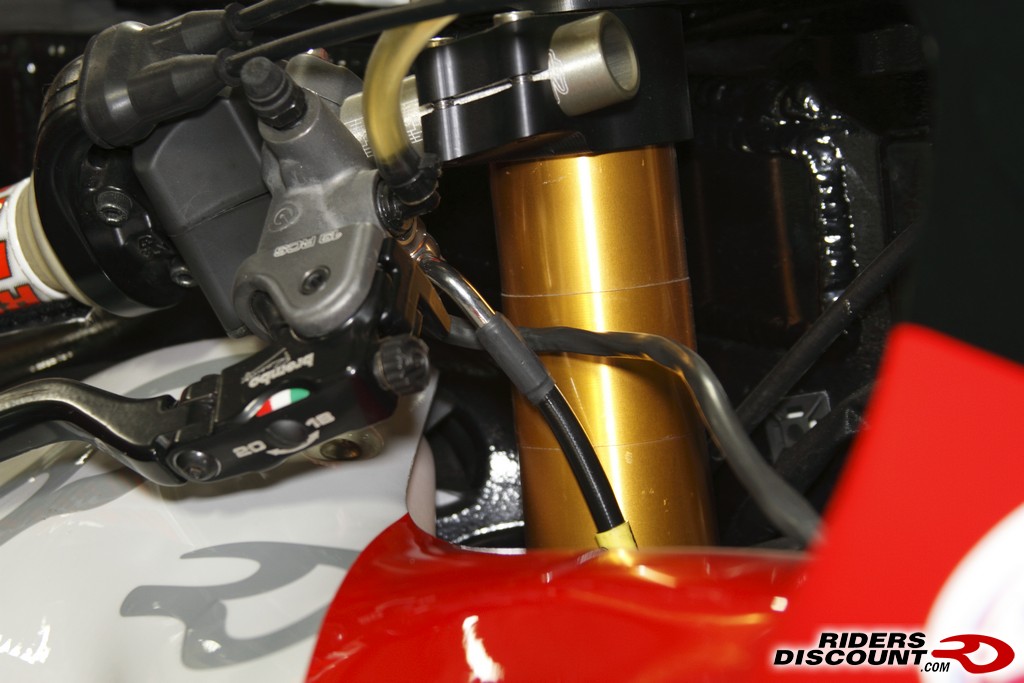 Goodridge Superbike Pro lines as fitted to our Yamaha YZF-R1 AMA Superbike. The split in the line off the master cylinder is visible just below the lower triple clamp.