Discussion Starter
•
#1
•
Steel braided brake lines improve the braking performance of your motorcycle. With 10 to 25% greater lever power over stock rubber hoses and, in testing, Goodridge lines have proven to take 20 feet out of stops made at 100mp/h when compared OEM brake lines. While that might never mean the difference between a ditch or the side of a car, it's nice to know you've got that extra stopping power. Goodridge lines eliminate the spongy feel from the front brakes which means greater control (read, feel) of the brakes and less effort at the lever for hard stops.
In addition to these points of safety, these motorcycle brake lines will not dry rot like OEM rubber lines, so they last! If your bike already comes with stainless steel lines, consider upgrading because Goodridge lines have a smaller internal diameter than most OEM steel-braided lines – they move more fluid with less effort which again, transitions to greater stopping power. All Goodridge lines are
guaranteed forever
! If it weren't for their high standard of quality control, do you think they'd offer a lifetime warranty?
Goodridge lines are available in a few different flavors:
Shadow Brake line kits:
These retain all the standard features of Goodridge brake lines with the added touch of a "black chrome" finish on the lines, banjo bolts and all stainless steel fittings. They give your bike a nice touch. These kits consist of two hoses that run from the master cylinder to each caliper.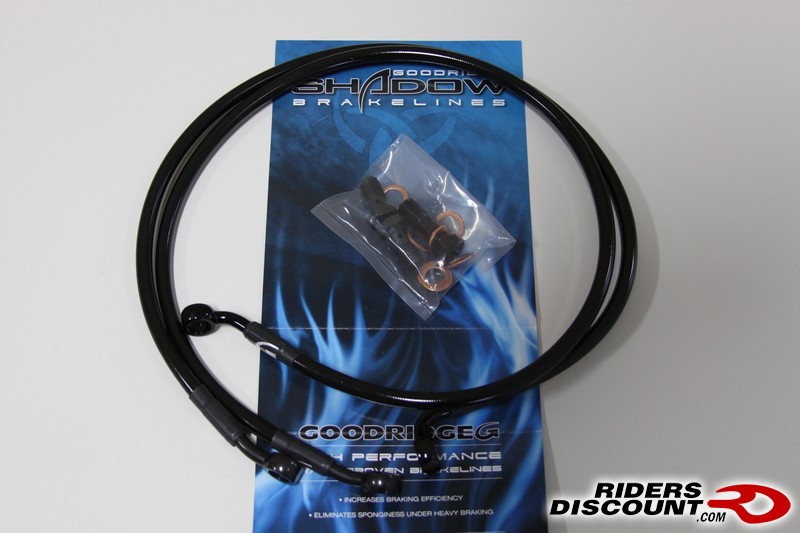 If you want more of a carbon look, Goodridge also has Carboline kits with black aluminum fittings, banjo bolts and translucent hoses. These kits consist of two hoses that run from the master cylinder to each caliper
-2 Clear Coated Stainless Hose lines
The standard for many years at both club and professional racing levels, Goodridge -2 kits provide a firmer lever feel that'll reduce lap times at the track. These kits consist of two hoses that run from the master cylinder to each caliper.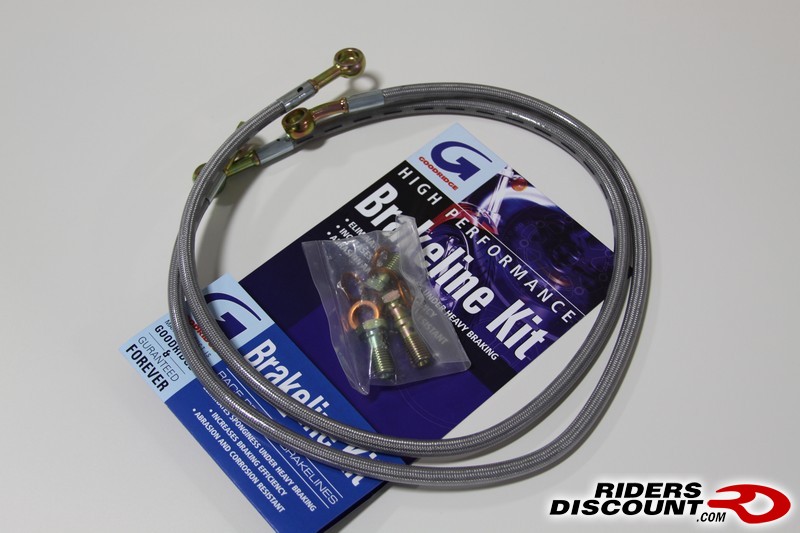 Goodridge Superbike Pro Racing kits
These offer the ultimate in braking performance for your superbike and are the same lines we use on our own RidersDiscount.com 2009 YZF-R1 AMA Superbike. The 1 into 2 design has one hose off the master cylinder that runs to a T-fitting just above the front wheel where the hoses split off on their run to each brake caliper. Nobody complained about the stopping power when they rode our bike!
Left fork arrangement with Superbike Pro kit installed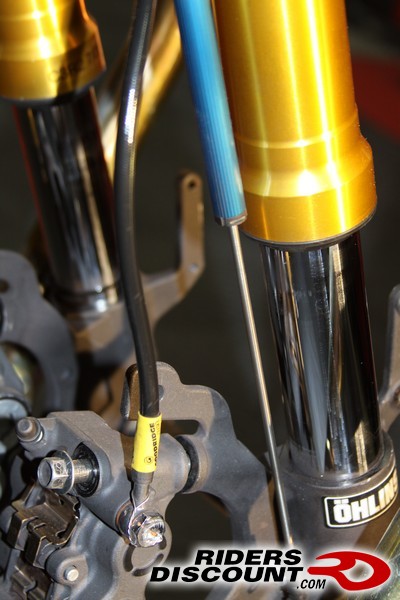 T-fitting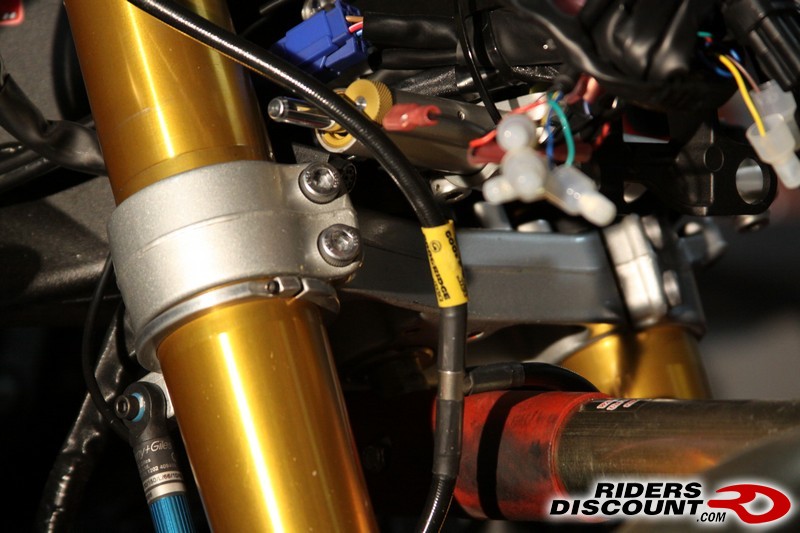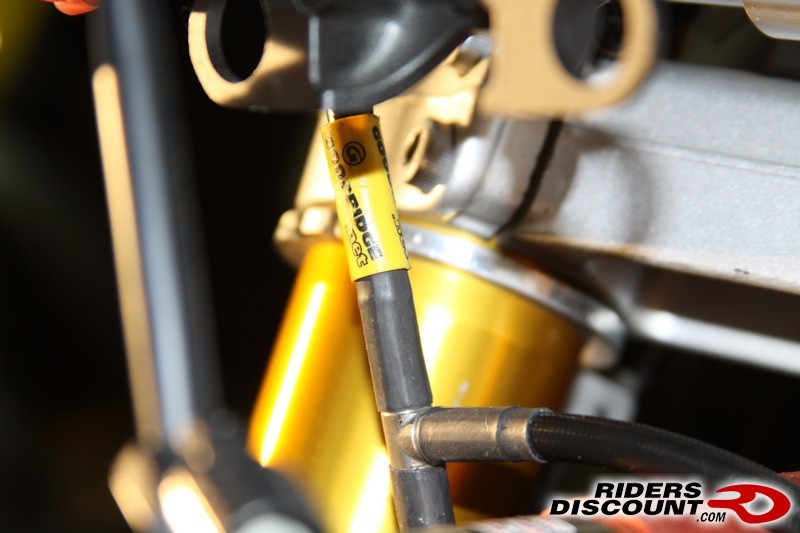 Single hose coming off the master cylinder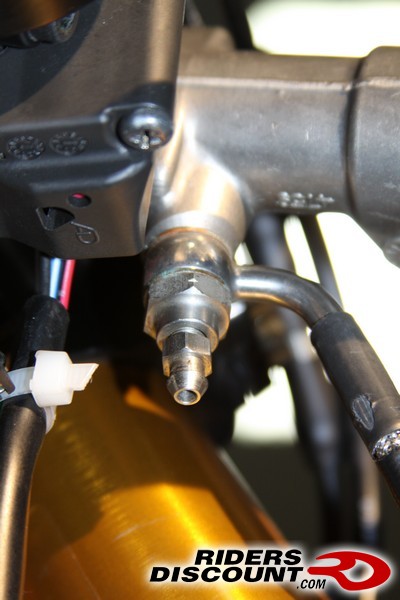 Don't forget about the safety wire.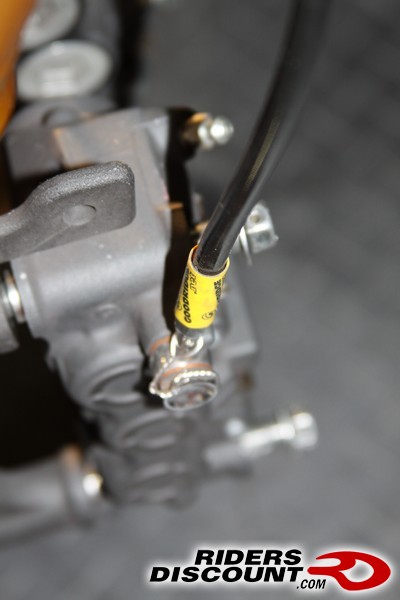 Goodridge also makes steel braided rear brake hoses for both standard length, and extended swingarm applications – call us and we'll get you sorted out for your specific needs.
These brake lines are not yet available on our website. Call TJ at 866.931.6644 ext 817 and he will be happy to discuss your unique situation and recommend a set of lines for you. TJ is an expert with brake lines thanks to his years of experience building (and racing) some of the fastest motorcycles at the club level. You can also email us – FORUM at RIDERSDISCOUNT dot COM with the subject line GOODRIDGE LINES and be sure to include the year and model your motorcycle for a complete list of available options.