Discussion Starter
•
#1
•
Here is the link to all of my pic's
But i will post up my fav 2 and a vid..This is my 8th NHRA event.
Here is the link to ALL of my pic's from the NHRA 08.
http://s227.photobucket.com/albums/dd283/crazytank7_photo/
Wait until the 29 second mark on the vid!!!!( it counts down not up) If you have never done this it is truly amazing!!!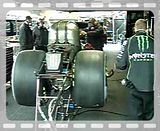 What i would do to own and drive a pro mod...