Northern Virginia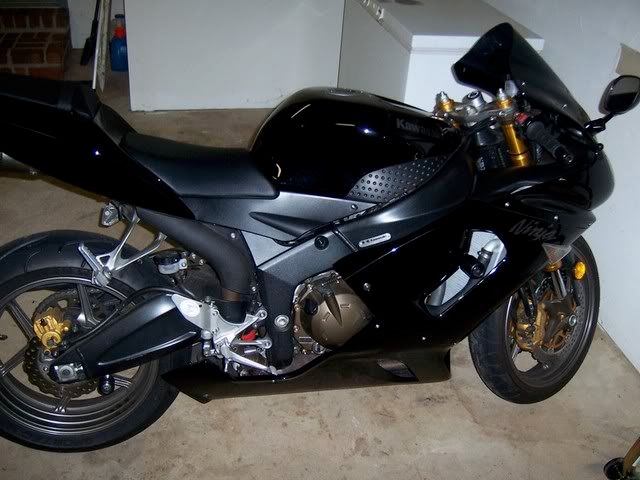 Bike comes with everything below...
Street
-All original stock bodywork in clearcoat black.
-HID headlights
-Flushmount front turnsignals
-Clear Alternatives smoked integrated taillight
-Akroprovic Slipon exhuast
-Smoked double-bubble windscreen
-Stock windscreen
Track
-Full set of Armour Bodies racing skins
-GPR V4 Steering damper
-Frame and bar end sliders
-Rear spools / swingarm sliders
-Full Galfer steel braided lines (front and back)
-New Vesrah RJL race pads (front)
-Full Leo Vince EVO race exhaust
-Tuned Power Commander USB III
-Pre-drilled hardware for tie wire
I'll even throw in an Arai Quantum II Large helmet
I will be stripping down the current paint on my trackbike and spraying fresh primer for the buyer.
Bike has 67** original miles.
Never wrecked - (left case cover has some scratches due to the original owner having a tip-over
)
I bought this bike off a girl who decided it was too much for her, it had just under 2000 miles when I got it. Since then I have meticulously maintained this bike with oil changes after every two track days and fresh oil at the beginning of each season. After every track event this bike was returned to my shop where it was stripped down to be cleaned and serviced.
Why the hell am I selling my beloved? Well I'm engaged and have to spend my money else where for now. I won't be out of the loop for long though :lol:
I'm asking $6300 for EVERYTHING
(kbb sale value is $6500 ) - I also have the all the manuals, including the service manuals, on Disc.
TITLE IN HAND.
Please e-mail or PM me if interested or have any questions.
email:
[email protected]
:helmet: