For the past couple year's I've been working on and off trying to hack into the gen 1 ecu so we can have a DIY flash option instead of having to pay $400.
Well we have SUCESS! I have connected to the Ecu and been able to read the stock .bin(File that contains all fuel maps, rev limints, ect) From the ecu. Now we can take that file and change the fuel maps, timing ect and flash it back to the ecu.
This ecu and all the other gens also use what is called K-line flashing, So you will need a hardware interface that can flash to the k-line of the ecu. There are several on the market
Here is a china clone of an interface that will work if you get a good one. They seem to be 50/50 hit or miss but cheap so buy 2.
http://www.obd2tool.com/goods.php?id=3189
Here is the pin out for the Gen 1 ecu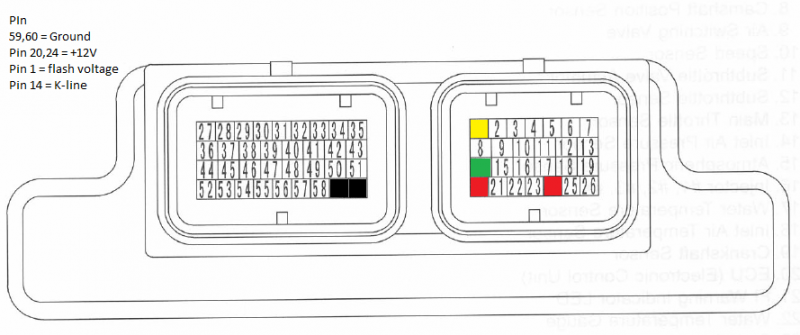 and here is the stock .BIN file.
Updated link
http://db.tt/0UySmqaW
Now this is where my experience gets thin. Hopefully some zx10r members here can help with this, we haft to decode the file and indentify what maps are what so we can make changes and flash them back to the ecu.
I plan to do and how to with several moded maps so you can just pick one and flash it in the future.
Also thank you to johns04r1 he helped me get all this togeather.