Discussion Starter
·
#1
·
DiD ERV3 chains are one of our most popular items for street and track use. The gold-colored steel plates look nice and they're relatively light for a 520 pitch chain. The ERV3 uses X-ring seal technology which has unique properties for efficiently retaining lubricant. This lubricant retention reduces friction, increases chain life and transfers power from the engine to the rear wheel more efficiently than traditional o-ring type motorcycle chains. This chain is strong too and when measured against the older DiD ERV2 (also a great chain) the ERV3 has increased tensile strength by 5%. Tensile strength is a measure of a chain's absolute strength in which the chain is pulled upon until it breaks. In this case, the DiD chain had an average failure point of 8,660lbs – more than four tons! Fatigue strength is another critical factor by which chains are judged. This number is indicative of a chain's survivability when its expected normal operating load is continuously breached and the ERV3 yet gain outshines the older '2 model by 15%.
We have a drawer full of DiD ERV3 chains in the shop for use on all of our bikes for the reasons mentioned above – they look great, they last and they're reliable.
DiD Chains are not yet available on our website, call TJ at 866.931.6644 ext 817 so he can send this chain to you fast. You can also email him, FORUM at RIDERSDISCOUNT dot COM is the address, just be sure to put DID ERV3 in the subject line and we'll get back to you shortly.
The familiar gold chain – don't mind the grease, that's there to protect the chain while it's stored in the box. DiD chains come only in 520 pitch, but we can help you with a complete 520 conversion kit for bikes with other size chains.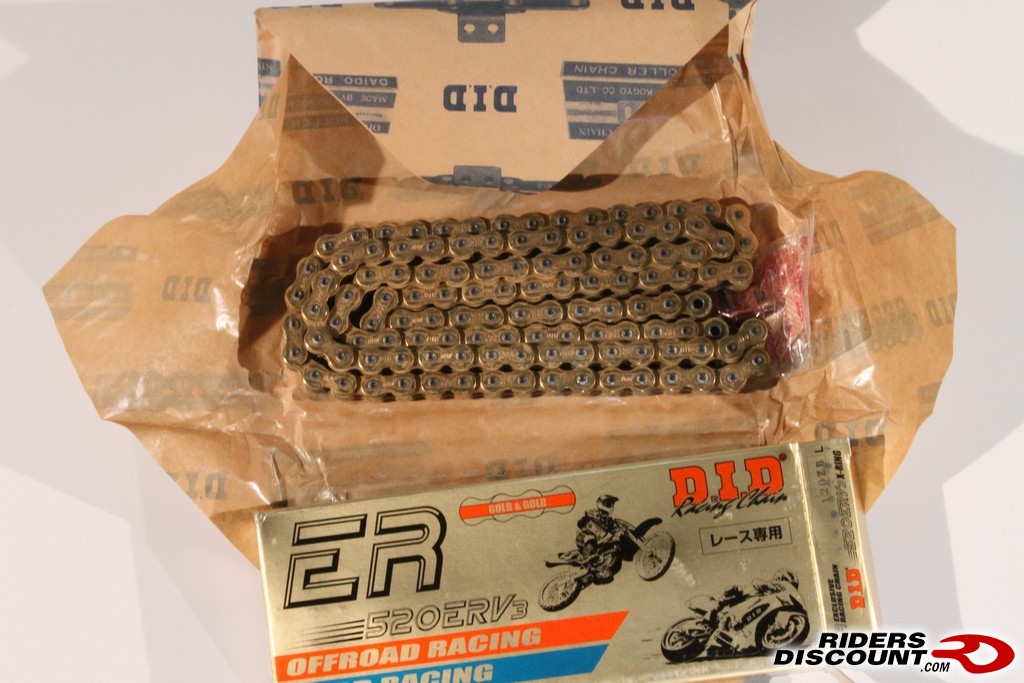 For those of you that already own a 520 chain-equipped motorcycle, don't forget to take a close look at your motorcycle's sprockets when installing this new chain. Chances are you may need new chainwheels as well. We have a wide variety of sprockets on hand from Vortex to Renthal to AFAM and others – just ask and we'll help you get fitted correctly for your application.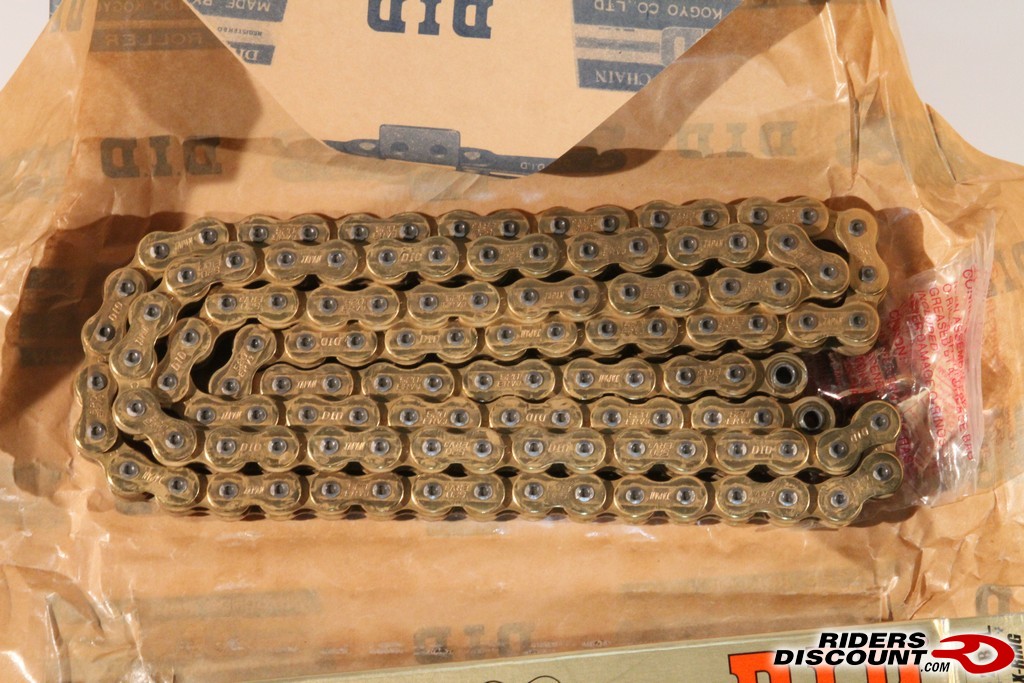 If you need a new chain on your motorcycle, save yourself some time (and money!) by doing it yourself with this chain press/riveting tool from DiD. The KM500 is simple to use and is the preferred chain tool for many factory race teams.