Bazzaz Performance brings to the average Joe the same technology that, just a few years ago, was only accessible to professional factory teams. The system comes with all of the same great features as the basic Z-Fi fuel control system and also includes a quick shifter in your choice of standard, or reverse shift patterns – all bundled into package that's easy to install with basic tools and requires no additional sensors or hardware. The Bazzaz Z-FiTC works by comparing throttle input to various motorcycle conditions such as wheel speed, engine RPM &etc to deliver predictable traction from the rear wheel in any riding condition. The result is increased rider safety, lower lap times, and ultimately, more rider confidence. From the occasional trackday rider to the top levels of AMA professional racing – and everywhere in between, Bazzaz products are being used to provide riders with an edge.
The Bazzaz traction control device comes shipped with pre-programmed quick shift kill times and traction control maps that have been developed specifically for your bike using expert-level riders on the racetrack. This negates time-consuming setup and allows you to simply plug it in with the OEM-compatible harness and go! For the more advanced user, a simple user interface allows the Bazzaz Z-Fi TC's many features to be easily tuned to suit any rider's preference. Adding to the system's adjustability, a separate traction control adjustment switch can be easily added to allow the rider to dial in (or completely out) how much effect the traction control as. The same switch also permits the rider to select between two different fuel maps on the fly.
Bazzaz also recently introduced a bright blue LED that lets you know when the traction control on your Bazzaz Z-Fi TC-equipped motorcycle is in action. This is critical for setting up your motorcycle for maximum performance as it takes the guesswork out of when and if, the Bazzaz unit is actually cutting power to retain rear wheel grip. The machined aluminum housing contains a single bright blue LED that illuminates when the TC system is active and can be mounted anywhere the rider prefers. This is
not compatible with all Z-Fi TC systems
. To verify compatibility, open the diagnostic tab with the Bazzaz software, if a serial number shows up at the bottom of the window, the TC light is compatible with your system.
Finally, to make programming fuel maps easy, Bazzaz Performance also has the Z-AFM motorcycle self-tuning kit. With the Z-AFM, the rider is able to create his own map using the same simple interface supplied with the Z-Fi TC by plugging in a laptop computer and going over the easy-to-understand data. Furthermore, this can be used to enhance a map that was built on a dyno to accommodate different atmospheric conditions or when the rider is forced to use a fuel that the bike was not dyno-tuned with.
Bazzaz Performance components are not yet available on our website. For more information – call MIKE at 866.931.6644 ext 804. You can also email us with any questions you have – send those to FORUM at RIDERSDISCOUNT dot COM with BAZZAZ ZFI TC in the subject line, and please include the model and year of the motorcycle you ride and whether you need a map/traction switch, Z-AFM autotune device, and/or TC indicator light and we'll get back to you right away.
Everything you need for simple plug and play installation is included. Bazzaz also packages the required software to make adjustments to the Z-Fi TC system.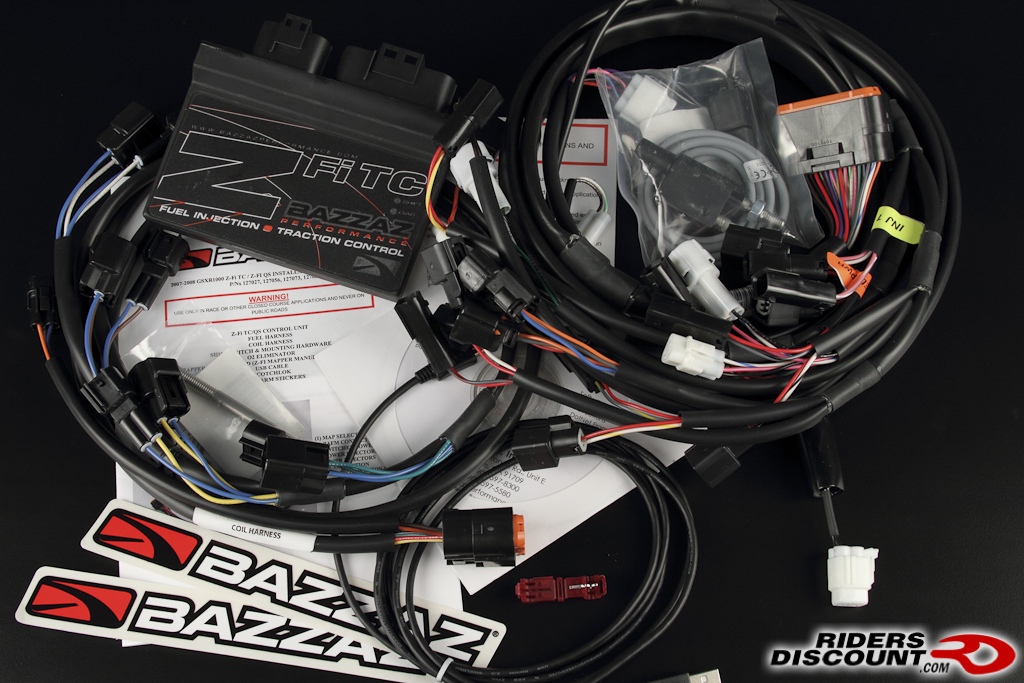 The wire harness is of the highest quality and includes OEM-style connectors for reliable, waterproof connections and trouble-free performance.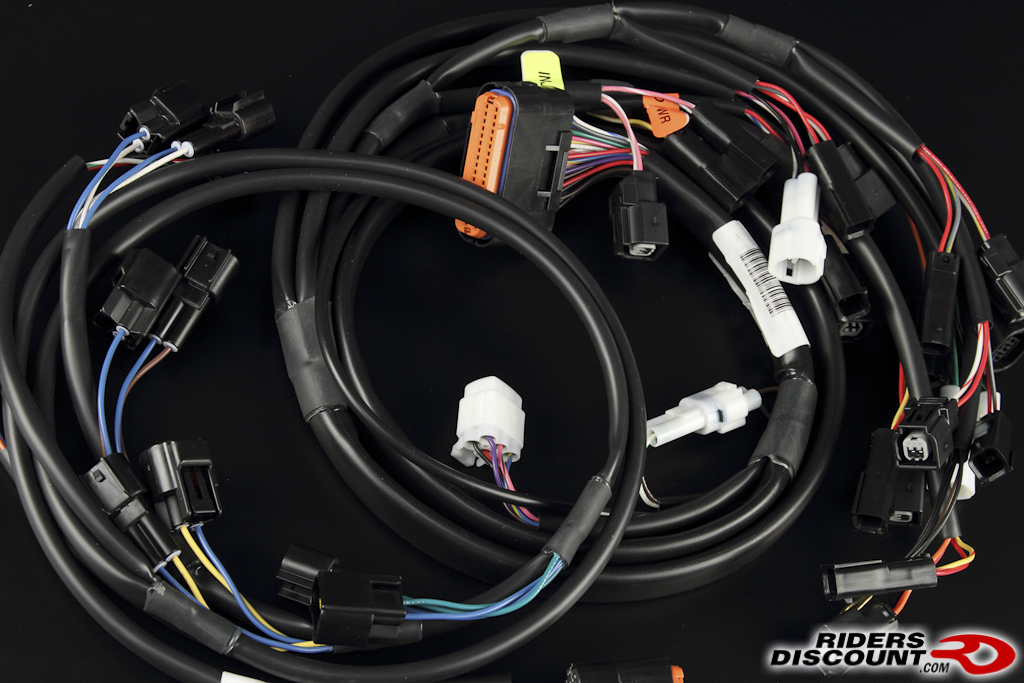 For enhanced versatility, Bazzaz Performance has a traction control adjust and fuel map switch that simply plugs into to the Bazzaz Z-Fi TC's harness. No splicing or cutting of wires is required.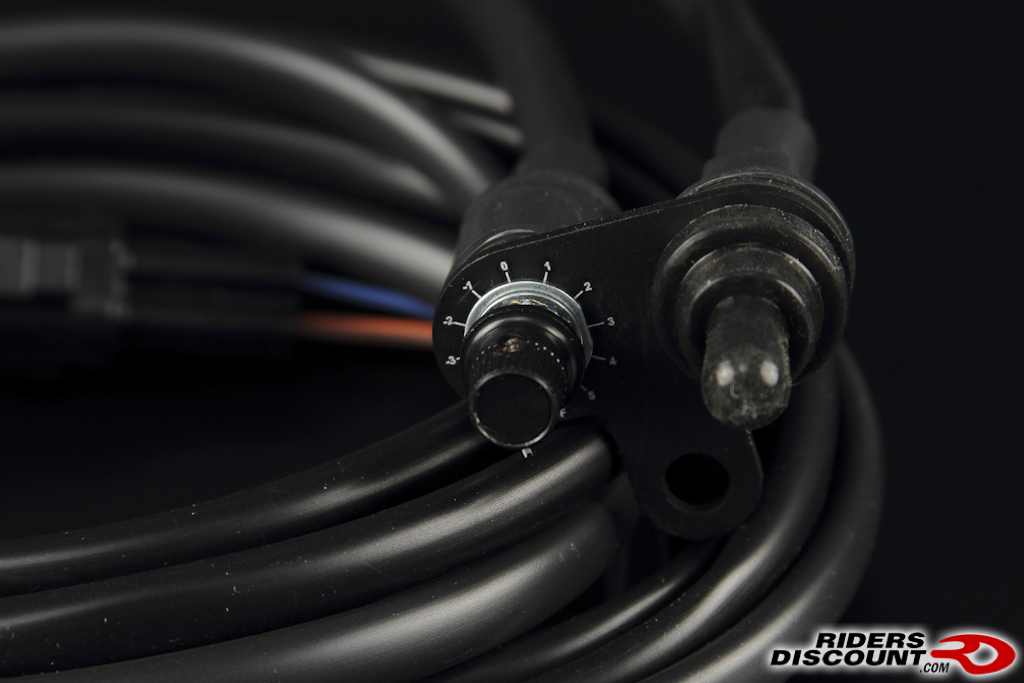 The Bazzaz traction control active light will function with Z-Fi TC models built after February 2010. Directions are included for the installation and modification process – some models are a direct plug-in while others require two wires to be modified on the coil harness to attach a connector plug.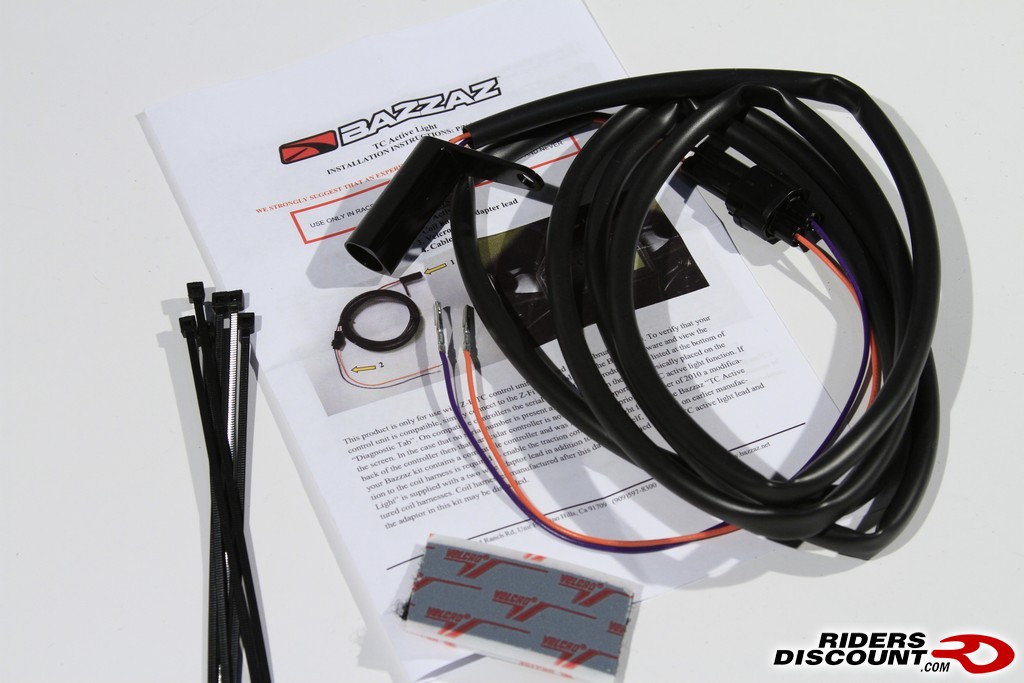 The traction control active light can be placed anywhere the rider prefers. Here, it is seen above the instrument display.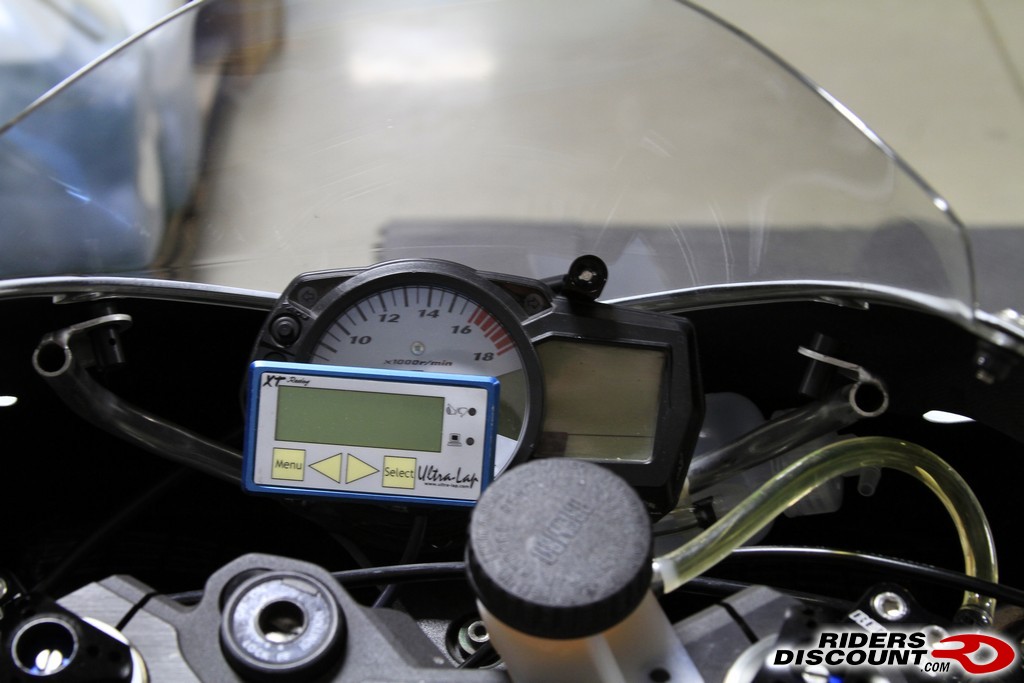 Build your own map or enhance a custom-tuned map with the Bazzaz Z-AFM kit. This includes an exhaust gas sensor which collects air/fuel data to easily help the user create the most powerful engine map possible.