The Bazzaz Performance Z-Fi Fuel Control Unit is a simple plug and play device that piggy-backs onto your bike's OEM ECU. There is no cutting or permanent modification to your bike's wire harness required. It literally fits in the tail section of your motorcycle and plugs into your bike with a model-specific wire harness using high-quality connectors. Basically, if you can hook up a television to a Play Station and a stereo, you can install a Bazzaz Z-Fi on your motorcycle. There are a few different versions of this system available, but here we're going to focus on the most basic version – the Z-Fi Fuel Control Module.
The Z-Fi is perfect for the rider on a budget who wants to upgrade the performance of his or her motorcycle. The system comes pre-mapped to work with either stock or slip-on exhausts for each specific model. These fuel curves are designed to eliminate the constraints that are built into the OEM fuel map and thereby liberate greater power output from the bike's engine and give your right hand a better connection to the rear tire. Any Bazzaz Z-Fi unit can be programmed for even greater power output by a competent dyno shop or, you can choose to purchase the optional Bazzaz Z-AFM self-mapping kit for a truly custom fuel map in any condition.
Bazzaz Performance is constantly testing new software for their systems as well and updates are released on occasion so you can get even better performance out of your current Z-Fi kit. For 2010, new software was created which allows the user to calibrate the Bazzaz kit with a bike's throttle position sensor. By doing so, the system further improves throttle response and provides greater accuracy in the way it delivers fuel to the combustion chamber. Another new feature improves the system's integration with a Bazzaz Z-AFM self-mapping device. With this update, it is now possible to create different target air/fuel ratios (AFRs) within the same fuel map so you can easily generate a truly high-performance engine map without the constraints of a single AFR – something that used to be reserved only to factory teams with dedicated data technicians!
Available for 2006-2013 Kawasaki ZX10R.
Bazzaz Performance Products are not yet available on our website - call MIKE at 866-931-6644 ext 804 for fast shipping and expert advice. You can also email us at FORUM at RIDERSDISCOUNT dot COM with BAZZAZ ZFI in the subject line and tell us what bike you have and we'll get back to you right away.
Bazzaz Performance Z-Fi kits come with everything you need for installation and setup: Z-Fi control unit, wire harness, CD-ROM (for programming the Z-Fi with your laptop computer) and clear instructions to help you get the installation done correctly. Where O2 sensor eliminators are required, Bazzaz has included one so you don't have to worry about setting off any power-robbing ECU error codes.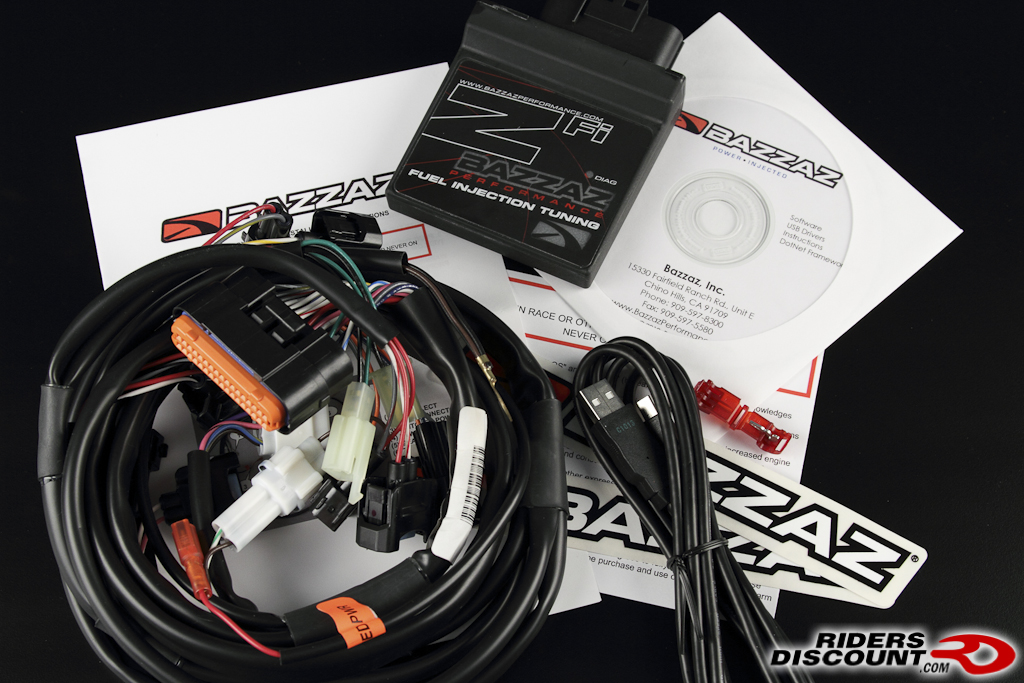 Notice the quality of the connectors, they look identical to OEM. As always, customer support from Bazzaz has been outstanding and their technical department is only a phone call away.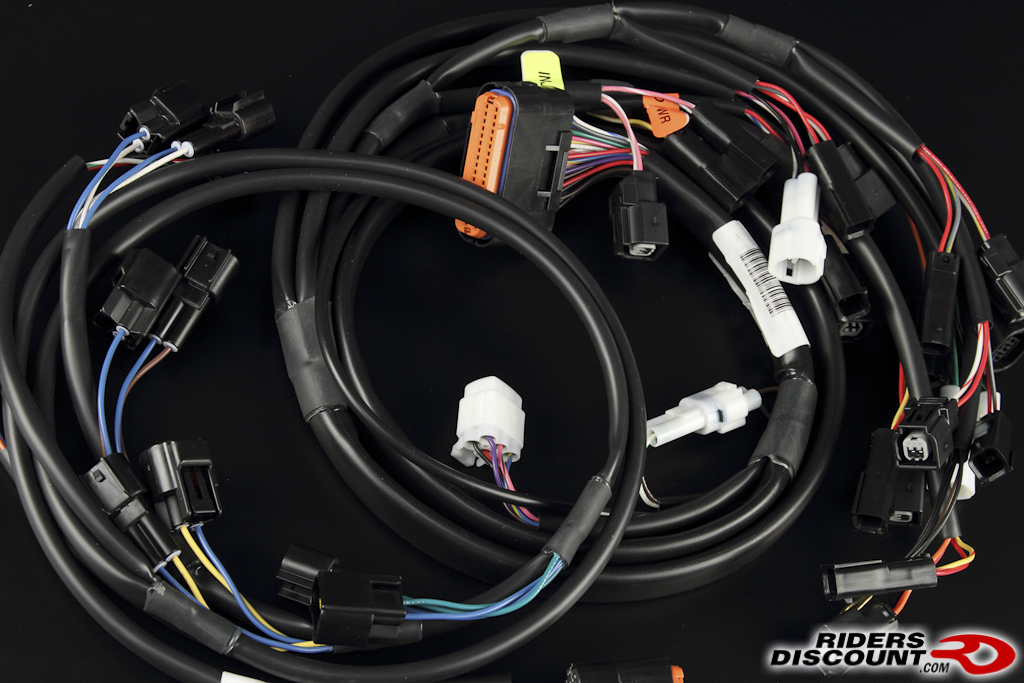 For those of you interested in avoiding a trip to the dyno, the Bazzaz Z-AFM kit can be added to the standard Z-Fi kit at anytime for a truly one-off custom fuel map that's perfectly suited to your bike. With this system, optimizing power output is as simple as plugging in a laptop computer and using the included software to make the changes you want.