If you're looking for inexpensive bodywork, but want something that fits right straight out of the box and doesn't take four hours to prep - look no further than Armour Bodies Pro Series bodywork. Armour Bodies has been noted for their high-quality fit and finish. This is achieved through the use of full sheets of fiberglass when rendering parts in a mold. In this way, the bodywork can be made stronger and lighter than kits for the same bike from other manufacturers. In other words, you can expect it to hold up better in a crash since these fairings aren't piecemealed together in an effort to save on manufacturing costs! Fitment is another issue that comes up with cheap aftermarket motorcycle bodywork.
One of the main factors that prevents fiberglass bodywork from fitting correctly is that many manufacturers choose resins that shrink as they cure. The results are parts that don't line up correctly and require several hours of prep time to fit on your bike. We've even seen homemade brackets employed to hold brand new bodywork in place! That's not the case here. Armour Bodies Pro Series bodywork have displays a good fit straight out of the box thanks to the use of resins derived from use in kayaks. As an added bonus, these resins help the bodywork withstand chipping from rocks and other flying debris your bike will encounter out on the racetrack. And, the bodywork is also surprisingly flexible too. Best of all, when it comes time to paint, prep time is at a minimum since Armour Bodies Pro Series Bodywork is rough-finished at the factory where workers fill pin holes, smooth edges and add a primer to make sure the overall finish is ready to paint after a light scuff.
Available for 2006 and up Kawasaki ZX10R, kits start at $699.99 with a supersport tail and $749.99 with a superbike tail.
For more information, call Mike at 866.931.6644 ext 804 or send an email to FORUM at RIDERSDISCOUNT dot COM with ARMOUR BODIES BODYWORK in the subject line and we'll get back to you right away. We ship for to any address in the lower 48.
Every component of the Armour Bodies Pro Series bodywork comes well packaged.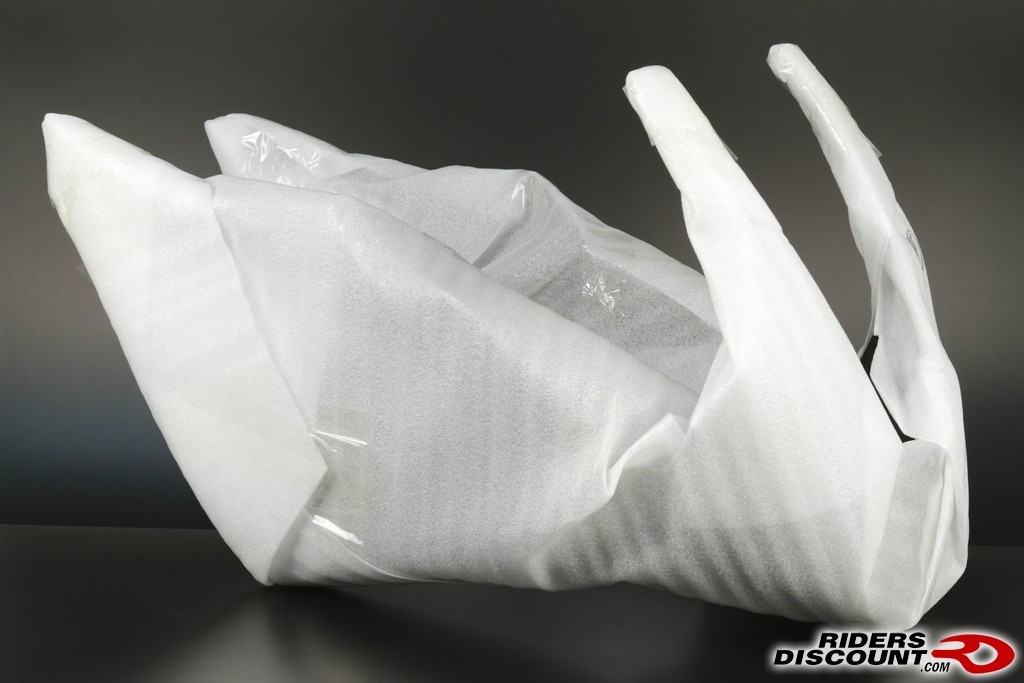 Removing the protective foam wrap reveals an evenly finished primer.
Inside each component, it's clear that large pieces of fiberglass are used for manufacturing. There are no large gaps between layers and the layout appears to be done in a logical manner.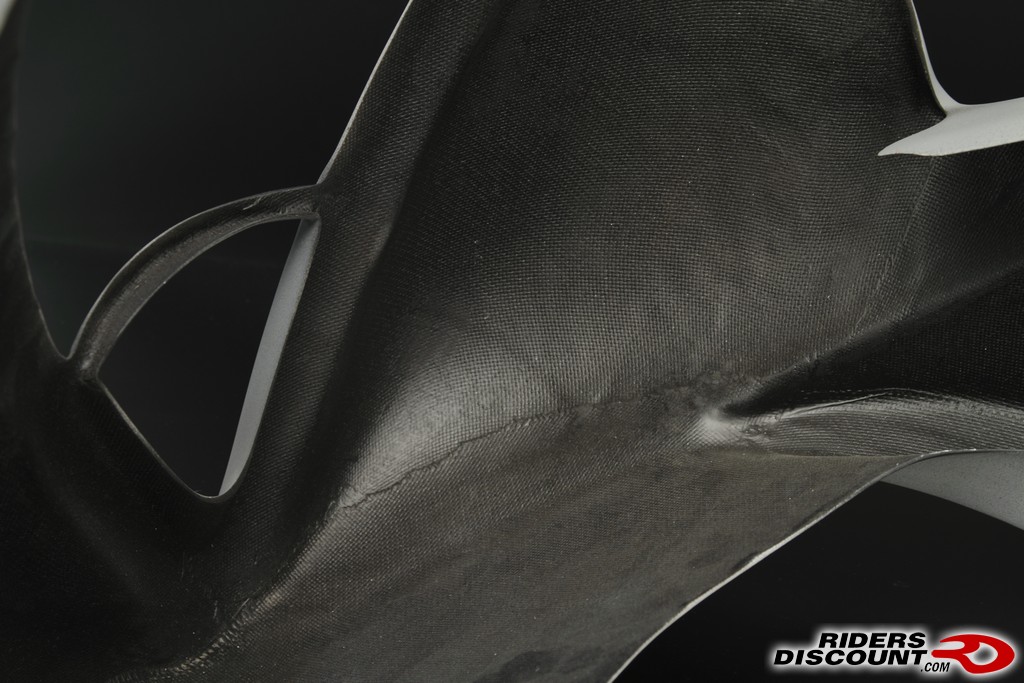 The bellypan too, looks nice from the inside with its black finish. It's also surprisingly flexible.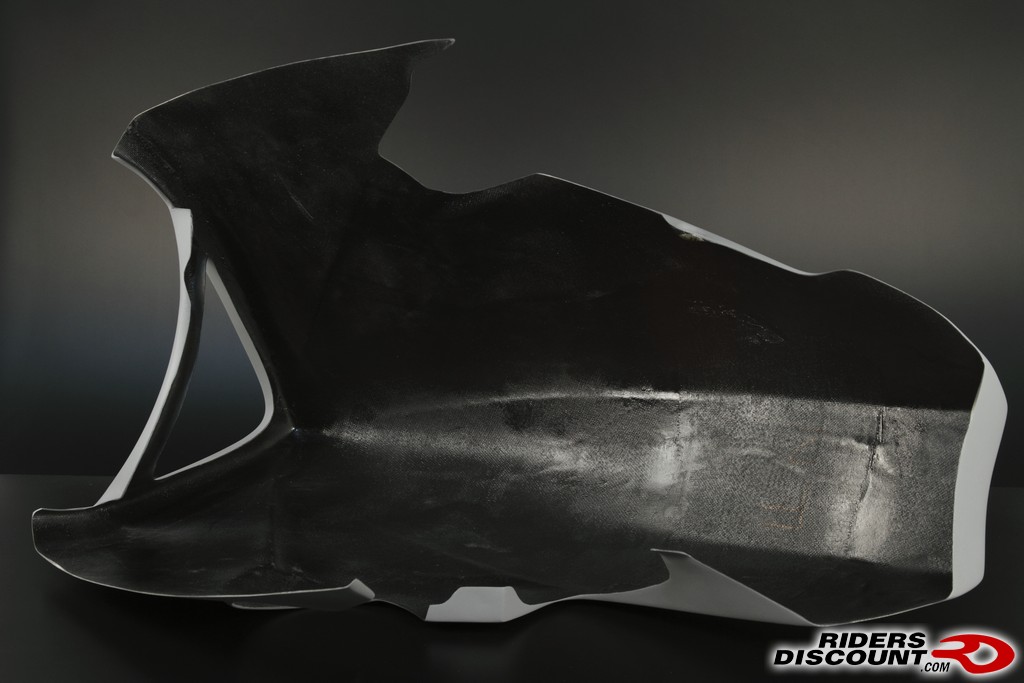 Armour Bodies makes it as easy as possible to install these on your motorcycle. Notice the notch in the cross-beam in front of the radiator. Lesser bodywork manufacturers make you figure these things out on your own …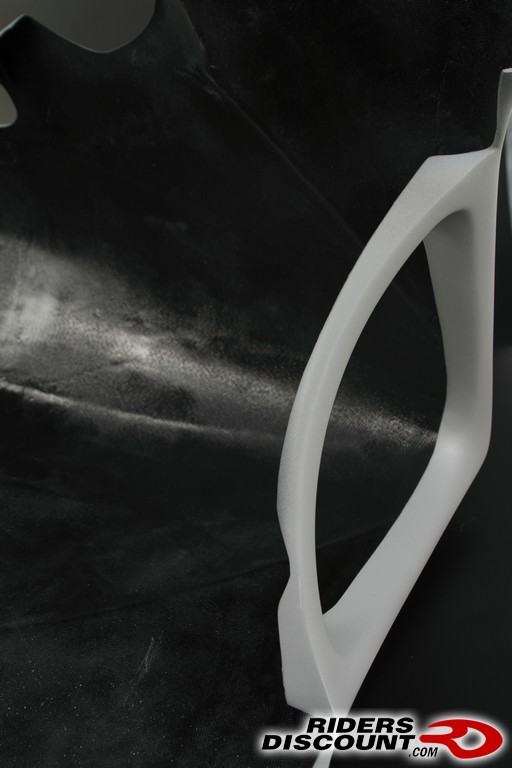 Pro Series bodywork from Armour Bodies use a carbon/Kevlar overlay at all the critical mounting areas to reduce the likelihood of damage to these areas after a crash.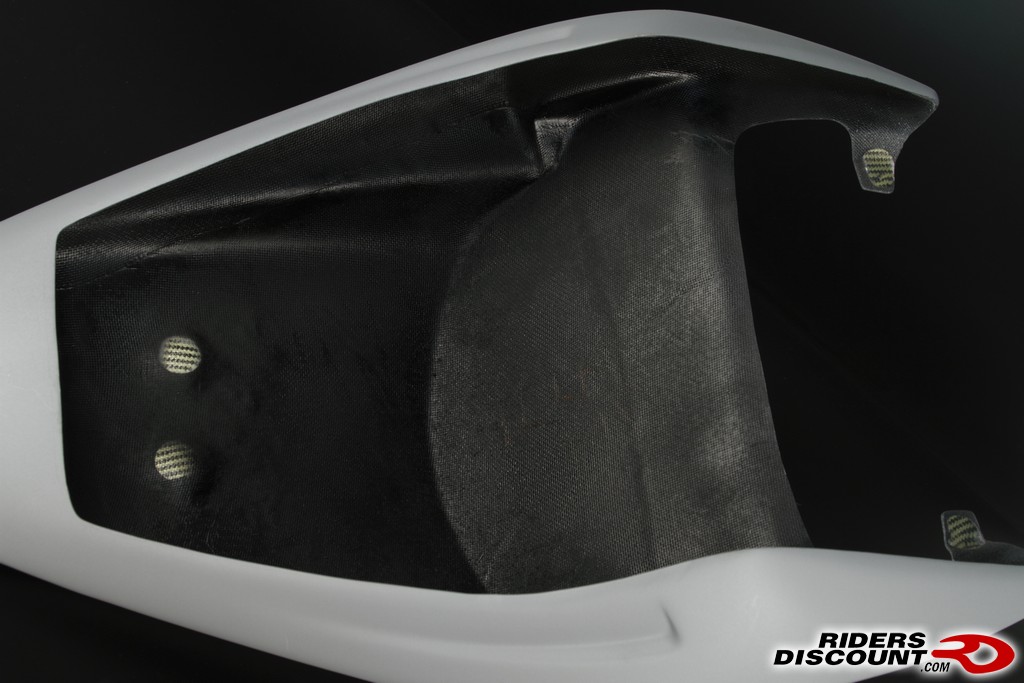 All that's required to install Armour Bodies bodywork is that you drill a few holes in the OEM locations. You can see the dimples on the front of this tail section and a pair of recesses on the upper part which make lining everything up that much easier.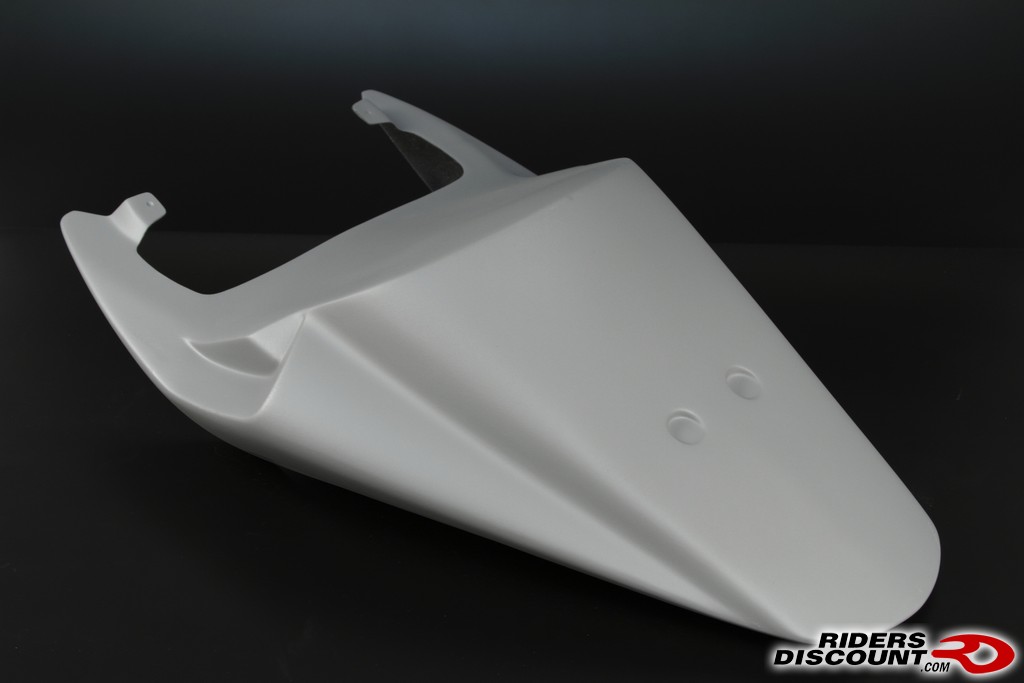 Here's how everything looked on our Daytona 675 racebike.