Well after having a bad ending to my intro into racing (final 3 races at RACE) where I spun a rod bearing then taking an intake valve shortly after the repair on my 2008 GSXR 1000 sbk, I decided it was time to cut my losses. I picked up a shiny almost new ZX10 with 1700km on it to turn into my new love. I know this is not a cost effective way to get on the track but after having two motor failures, any bike I picked up would have a full rebuild before it hit the track (roughly 3-$4000). This way I start fresh and can mod to my desire and make the bike my own.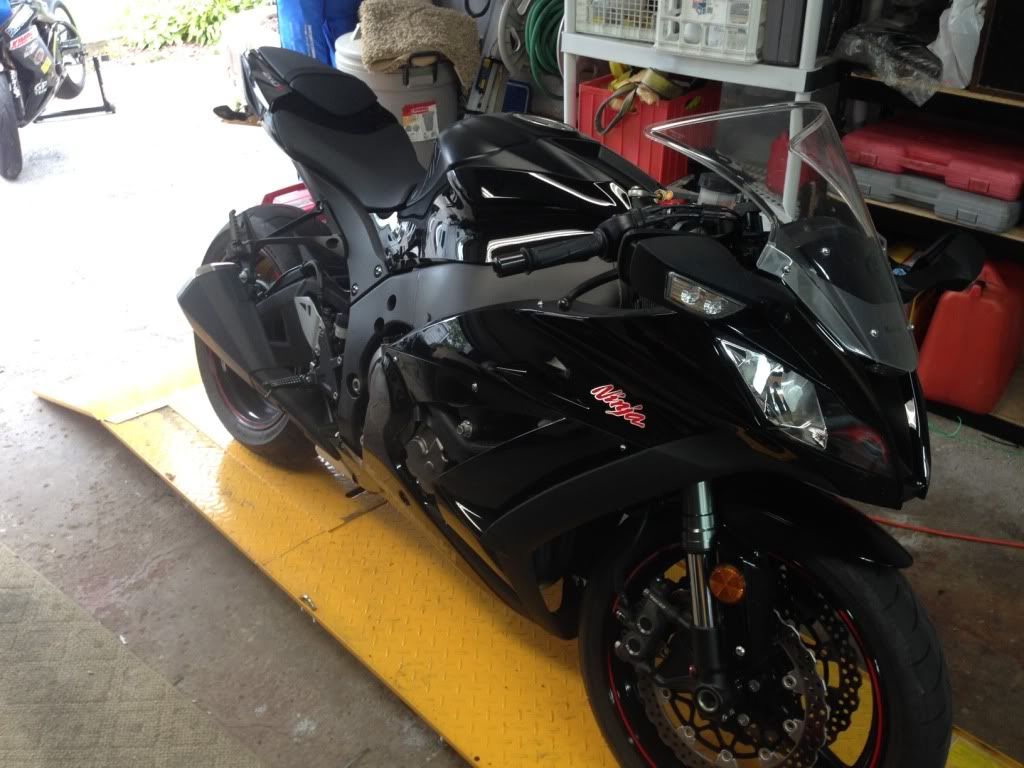 I started off riding the bike home (roughly 200km) and felt fairly comfortable with the ergo's right away. Once I got it home and found a couple safe backroads I wanted to see what all the hype was with this bike. Needless to say it was impressive but not what I was expecting. These bikes come heavily restricted from the factory so after a little research I found out by grounding a wire from the ecu it puts the bike into a neutral map where the secondaries don't close at higher rpm, so by day two the bike had already had its first "mod". One quick jaunt and the bike showed what it was really made of! It pulls extremely well past 10,000rpm and if I dare say wouldn't give up much to my GSXR that was built pushing 180whp on U4.4.
I started getting the build under way by removing all the nice shiny painted bits and unnecessary street parts (beside the kick stand).
I picked up a few parts that I knew I would change right away such as Vortex rearsets
Renthal clipons, STM switches, Pro-Taper adjustable clutch perch
Brembo 19x18
Fairing stay with a bigger ram air intake from the UK (
http://m.ebay.co.uk/itm/181680345840?nav=SEARCH
). You can also see the Lightech remote brake adjuster, ProTaper adjustable clutch perch and my homemade rad guard.
And a few bling parts.
I also removed the OEM wiring harness and ECU. By the time it added the cost of a quick shifter to a piggyback system the price was within a couple hundred dollars but this way I have much more adjustability.
Old harness
Race harness and ECU
After removing the OEM harness there was plenty of room to add a set of block off plates so I took the opportunity to get it done while I was there.
Started a bit of the race wiring to keep everything where it's suppose to be.