The Supertech R Boots are Alpinestars top-of-the-line high-performance motorcycle boots for those that demand the best foot protection possible. Making these riding boots particularly unique is a two-piece chassis design that features separate inner and outer units that each serves a unique, but related purpose. Starting with the outer that's designed primarily for abrasion and impact resistance – this is a marvel of Alpinestars' technical engineering. A hard plastic protector wraps around the outer upper boot area with a ratcheting closure on the back to hold the outer shell in place. This upper is designed not only for a close fit in the interest of aerodynamics, but also to disperse and absorb impact energy. The heel too, is well armored with a large counter surface that protects as well as ventilates. The inner-facing side of the boot is covered with a microfiber suede material, similar to the Alpinestars Tech motocross boots which is used to provide exceptional feel against the bike as well as abrasion resistance. For those of you concerned about your bike's appearance, this material does not mark up paint or carbon fiber in the same way as plastic or leather does.
The inner ankle brace system is another well thought-out piece of equipment which is first donned by the rider before putting the boot on. This bootie acts as an exoskeleton for the rider's foot with the intention of preventing hyperextension of the joints. In addition to this, it also aids in impact protection by transferring energy from a single point to other areas to help dissipate the impact force over a large area, reducing the risk of an injury. The bootie works in part with the outer shell to permit a surprising amount of flexibility while at the same time providing vault-like impact and abrasion protection.
Alpinestars Supertech R boots are available in several colors in ventilated or non-ventilated versions. For full details, go to
our website
then call TJ at 866.931.6644 ext 817 for fast shipping and expert sizing guidance. We also entertain any questions you have via email, send those to FORUM at RIDERSDISCOUNT dot COM with ALPINESTARS SUPERTECH R BOOTS in the subject line and we'll get back to you right away.
The inner ankle brace system is made with a special fiberglass-charged polyamide formula on the outer areas which are backed by a closed-cell padding for comfort and maximum protection.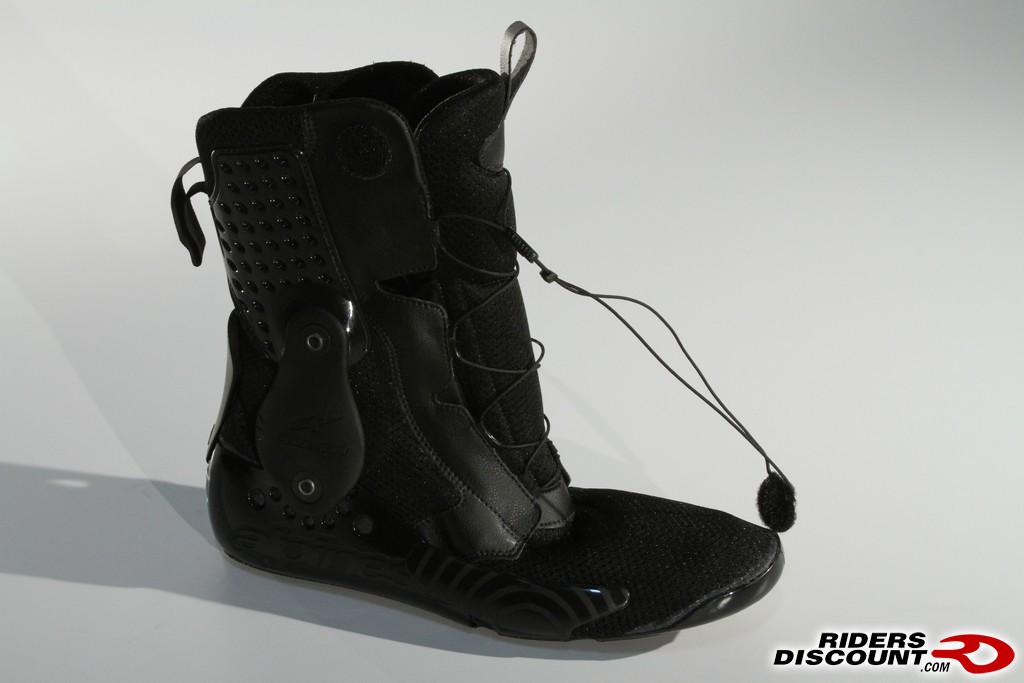 Speed lace mechanism helps you easily adjust the ankle brace to your foot for a close fit and maximum protection. Despite its armored appearance, these help the boot to be surprisingly flexible for ease of movement.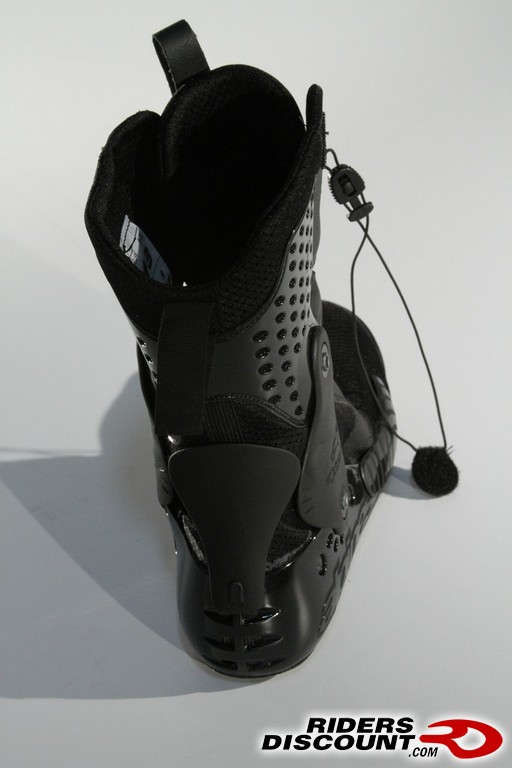 Many Alpinestars-sponsored racers prefer to run the bottoms of their leathers over the inner ankle brace before putting the outer shell of the Supertech R boots in place.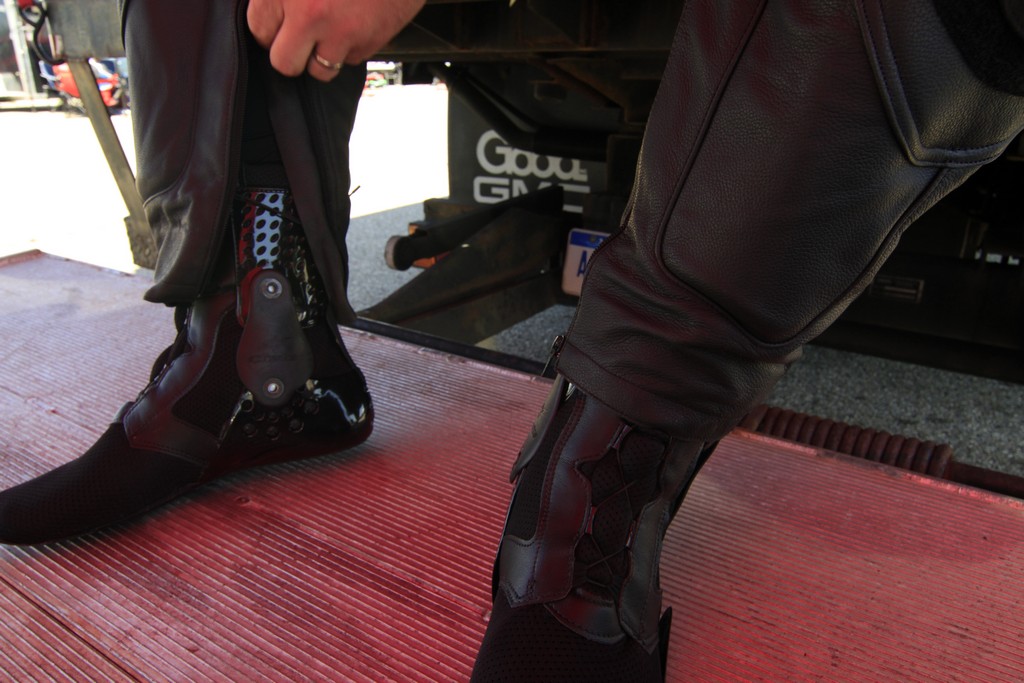 Black non-vented Supertech R boots from Alpinestars. Notice the inner microfiber suede on the boot at right in this photo. This provides excellent feel and helps attenuate the heat given off by bikes with underseat exhausts.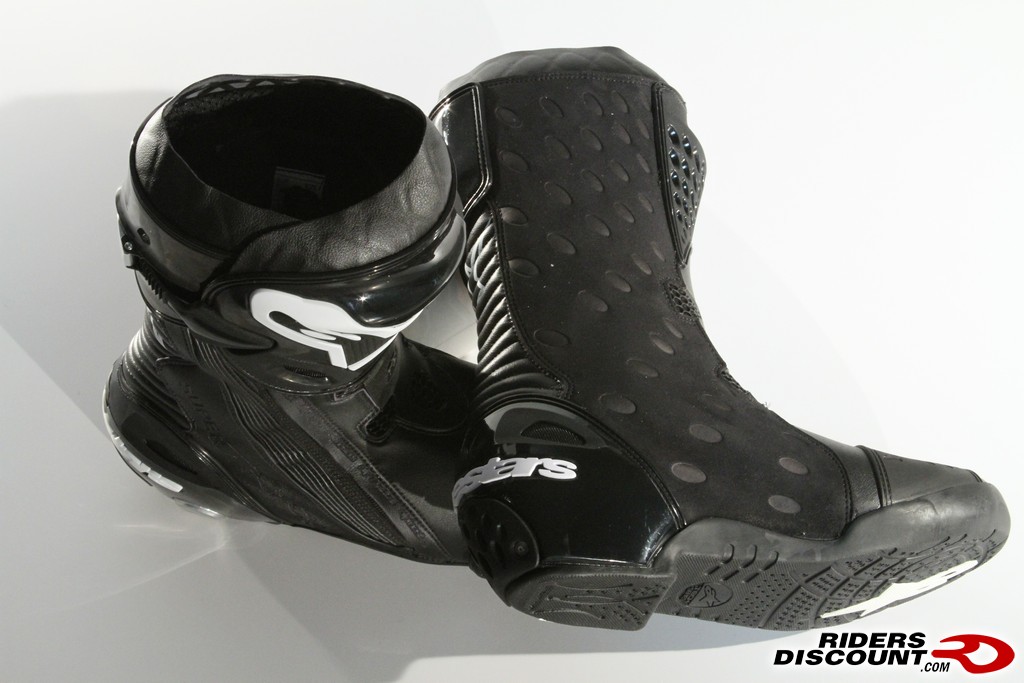 Black-Red non-vented Supertech R boots. A plastic cover over the top of the toe prevents gear shifters from quickly wearing through the leather boot surface.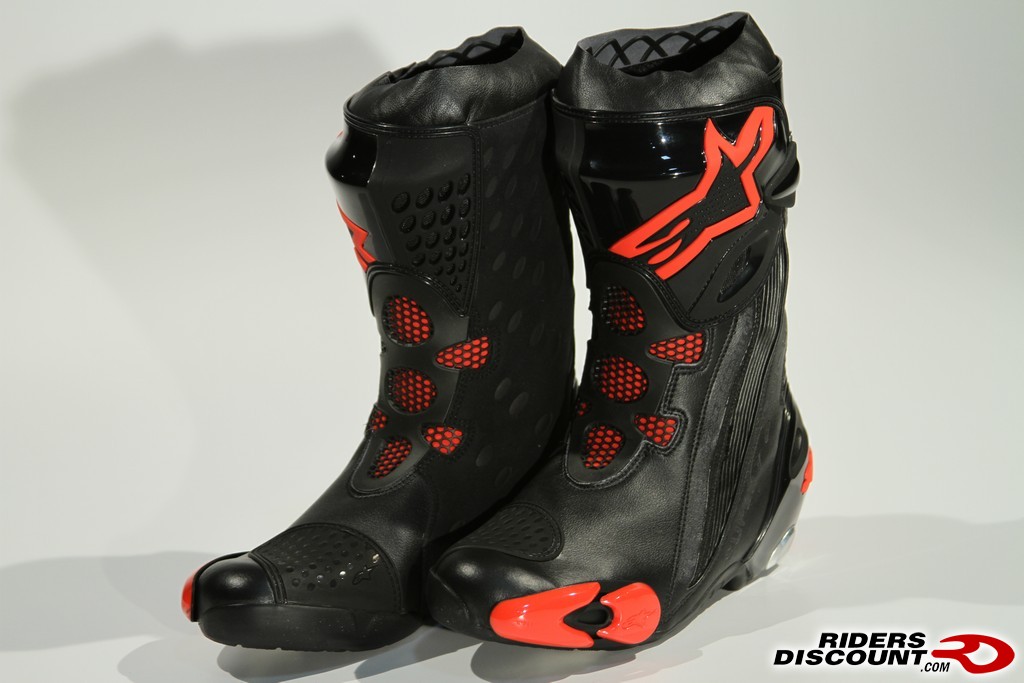 Blue non-vented Supertech R boots. Hard plastic toe-sliders are easily replaced when worn through. Notice the accordion expansion on the outer boot surface. These serve to both permit easy entry to the boot while allowing a surprisingly wide range of movement.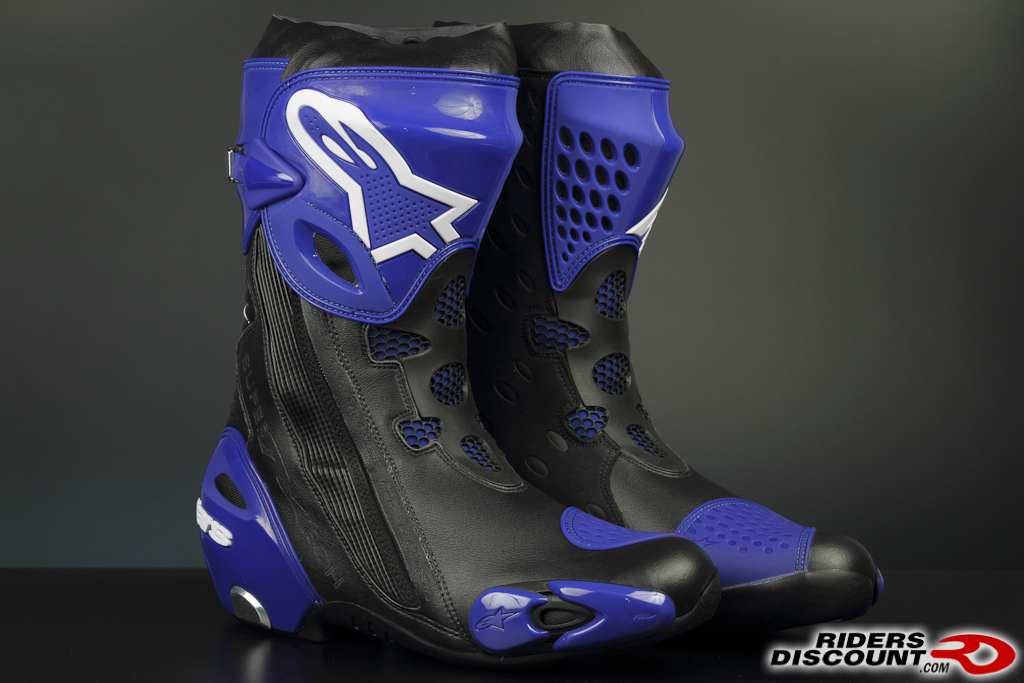 Alpinestars Supertech R boots also come in a ventilated version with extra die-cut perforations located on the upper foot area.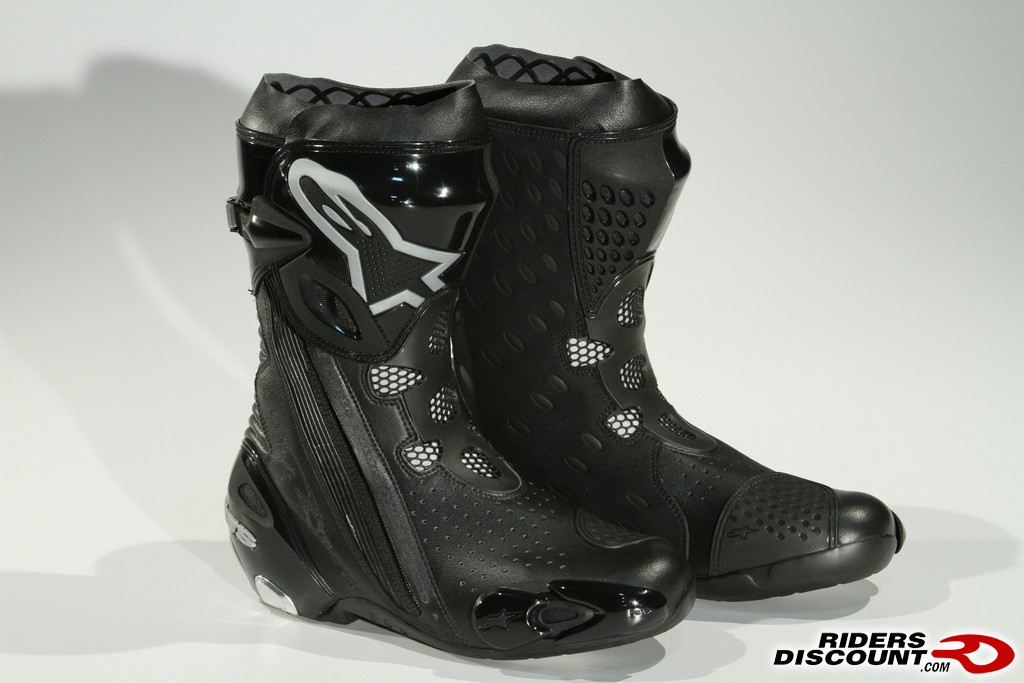 The ventilated boots are an excellent choice for hotter climates.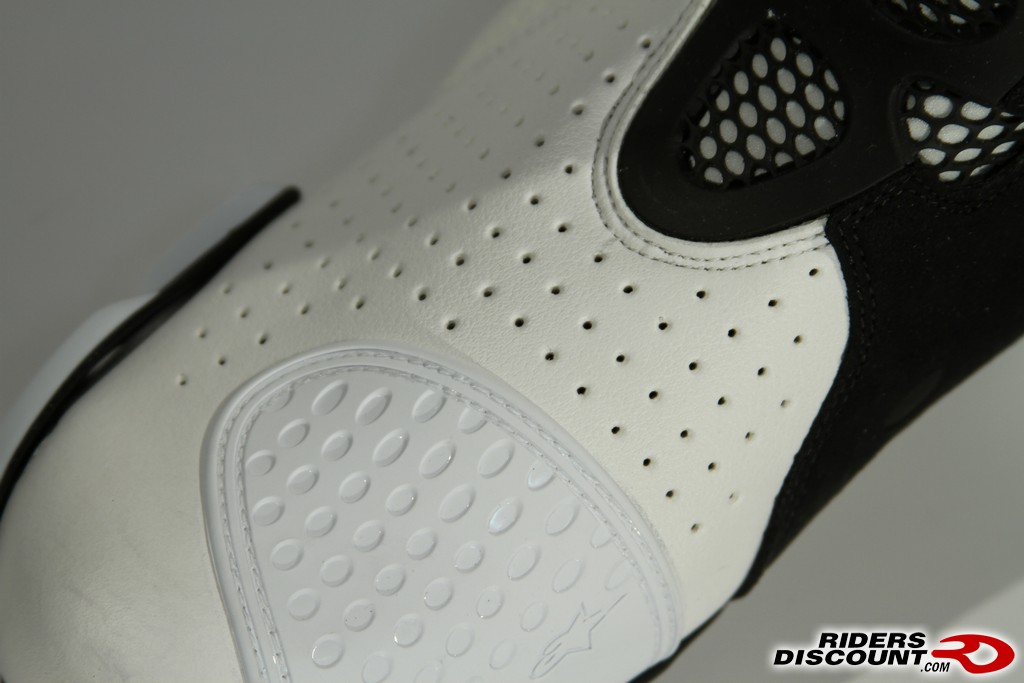 These white/black boots are the ventilated version of which, every aspect is engineered for performance. Notice the upper gaiters that are specially constructed for a close fit against your leathers.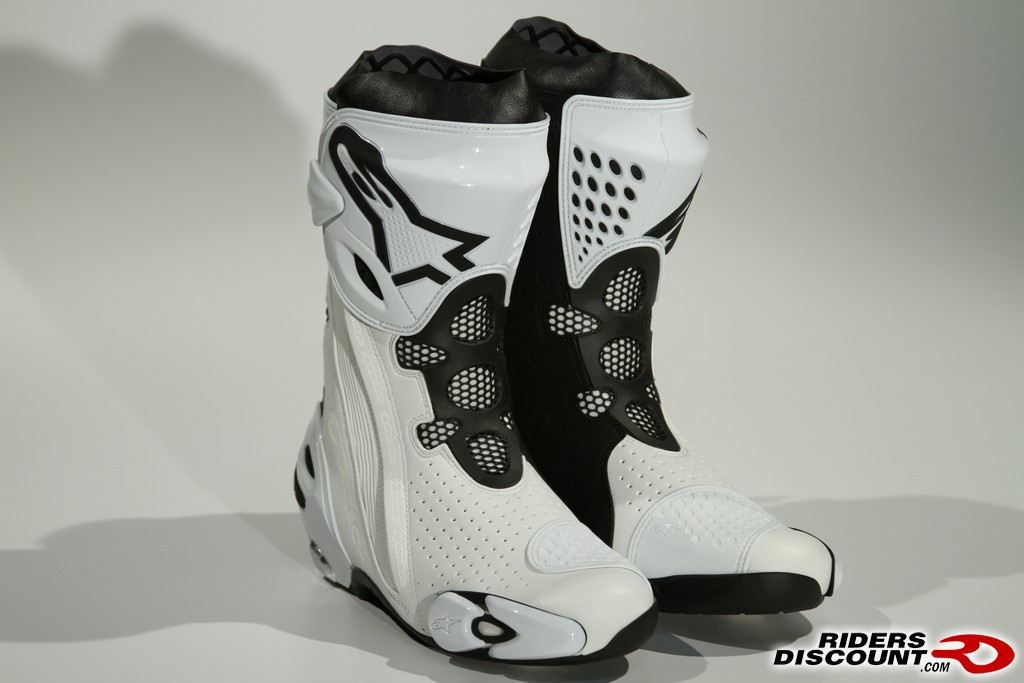 The GP Track Alpinestars Supertech R boots feature stencils of many famous racetracks from around the world. These are available only in the ventilated version.