New for 2011, the GP-R jacket from Alpinestars is all about ventilation and exceptional safety. It's perfect for anyone that just has to have leather for the summer but doesn't want to ride in a sauna. Most of the jacket's outer chassis is made with 1.3mm cowhide that's perforated with a die-cutting method, leaving no loose threads of material that would eventually fray for lasting good looks. Along the inside of the arms and just behind the shoulders, aramidic stretch panels are used to allow ease of movement and provide a comfortable fit for the wearer. Inside the jacket, you'll find a mesh liner that enhances the cooling effect of the perforated shell and, by preventing direct contact between your skin and leather; the jacket won't tug at your skin while you ride. To further enhance comfort, neck and wrist collars are lined with neoprene and Velcro-adjustable tabs at the bottom of the jacket allow you to cinch away excess leather to keep your gear from ballooning at speed.
Safety is another aspect that's well looked after with this Alpinestars leather motorcycle jacket with CE-certified Bio Armor being used in the elbows and shoulders. This energy-absorbing armor helps to reduce trauma in a fall and it can be further aided by the installation of a back protector and
chest protectors
to replace the PE foam padding that comes with the jacket in those areas. Furthermore, the shoulders are covered with hard PU plastic sliders for added protection. Of special note, there are two choices for a back protector. One may replace the foam element with a
Bio Armor insert
for CE Level 1 protection or simply snap an
Alpinestars Bionic Race back protector
to the included snap connection system for CE Level 2 protection. For those that want to attach a set of
motorcycle pants
for trackdays or a good scratch out on the road, a waist connection zipper is fitted as standard.
As you can see, the new GP-R leather jacket from Alpinestars is a very versatile motorcycle jacket. For more information, call Mike at 866.931.6644 ext 804 or send a note to FORUM at RIDERSDISCOUNT dot COM with ALPINESTARS GP-R JACKET in the subject line and we'll get back to you right away.
Several different colors are available for this Alpinestars jacket. Here is the white/red/black GP-R.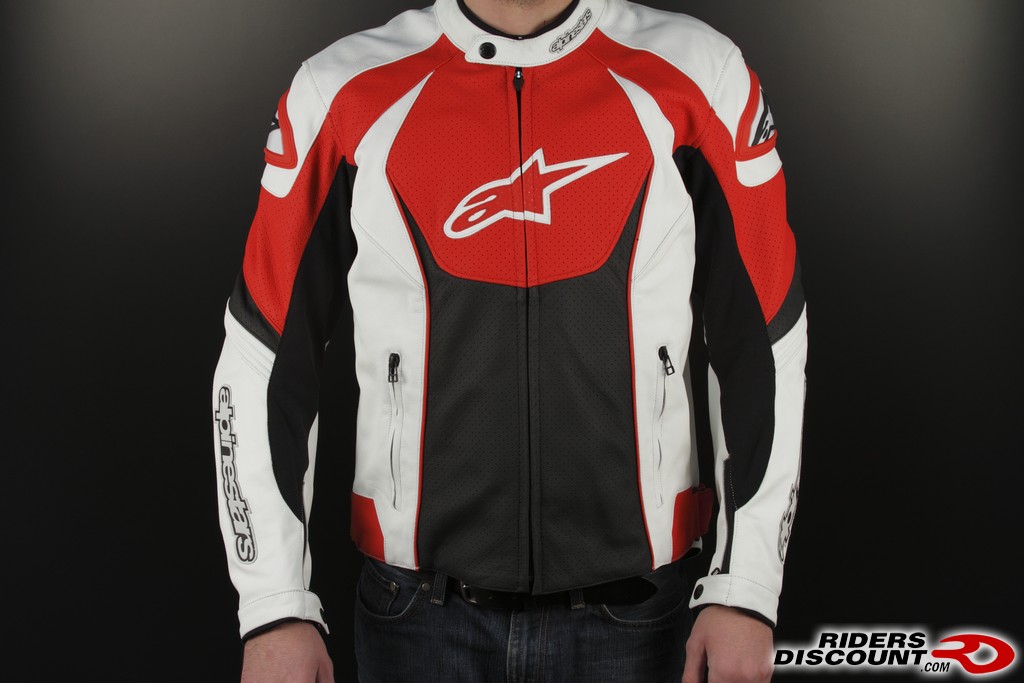 As you can see, ventilation is excellent – even the biceps are perforated. MSRP: $449.95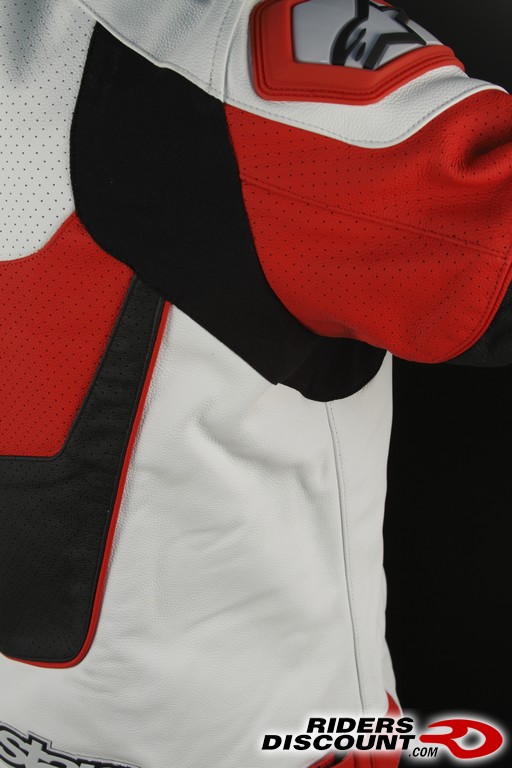 Die-cut perforations cover the majority of the back too. This area acts to literally suck warm air out from within as you ride.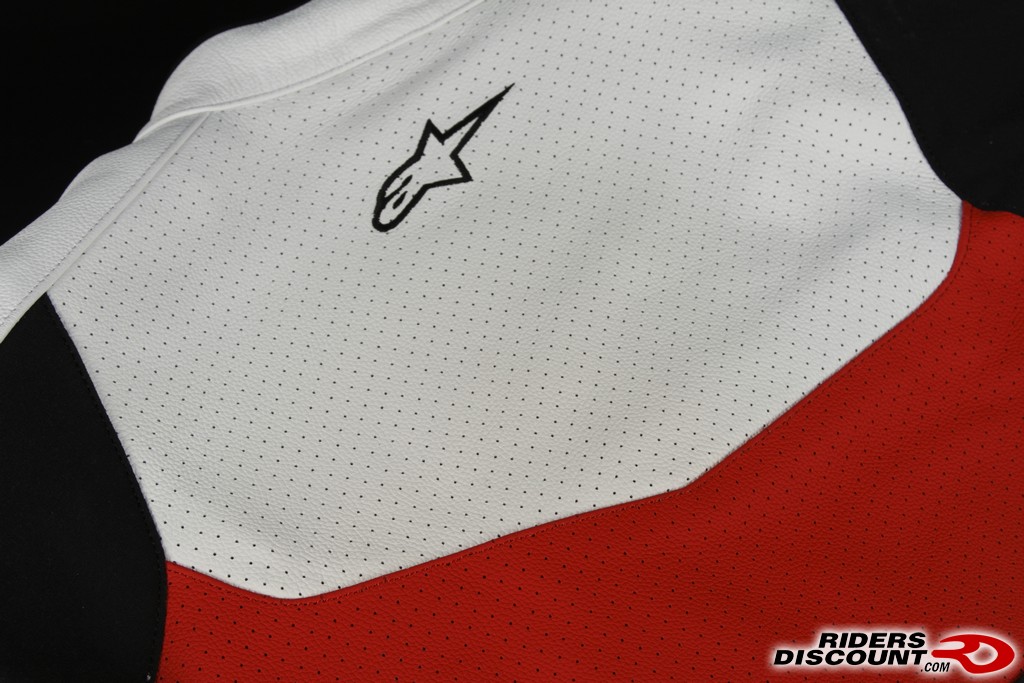 Even the included Alpinestars Bio Armor is perforated to keep you from sweating. Each piece is surprisingly flexible for exceptional comfort.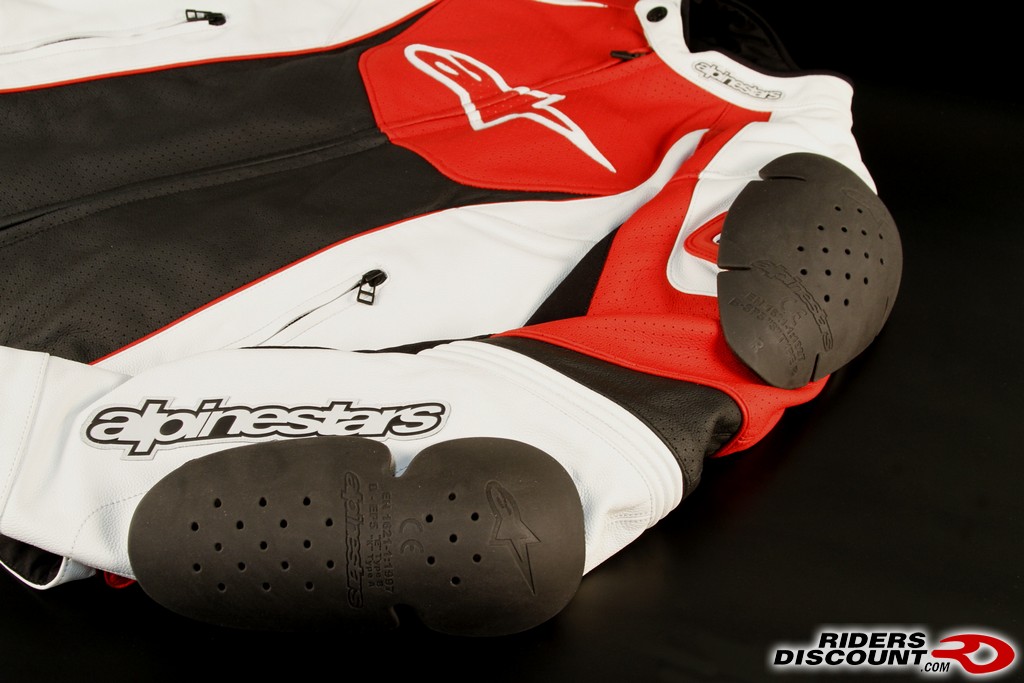 Shoulder sliders have a lower friction coefficient than leather where contact with the pavement is concerned. These are located to not only enhance abrasion resistance of the jacket, but also to prevent tumbling so as to reduce the likelihood of injury in a sliding type crash.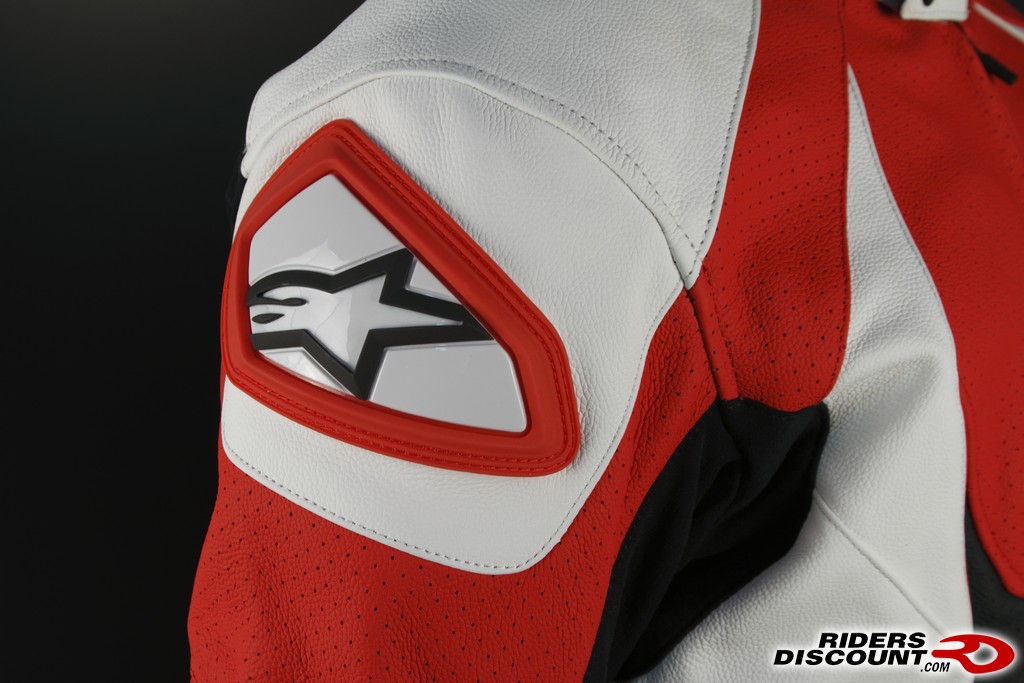 To tailor the jacket's fit for your needs, two Velcro tabs are located at either side of the waist.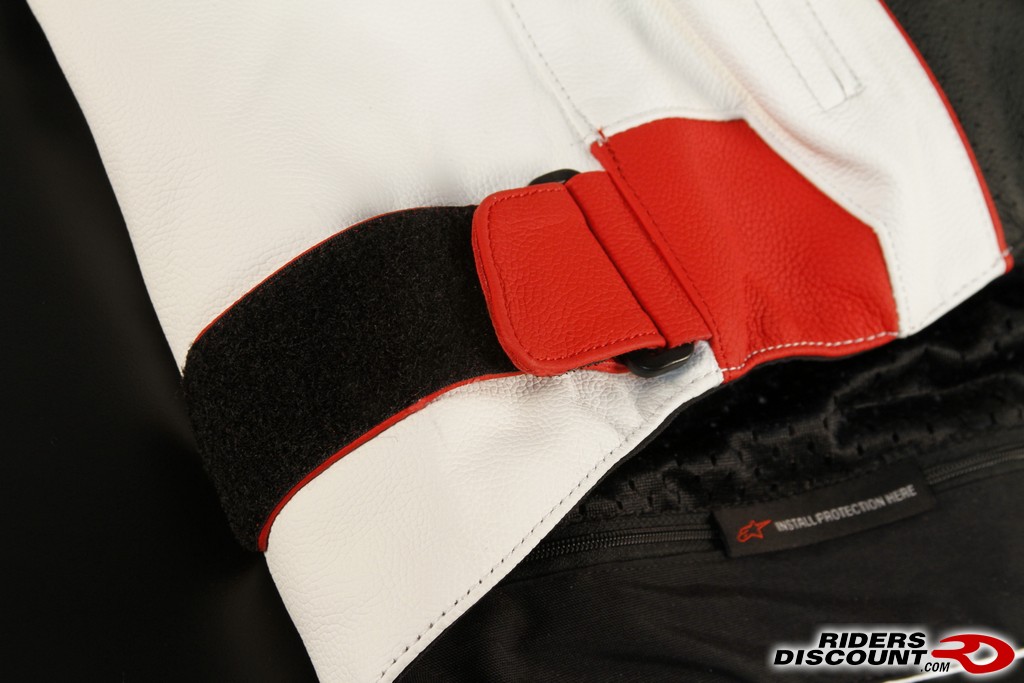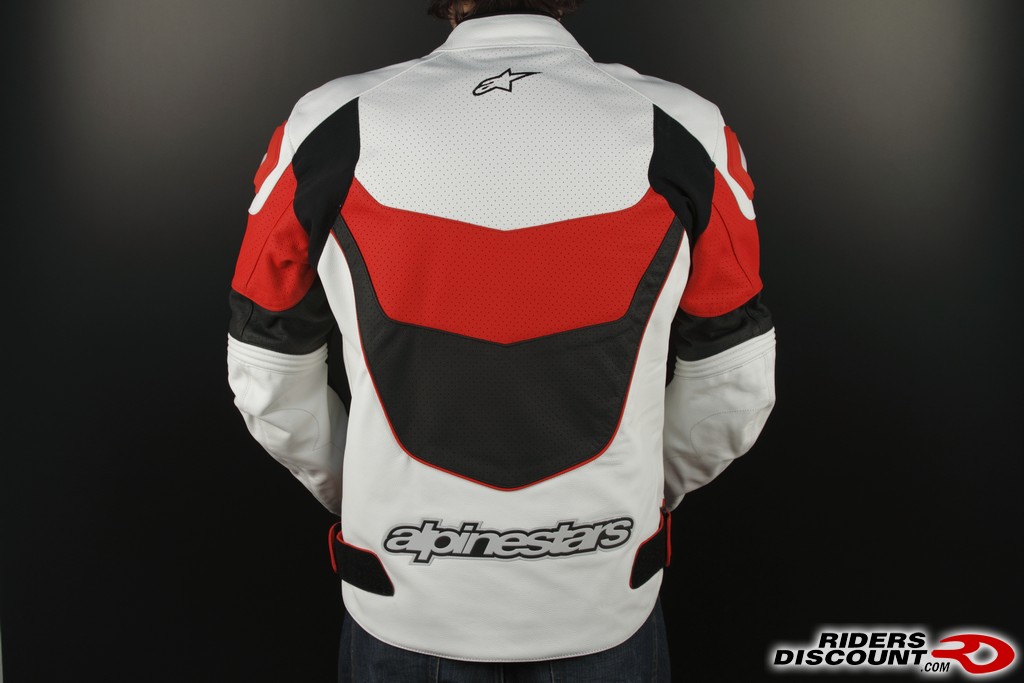 Other colors include white/black …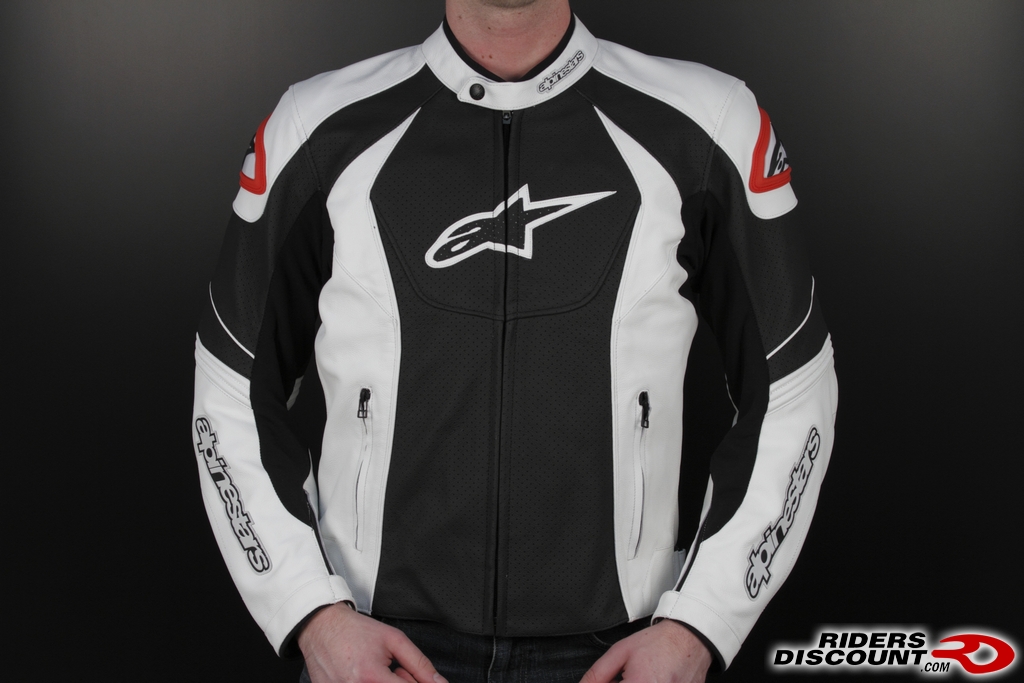 … black with green …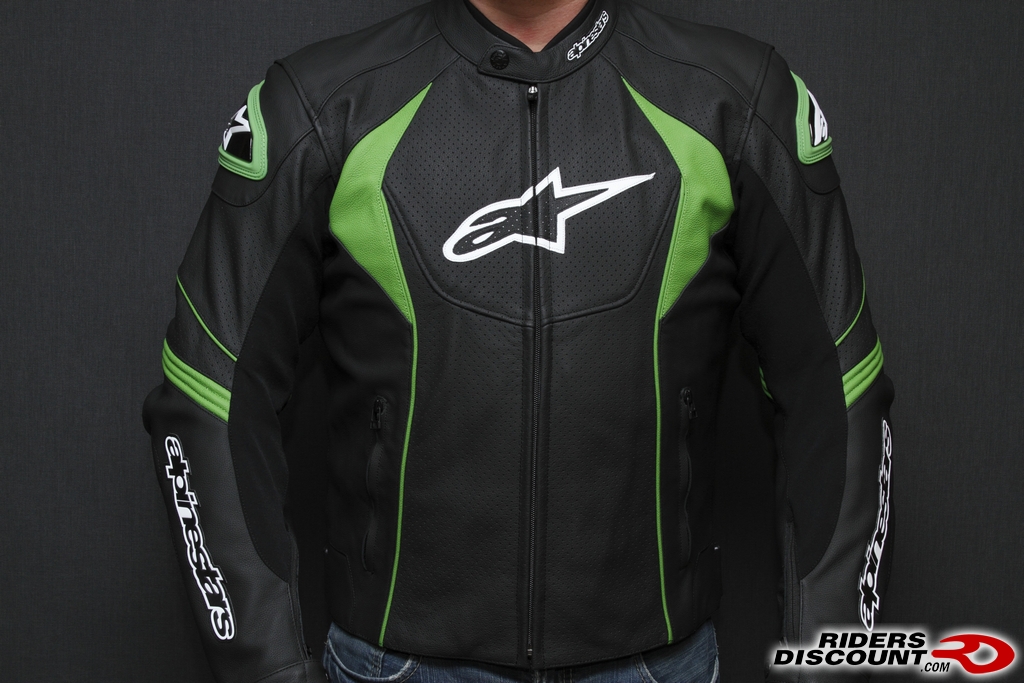 … and of course, solid black.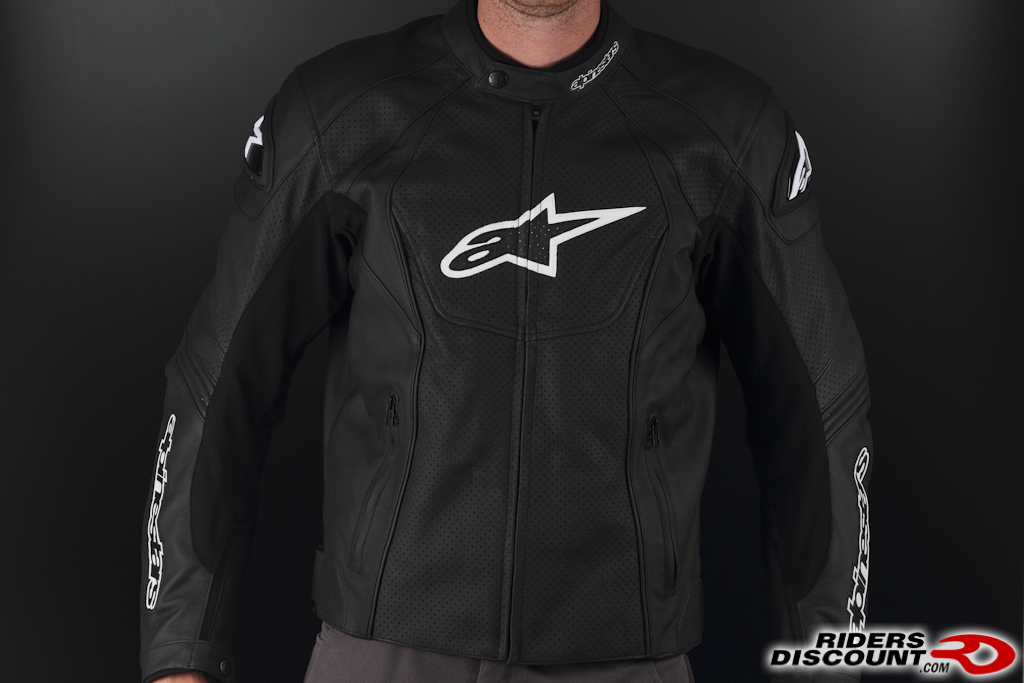 Alpinestars GP-R jackets come in fitted sizes. Don't forget to ask our expert staff for sizing guidance!