Discussion Starter
·
#1
·
The new GP Pro leather jacket from Alpinestars brings many innovations from the Italian marquee's latest full leather racing suits to the street rider. The most visible of these are the external PU protective external sliders on the elbows and shoulders – areas that are almost always likely to contact the ground in a fall. These are both backed up with CE-certified armor under the 1.3mm full grain leather chassis to attenuate impact energy, reducing the potential for bruises while being highly abrasion resistant. Elbow and shoulder armor are generously sized, covering a large area yet, they still permit a great deal of flexibility for the wearer. More armor, in the form of PE-padding is inserted into the back and chest areas, both of which may be replaced with Alpinestars' own upgrade kits for even greater safety.
Taking another cue from their one-piece leathers line up, the GP Pro motorcycle jacket employs a pair of lateral accordion stretch panels that run up either side of the jacket. These permit a near-custom fit for many users as they can accommodate a greater range of trunk sizes than would otherwise be possible with conventional construction techniques. Additional accordion flex panels are found behind the shoulders and just above the hind side of each elbow while the sleeves use an stretch fabric that will accommodate a wide range of builds. All of these combined work to help this Alpinestars jacket obtain an excellent amount of flexibility.
A full-length mesh liner is sewn into the jacket to keep leather away from skin. This mesh spills out over the collar and each cuff where it is soft against the skin. An aerodynamic back hump, which is perforated at the top, is hollowed-out to direct cooling air to flow over the back. Because this jacket is not perforated everywhere, it is ideally suited for cooler environments like early spring, autumn and for nighttime riding.
This new Alpinestars jacket is available in a range of fitted sizes. You can read more details about it
on our website
and call TJ at 866.931.6644 ext 817 to order. We can also entertain questions via email; send those to FORUM at RIDERSDISCOUNT dot COM with ALPINESTARS GP PRO JACKET in the subject line and let us know what size you need and the color you want for accurate availability. These jackets come in black/white/red, black/white/blue or solid black colors.
External PU armor is sewn into the shoulders and elbows for exceptional abrasion resistance. The development of these hard armor pieces has a direct lineage to the suits that Alpinestars sponsored riders have been testing (read, crashing) for years and have proven highly effective to that end.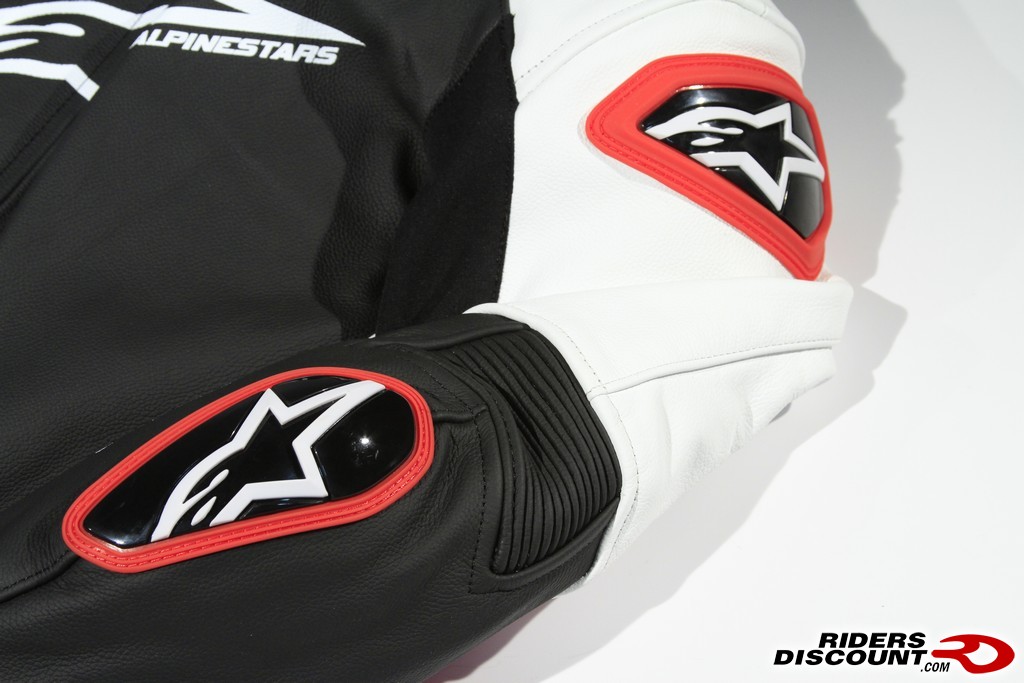 In addition to the two front pockets on the outside of the jacket, plenty of pockets are available within to keep your gear safely stowed. Like other Alpinestars jackets, the bottom zipper can be used to attach compatible leather riding pants.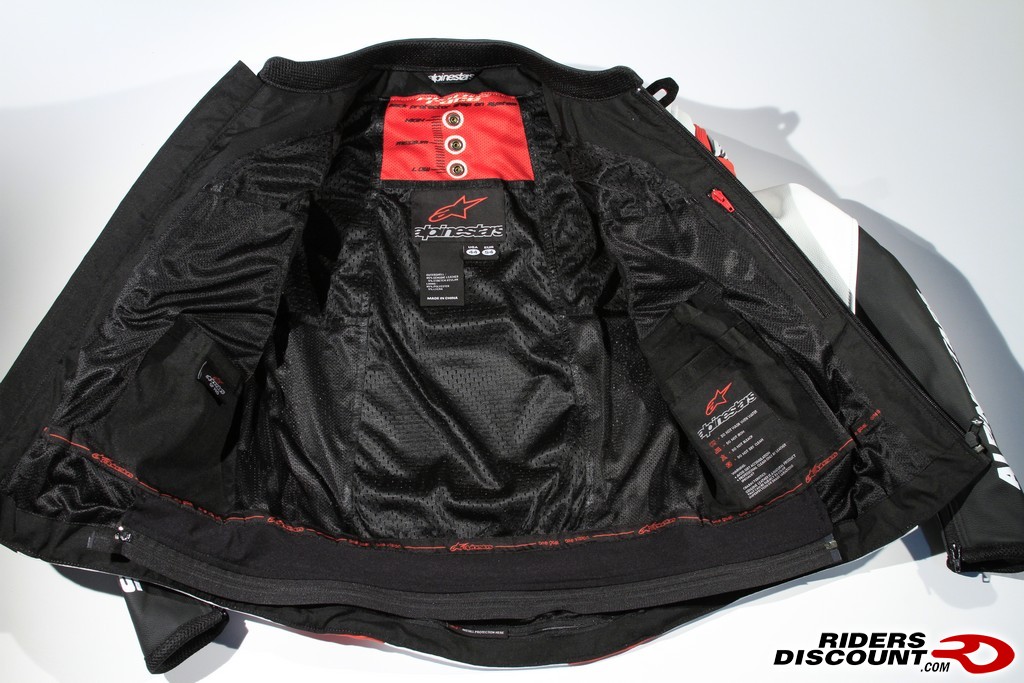 Mesh cuffs outline the end of each sleeve while Velcro fasteners allow you to fit the leather around your waist.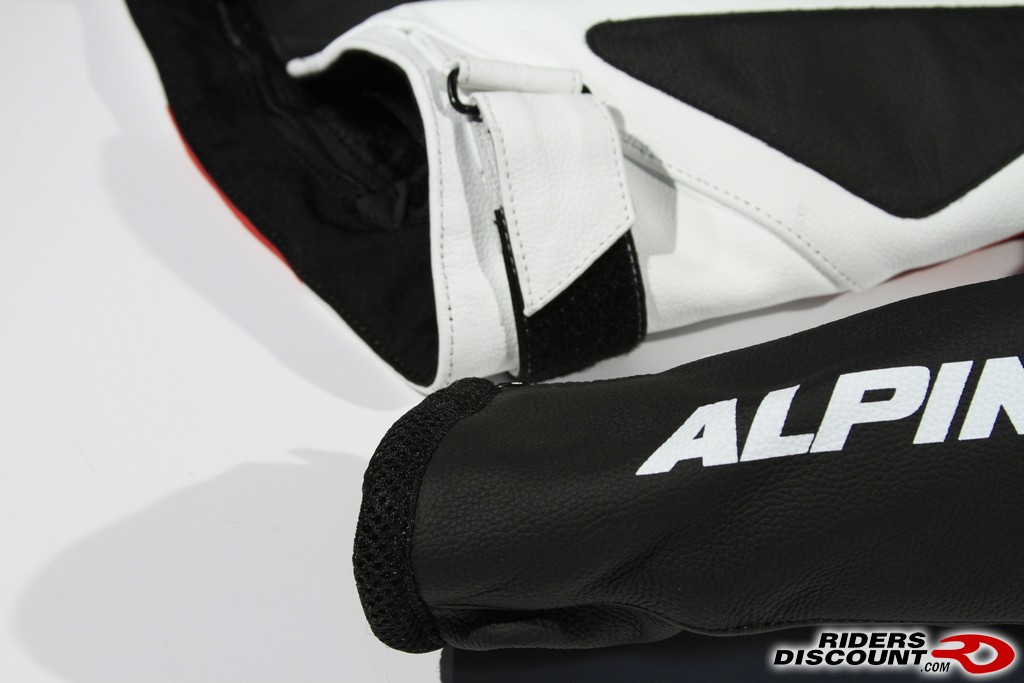 Dual-density foam aerodynamic hump is perforated at the top which admits a cool blast of air over the back while you ride.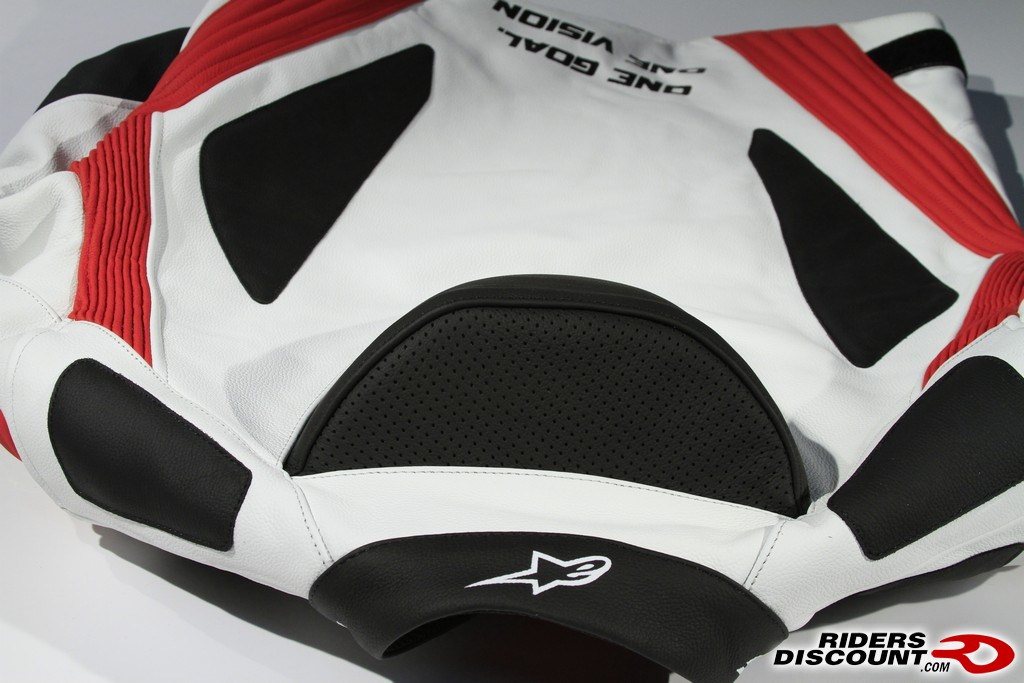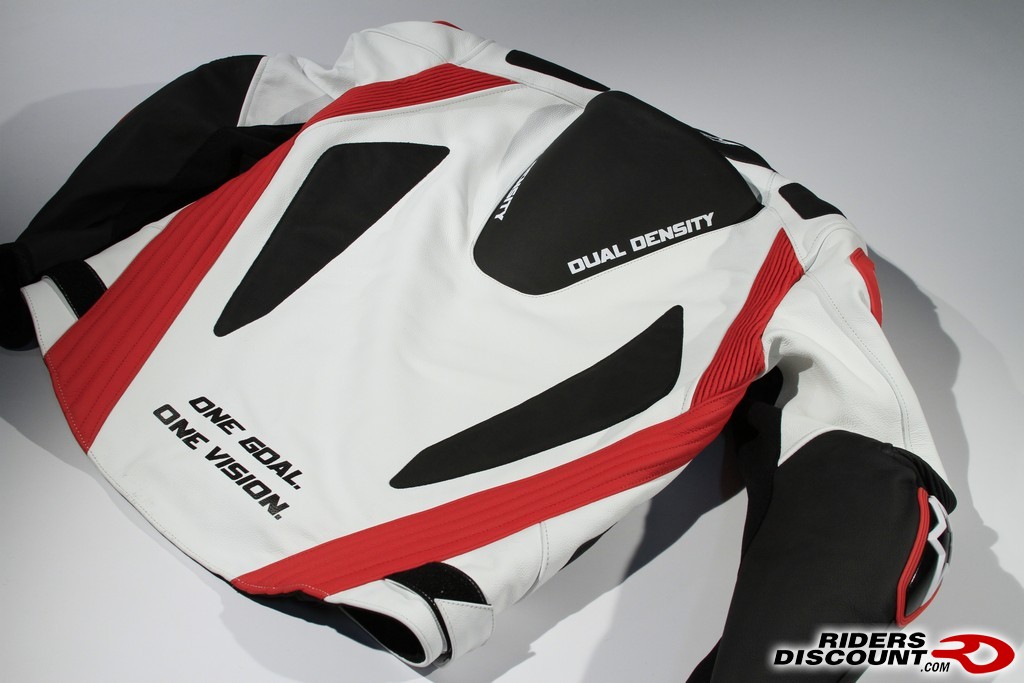 Back protection in particular, is open to a few choices. Obviously, you can retain the PE padding but why would you when better, more protective options can be had for little extra money? CE Level 1 armor is available which replaces the PE foam back protector in the form of an RC back protector. And, for the ultimate in safety – an Alpinestars Bionic Race Shield can be snapped into place within the jacket's liner for CE Level 2 protection. The three snaps shown here allow you to position the Bionic Race Shield Back Protector in the best manner possible for your needs. Call us so that we may guide you to the appropriate level of protection for your specific needs.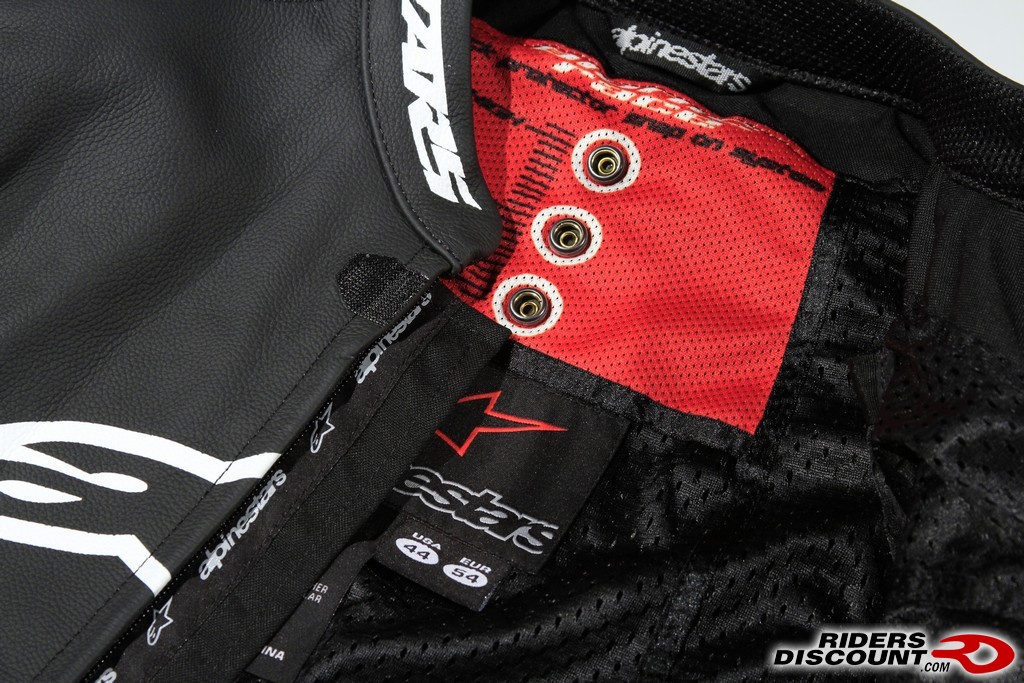 The GP Pro motorcycle jacket is available in three colors black/white/red as shown above - solid black …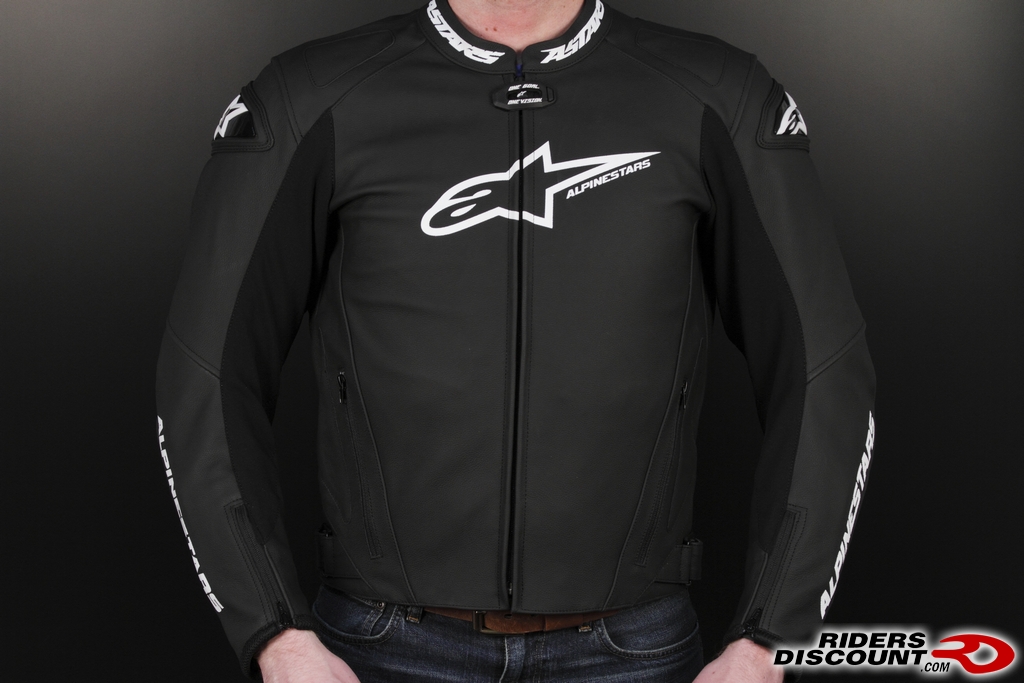 … and black/white/blue.