Well on Monday I made the trip to Schnitz Racing in Decatur, Indiana to have Ryan Schnitz tune my 06. From the results I got I am pleased and just need to "butt dyno" the results. First off a list of my mods
BMC Race Filter
Muzzy Block Off Plates
Arrow Slip-On Exhaust *Shortened*
Stock Mid-Pipe with Cat removed
Kawi Race Intake Cam *Stock Position*
Kawi Thin Head Gasket .50mm
PC3 USB
PC3 Ignition Module
Forgot to mention that this is on 93 octane pump gas.
Before I hit the dyno there were a few things I noticed.
1) The bike was rich down below 6k
2) It was really rich below 3k and would dog and sometimes stall on decel.
And the Results:
The First is the final run after the map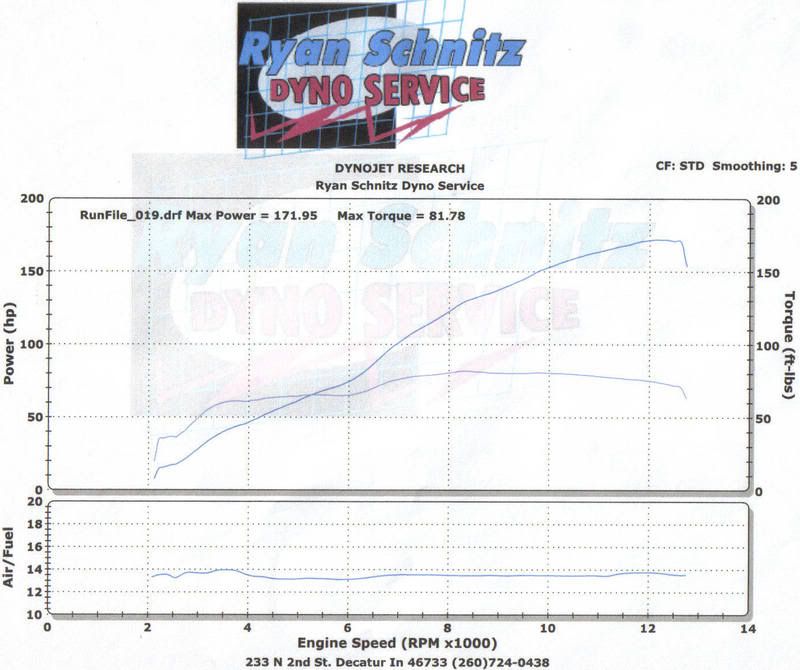 The second is the first initial run and the final run together
As you can see from the two runs together is that I did not rain a ton of power. I gained a few hp which is fine. The thing that interest me the most is the mid-range. if you look at the a/f comparisions there is where most of the change came in. He smoothed out the a/f throughout the mid-range. Hopefully this should get me more responsive power. That would be nice becasue this is a track bike. By the time he was done the bike did sound a lot "happier" as it wound up. One thing he did recommend and I did was the dynojet rev xtend. The code is in there and now I just need to ride it to see how it feels.