SOLD! - 04-05 Track / Race Bodywork
SOLD!
Full set of Track Bodywork professionally painted with new windscreen and D-zus Quick release fasteners in EXCELLENT CONDITION!
This bodywork underwent about 40 hours of fiberglass work and body work before paint to reinforce the fiberglass at all stress points.
Bodywork Mounting lines up perfectly, fasteners are also brand new and work great.
The NEW windscreen comes already mounted to the upper with a set of red anodized allen bolts.
The brand is Hotbodies, but as I said it has a ton of reinforcing done and body work so it's stronger and looks better than new!
Shipping is expensive, it's already carefully packed into two BIG boxes with packing peanuts so it won't get damaged during shipping. Shipping will probably cost up to $150 due to oversized shipping charges. I cannot ship overseas because USPS won't take boxes this size and fed-ex and UPS both want over $1000 to ship :eyecrazy:. So, shipping is available to US and possibly canada ONLY(because USPS will ship to Canada I believe)
Here's a rundown of what it would take to do this yourself:
New set of Hotbodies $649 - link to their website(note it doesn't come painted or even finished for paint!
http://www.hotbodiesracing.com/en/prod_193_race_bodywork_kawasaki_2004-05_zx10r
Windscreen $70 , bolts $15 - link below
http://www.hotbodiesracing.com/en/cat_11_windscreens
D-zus Fasteners $35 - plus you have to line them up carefully and drill/install yourself!
Fiberglass work = money for material and MANY hours of sanding
Body work MANY hours of sanding and , well, body work :badteeth:
Paint $350
So, this is a GREAT deal for anyone who is looking for track or race bodywork.
$500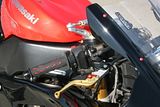 ________
Ford V-8 Picture