Squid
Join Date: Jan 2016
Posts: 1
Sensible value
---
Hi folks, am UK based......any comments on a price for a black C1, replaced engine, few mod's, a few nicks but for the mileage good condition, mileage circa 28,0000. Runs beautifully, pulls like a train still.
Track Day Rider
Join Date: Oct 2015
Posts: 107
They are going for 3500-5000 here in USA, convert to euros I guess and you'll have a sell price. Sweet looking gen 1 btw
That's a good starting point, but it's worth what someone is willing to pay for it, so it could be at the higher end, or lower end, just depends on the demand in your area for a Gen 1...
Great looking bike btw!
---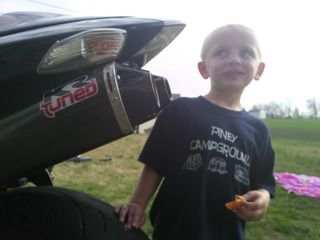 Quote:
Originally Posted by
nakedinseattle
View Post
i could give two shits if you were taking a bubble bath in applesauce being fed grapes by lemurs with electrodes attached to your nipples in the bed of a semi truck, as long as you're not holding up traffic, go for it
Bloo Moderator
Join Date: Nov 2004
Location: SAC,CA
Posts: 23,742
Welcome.....but I don't understand your question.
Are you wanting to know how much your new bike is worth or are you selling because if your selling you will have to wait a month and get 25posts in conjunction....Please read the rules and Stickys when you sign up for membership....thanks.
On a side note of course it's a great bike I am biased use to own as much as 3 of them over the the years yes the new Bikes have a ton more HP but none of them have the power to weight ratio Animal as the Gen 1 ZX10R....Go to the Drag Strip Forum they are still King for the fastest Ninja's ever made and agree with others that is a Great looking bike.
bloo
---
____________________________________________
Sent from My Computer via DSL mid to low service Firefox updated version, sometimes wireless sometimes Wire from the garage depending on connection speed.
Currently Active Users Viewing This Thread: 1

(0 members and 1 guests)