Squid
Join Date: Jun 2011
Posts: 35
See you got rid of them.....thanks......sorry about the "PM" just realized what you meant.
Is still Slo
Join Date: Nov 2008
Location: Colorado
Posts: 1,538
No problem.... keep watching this forum though for future giveaways!!!!
---
2015 ZX10R - Archer flash+goodies - Arrow - TechSpec lock kit tank pad - Spiegler lines
CL Pads - 520 kit - LSL sliders & rearset - Yoshi case guards - custom seats - Gyrocam GoPro 4 Silver
Street Rider
Join Date: May 2012
Location: NC
Posts: 98
Thank you
---
First, thank you for this post. It was pretty freaking awesome. I was just talking about this forum in another post and this confirms what I wrote.

Just signed up, and was just about to order these. Wow.. I literally looked at the site from nicecycle. Well if anyone finds these in black and realizes they don't need them again, I just posted a topic in general too. Brand new rider 3 months, and I have a '12 ZX10R lol.

If anyone finds good deals again let me know!!

Tim
ZX-10R enthusiast
Quote:
Which means it is possible
micro loop extensions
to create a fabulous bracelet or even necklace which reflects all about you,
loop hair extensions
_______
So, since the spam bot bumped this thread, I just wanted to say....
Holy hell tacp, that vortex stand has stood the test of time!!!!
---
Strictly for my Ninjas
2011 ZX-10R ABS
17/41, Woolich Racing Tuned ECU and QS, Rifleman's 1/5th throttle insert, CL XBK5 pads, Yosh case sliders, Mivv Carbon w/ Ti Akra link
What up Tacp, I've got some friends in the 24th STS...I don't say what I do, but its also some pretty cool shit! Maybe we've crossed paths overseas...
---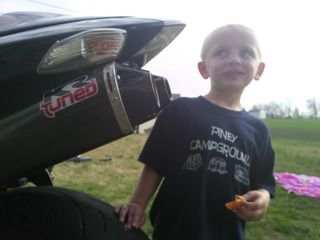 Quote:
Originally Posted by
nakedinseattle
View Post
i could give two shits if you were taking a bubble bath in applesauce being fed grapes by lemurs with electrodes attached to your nipples in the bed of a semi truck, as long as you're not holding up traffic, go for it
Dude, yea that little vortex rocks. I've tried grinding/primer but it just rusts over again. It's rock solid and was only like $50.

Shift, I'm sure we have. There's very few of us floating around. This career field is going to shit quickly. I should have bailed and went to an sts years ago when they started pulling JTAC's, but it didn't fit with my schedule at the time. Oh well, 5y11mo's until retirement.

You shoulda been on my PZ last night... It was nuts!
---
1990 CR 125 - blow'd up
2005 SV1000s - sold
2012 ZX-10R - sold
1987 YZF600 Track-only death machine
Street Rider
Join Date: Mar 2013
Location: Oklahoma City, OK
Posts: 50
Came in to drop a line
That's so awesome that you did that (to the OP).
I'm Active Duty USAF, currently over in Korea. Been here for a month, and have 11 to go until I get to be back with my family. My wife and kids are back in Las Vegas.
Just wanted to say thanks, for recognizing us. I appreciate that a lot, even though I missed out on a cool contest like this.
(I own a 2011 ZX10R, in mean green
)
Thanks man!
-Matt (or SSgt Rogers, which ever you prefer! lol)
Chairman of the Board
Repped for that Slo. Great thing to do and thanks to all that serve.
---
Yep, still using the Driven axle blocks too :D
---
1990 CR 125 - blow'd up
2005 SV1000s - sold
2012 ZX-10R - sold
1987 YZF600 Track-only death machine
Currently Active Users Viewing This Thread: 1

(0 members and 1 guests)