2011-2015 Kawasaki ZX-10R Race ECU Flash **Special Price!**
---
We are offering a special promotion only for ZX-10R-Forum members. Our price was previously $220, but we are offering a discount of $110 dollars per ECU so that we can offer members here a competitively priced true 'race' ECU flash.
Dyno Info Below: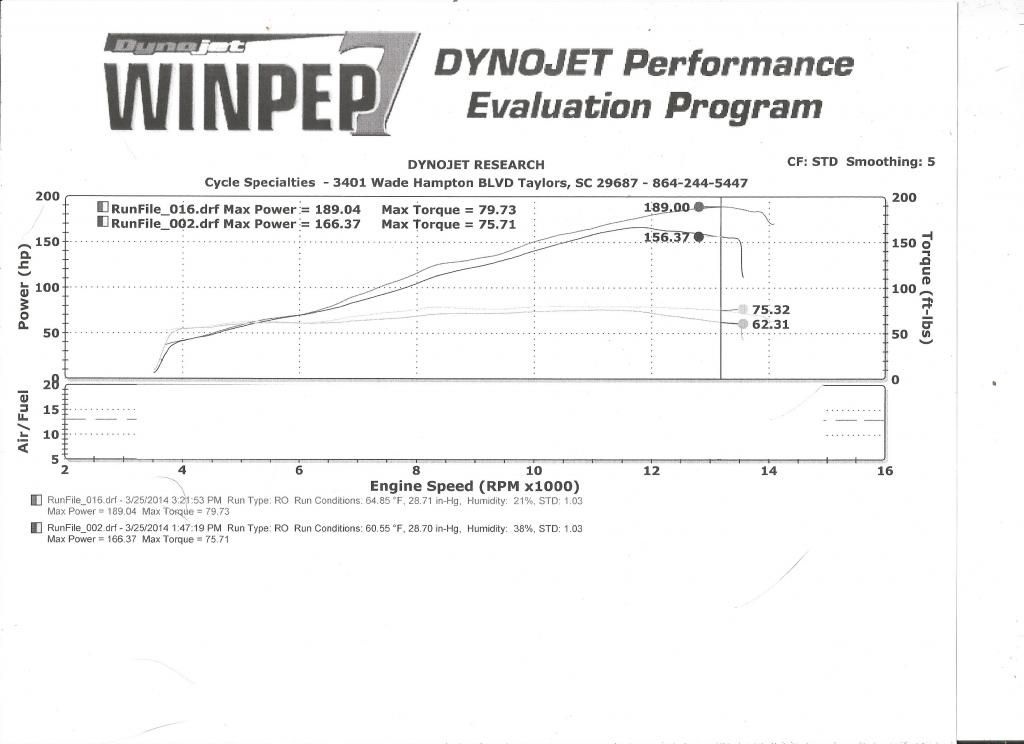 This ECU flash will completely re-tune your OEM ECU to maximize performance while maintaining OEM-levels of reliability. We achieve this through removal of all restrictions, optimizing of mapping and tuning for various exhaust configurations. We typically see 20-25 peak rear wheel horsepower at the wheel with this service, on an otherwise stock electronically ZX-10R. Gains are as high as 33hp at certain regions, as seen above in our dyno. The bike used in the above dyno was entirely stock aside from an Arrow slip on exhaust and cat delete. It made 189 rear wheel horsepower after our ECU tune, gaining 33hp at 12,750 RPM.
There may be less expensive flashing services out there, but what sets us apart and makes our flash such an excellent value is the extensive dyno testing and tuning we have done.
Most other providers of these types of services are simply purchsing DIY flash kits, using generic or mildly improved mapping that leaves a lot of power on the table and compromises the overall smoothness of the motorcycle. We've spent countless hours on R&D and dyno development and the end result is the flash we offer.
Features included are:
- Removal Of All Restrictions
- Customized Fuel Maps
- Customized Ignition Maps
- Customized Secondary Throttle Plate (STP) Opening Maps
- Customized Fuel Trim Maps
- Adjustable RPM (rev) Limiters
- Adjustable idle tables
- Disabled Top Speed Limiter
- Disabled injector cut
- Disabled Stock O2 Sensor
- Disabled Exhaust Valve
- Retain last Traction Control Setting
- Change Traction Control Settings while riding
This is a mail-in service, your ECU must be removed and shipped to us. Our ECU handling time is typically 1 business day.
---
Last edited by Superbike Unlimited; 01-23-2015 at

08:55 AM

.
Your absolutely right. Thanks for pointing that out!
Most likely. We could have it restored back to factory for warranty purposes, if needed.
Well, I wouldn't want to do that. If I mod something and break it I'll pay for it.
Huge price break for ZX-10R.net! We want you guys to do the 'Pepsi challenge' with our race ECU flash service and give us feedback!

New price: Only $110 per ECU.
Thanks guys! My ECU is on it's way back and hope to check it out soon!
Quote:
Originally Posted by
Superbike Unlimited
View Post
Most likely. We could have it restored back to factory for warranty purposes, if needed.
Obviously this is not for a street bike, but do you do a reflash preserving the O2 sensor, exhaust valve, etc. for a street bike in stock trim but just flashing it to EU standards (to get the 200 PS)? I was considering Gulls for this because they've got a great reputation, have done all the dyno work, and will stand behind their work. But they're pretty spendy these days at $375.
It's Guhl's, of course, dang spell checker.
Currently Active Users Viewing This Thread: 1

(0 members and 1 guests)