Quote:
Quote:
Originally Posted by
dudewhrsmybike
View Post
This is how the spacers work that jdub made for me
that looks nice!
Not to scale :)
He also made me some 5mm spacers for when I do my Nissin caliper swap. I haven't used the gen1-3 rear wheel setup yet but if anyone's considering the wheel swap jdub will prob fab up some spacers for you.
WSB Rider
Join Date: Nov 2015
Location: uk
Posts: 699
Im watching this post.
Just looked at the 3 spokes on my bike and thought why the hell did kawasaki fit 3 spokes. I prefer multi spoke.
But id never want to change to a heavier wheel just for looks.
Look up zzr1400 wheels.
They look quite cool
WSB Rider
Join Date: Dec 2009
Location: Greece
Posts: 507
Huge mistake from Kawi the 3spoke wheel
---
Gen3 : Arata full exhaust , KN air filter , 520 DID Renthal , oem Ecu converted to Race Kawasaki Ecu , milled ported head , Kent camshafts , lowered , Pk shifter , 14k rev limiter . Ecu tuned by TRE ( mr Balogiannis)
http://www.youtube.com/watch?v=eLsF4A1k_ew
WSB Rider
Join Date: Nov 2015
Location: uk
Posts: 699
Despite what i said i purchased a set of 2008 rims.
Might use them for road and gen4s for track of o can make them interchangable easily
You should offer them up your in CNC so could possibly make up a kit for other folks just a thought .
WSB Rider
Join Date: Nov 2015
Location: uk
Posts: 699
Quote:
You should offer them up your in CNC so could possibly make up a kit for other folks just a thought .
Possibly could make some conversion kits.
Ive posted this in another thread but i will paste it in here too....
Well ive been doing some measuring up today and the front will fit but the discs are 1mm further appart on a gen4.
The rear does have different offsets and i though id just stick the gen4 carrier on the gen3 rim but although it fits ok the offset is 2mm different on the carrier.
The wheel offset on the carrier side is 2mm different aswel so if you run gen4 carrier on gen3 rim it will be 4mm out of alignment which is a bummer as it would solve the bearing diameter if i were to convert all to 25mm spindle.
So you ideally need a gen3 rim and carrier to keep the left offset the same.
The right offset is different too as the brake disc doesnt sit in the same place.
I cant remember the measurement off the top of my head but im sure it could be got around.
So to me i need to have them fully assembled and weigh them with the spindles in as they dont seem like they are much heavier if at all.
Ideally i would have liked both rims being made the same diameter to make wheel swaps easier.
Below is a pic showing 2mm difference in height from left gen3 carrier and right gen4.
Height of bottom of sprockets is different and the bolts are sticking up higher on the gen4.
All measurements are carried out using vernias but not 100% as ideally i need to use my height guage at work for perfect measurements.
That there is good information
---
192MPH stock engined 2008
I had the same problem with the GSX-R rims the discs sit 4mm further apart, I used 2mm spacers on each disc carrier to align them with the calipers.
I also had me made a custom rear 5mm spacer attaching on the rear rim to keep the rear disc aligned.
You could move the rear caliper with some spacers towards the disc/wheel hub if you don't change wheels that often.
No problems so far after 3-4K miles
---
Last edited by cursed; 05-15-2017 at

06:30 AM

.
WSB Rider
Join Date: Nov 2015
Location: uk
Posts: 699
Quote:
I fitted Gen 3 wheels to my Gen 4 with a bit of machining on the wheel to use gen 4 axle with captive spaces.
Front was just a straight swap.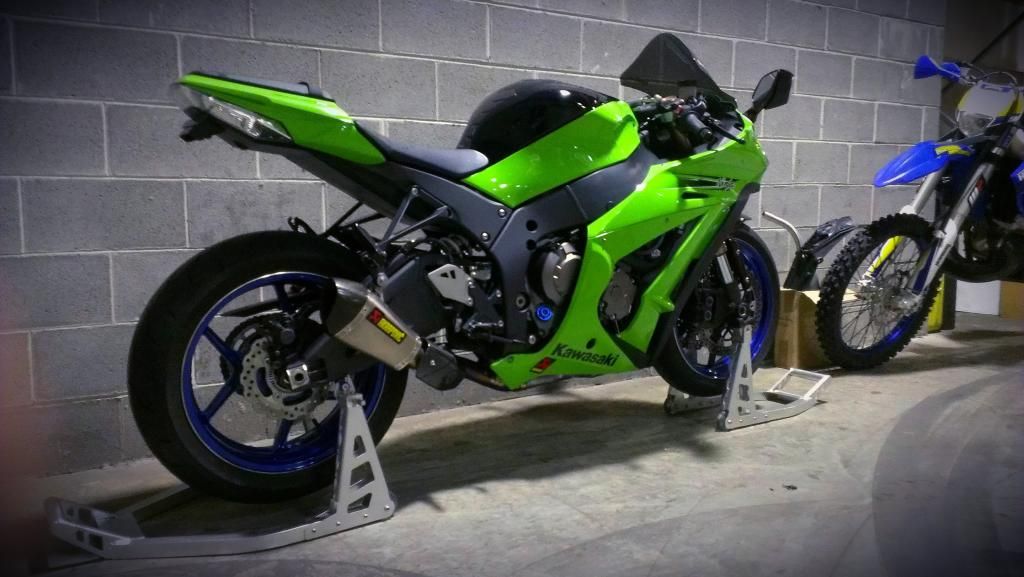 Have you got any more pics of this bike? I cant make my mind up. Any outdoor shots?
Street Rider
Join Date: May 2005
Posts: 81
I read a lot about wheels swap between Gen1 - Gen4, but nothing about Gen 5.
I have a set of PVM's from my Gen1, plus axles and spacers, and I'm asking if is possible to install them on my new Gen5, making some arangements on it, like using the old axles or machining the spacers or putting new bearings.
I read different and valid ways to make the swap, but any information will be welcome.
Thanks.
---
ZX10R 2005, Kevlar brake hoses, Lowering bones, Intake kit camshaft, Leovince Evo2 full Exhaust, Brembo master brake 19x18, Fiberglass fairing, Brembo M4 Calipers, PVM Wheels, Axis front Rotors.
Currently Active Users Viewing This Thread: 1

(0 members and 1 guests)