Quote:
Old bike, so why buy it. Have to go g4 or newer with the 10; I would not buy the g4 unless you can find a new one and get the extended warranty; same with g5.
Quote:
Cheers guys. Saw it, checked frame, bought it, rode it, nearly high-sided it, loved it. Sorted.
Nice bike mark! If you want to get a more OEM looking ninja decal on the mid fairings just shoot me a PM.
---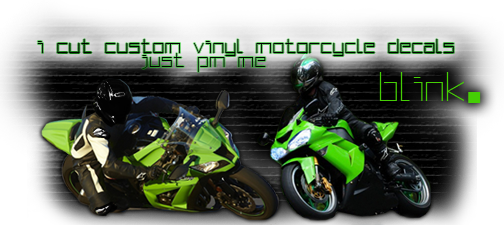 Quote:
Cheers guys. Saw it, checked frame, bought it, rode it, nearly high-sided it, loved it. Sorted.
She is gorgeous Mark! I gots mucho Gen 1 love!!
---
BURNOUT
.....
Attitudes are contagious. Mine might kill you
.
Squid
Join Date: Feb 2018
Posts: 4
Thanks for the info guys, yep...didnt spot that the graphic 'ninja' had been changed doh! I'm normally more OCD than that so will change back to OEM.

This bike is awesome! Its deepest darkest winter over here in UK at the mo but I found some dry (but cold) roads last night and managed to get all the power down...hells teeth this thing is an animal! Need to be careful feeding in the throttle out of bends and it changes direction so much more quickly than my GSXR1000. I assumed it had to be geared down as the acceleration was so fierce but turns out I'm still on the original 17t sprocket. I know this sounds silly but I think a 16T is going in just to make things more 'animal'. The bike has been set up on the dyno for the Akrapovic exhaust and is making a nice 159.6 rwhp which I assume is pretty typical.

To be honest I think I read the 'for experts only' rep this bike has with a cynical set of ears on but genuinely I could see how a less experienced rider would be so much better off on the GSXR. This bike will just do what you tell it regardless of the consequences whereas the GSXR will remain smooth and composed in most situations. I think the press saw this as a negative but to be honest I love it.

Also I see lots of posts about how to make the braking better...really? maybe if theres fade on a track but for the roads they are strong, progressive and with lots of feel, even with our cold roads I managed to get the rear end hovering...The bike I had before this was the 929 blade and these brakes, or maybe the way you sit over the front of the bike on the ZX10, make the blades feel a bit lacking in feel.

Only problem with the bike so far is an oil weep from the sprocket side. I've wiped off the residue and will try to track down the source. Does anyone know any particular problem areas on the 04? oil pump, sprocket seal, clutch pushrod seal etc? It might help me track it down quicker.

Anyway...top bike...wish I'd had enough money for one years ago but I suspect this is the one for me...I cant think what the hell I'd replace it with...just need some warm dry roads and I think I'll be in superbike heaven.
Squid
Join Date: Dec 2016
Posts: 17
If u push harder on the road, brake start fade .
Change valve retainers!!!

oil pump is inside . On the left side is only sprocket seal, gear change shaft.
Currently Active Users Viewing This Thread: 1

(0 members and 1 guests)