Can anyone recommend light weight battery?
---
I have a 2016 ZX10R ABS and want to put a light weight battery in my bike. I'm thinking Lithium. Has anyone installed one you can recommend? I also have an alarm and LED lights. The LED lights draw very very little so I'm not worried about them but I have to have a battery that can handle the drain from the alarm.
Squid
Join Date: Feb 2017
Location: Rockingham County, NC
Posts: 2
I've been on a search as well, just haven't decided. Right now the Ballistic Performance Evo3 lightweight Li-Ion battery is top of my list from the positives I read on it (reviews) and its weight comparisons to the competition weighing in at 1.8lbs and OEM fitment.
Track Day Rider
Join Date: Jul 2012
Posts: 126
I have a three year old Shorai that works very well....However...

My bike is dead when I shut the key off. No current draw.

These batteries are awesome. I dont suspect there is much difference in any of them.

What they say you cant do is ever let them run completely flat. That could be a problem, in your situation if you parked your bike, and left it for.....

And thats the issue.

Not sure how long you could go with that alarm drawing juice from the battery before it ran so low it became a problem.

If you were to get the battery, and the companies charger, that should work well. The alarm can do its thing, and drain the battery, but as soon as it runs low enough, the charger kicks in and tops up the battery.

I chose the shorai for two reasons. One, it comes in a nice, heavy duty , plastic box. Its easy to mount in a battery box.

Two, there was not as many to choose from, back then.

The shorai brand has an optional charger that would work well for what you are doing. Also, it hooks up and balances the individual cells of the pack.

I imagine they all have this feature, but back then, it was harder to find.
---
Last edited by rcannon; 06-16-2017 at

08:32 AM

.
Shorai seems like a good company.

I would install a quick connect battery tender for the battery and connect it only if I didn't ride it for 4 days or more. That should take care of the drain issue. I know I have to get a special charger too for battery specific type.
GP Rider
Join Date: Nov 2011
Location: Indianapolis
Posts: 1,966
Ive had a Anti-Gravity in my 636 for about 4 years now and its been a great little battery. I hate to say it but i never put it on a charger - i really need to get one soon! But even still, it starts up every time even after sitting for 6-7 months in winter. Plan on getting one for the 10R soon.
---
Rock over London, Rock on Chicago!

We will all die but only a select few of us will ever truly live.

..known Internet Suspension Warrior....And Plinko Master!

I've been using these Battery Tender batteries for about the last 4 years and haven't had any issues with them. Have one in each of the '08 ZX6Rs, the '14 ZX10R, and the '16 ZX10R. I run the 120 which I would say is the minimum you would want to run.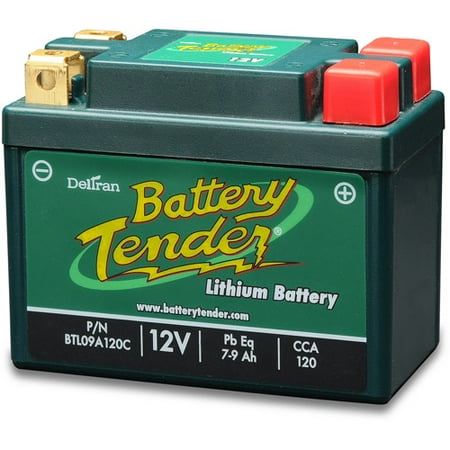 https://www.walmart.com/ip/Deltran-B...l13=&veh=se m
---
.
WSB Rider
Join Date: Nov 2014
Location: Santa Cruz, CA
Posts: 588
ABS bikes need different batteries than non abs bikes... take that into account.

never had a lightweight battery, since I get batteries for 50usd.

but never heard a bad thing about the shorai.
Chairman of the Board
I have a Shorai. Bought it a while back from Mike at Riders Discount. Bought the Battery Tender Jr for lithium batteries along with it. Been great. Zero issues and super light.
---
Track Day Rider
Join Date: Jul 2013
Location: UK
Posts: 198
Currently Active Users Viewing This Thread: 1

(0 members and 1 guests)