I really need to get out of the house
Join Date: Dec 2003
Posts: 34,537
Quote:
Here is the tracking number I received, so he even went through the trouble of creating a label. If anyone can tell info from it (address, etc) I'd appreciate it as well.

UPS 1Z9268750398804416
any info directly from UPS on #??
---
Those who stir the shit pot should have to lick the spoon.
Can you give us a full rundown on what happened...
What you bought, when you bought it, how much you payed and on what date and when he was supposed to ship it out...
---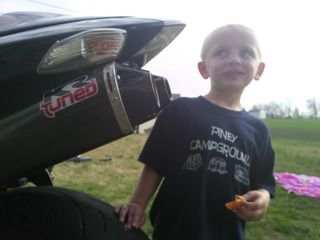 Quote:
Originally Posted by
nakedinseattle
View Post
i could give two shits if you were taking a bubble bath in applesauce being fed grapes by lemurs with electrodes attached to your nipples in the bed of a semi truck, as long as you're not holding up traffic, go for it
I'll be happy to clarify. I'm building a race bike from a wreck I bought. He wrecked his as well and was supplying me with the laundry list of parts I needed. Here's copy/paste from the PMs:
11-11-2015, 02:01 PM
DKMZX10R
Sorry for the delay. I can not offer the clutch, I don't want to tear into the motor. I never upgraded to the better 6or14 calipers, still running the stock 10r set up. I'll gladly include those in the deal tho, if you'd like.
I can have everything removed and shipped for $400. Just compiled a ton of ebay prices, and deducted a fair amount for one time sale. Let me know what you think.
Fuel Filler and Ignition, only 1 key.
Left and right rear sets
intake, center ram, and left and right boots
OEM Fairing Stay
OEM Gauge Cluster
Left and Right Clip Ons
Throttle Cable Assy
Front OEM Master
rabbit
By clutch I meant the lever and perch on the left clipon, not the actual assembly in the engine. Basically I was looking for complete hand controls along with the foot controls. Throw that in, give me a paypal and I'll take it all for $400. I also need the rear brake master cylinder and reservoir. Brake line too if you've got it. The caliper is there but nothing else. Ugh!
DKMZX10R
Ahh got it, so the levers are both gold anodized CRG levers. I was going to sell them for a bit more. I'll toss those in with the entire rear brake assy as well. Can we do $450 shipped?
Paypal is
daniel.mcewan@icloud.com
any questions call or text 619-836-2544
Then, after several worried inquiries, I got this final PM from him. He hasn't returned my voice mail, texts, PM, or email since. Tracking info says there's a label but it's never been shipped.
12-02-2015, 12:10 PM
DKMZX10R
My shipping guy back at the lab is getting the parts out today for you. I just got the tracking number now. Sorry for taking so long, they've had me on the road closing up issues before the new year. I'm a field service engineer, and or world traveler, I'm never home.
Tracking Number: 1Z9268750398804416
Service: UPS Ground Service
Guaranteed By: End of Day Friday, Dec 4, 2015
Bill Shipping Charges to: Shipper's Account 926875
Charges: 18.28 USD
I really need to get out of the house
Join Date: Dec 2003
Posts: 34,537
any new developments??

BD
---
Those who stir the shit pot should have to lick the spoon.
Nah. I check his profile every few days to see if he's logged on. He's gonzo. Lesson learned. Bummer it was for quite a bit of money, but more of a bummer that I'm left sourcing the parts bit by bit. Buttonwillow is in 2 months. I'm going to skip first round and be ready for Sonoma end of April - I hope.
Currently Active Users Viewing This Thread: 1

(0 members and 1 guests)