Alpinestars Supertech R Marquez Boots Limited Edition
---
Brand new for Spring 2017, the Alpinestars Supertech R Marquez Boots were designed for MotoGP's Grand Prix of The Americas at Circuit Of The Americas. They feature an American Flag/Statue of Liberty graphic, as well as Marc Marquez's number 93.
These are an extremely limited edition boot with only 200 pair offered worldwide.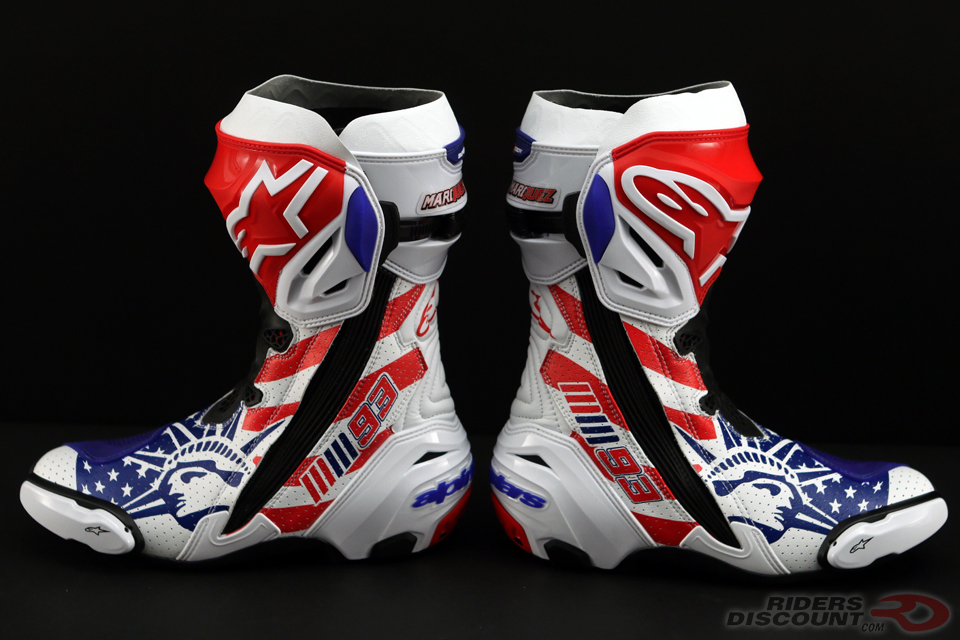 Made of microfiber and synthetic leather, the Supertech R is both light and durable. A new front flex area made up of thermoplastic polyurethane (TPU) and mesh provides a more breathable and comfortable fit. This new construction of the front flex area is more abrasion resistant than the original version.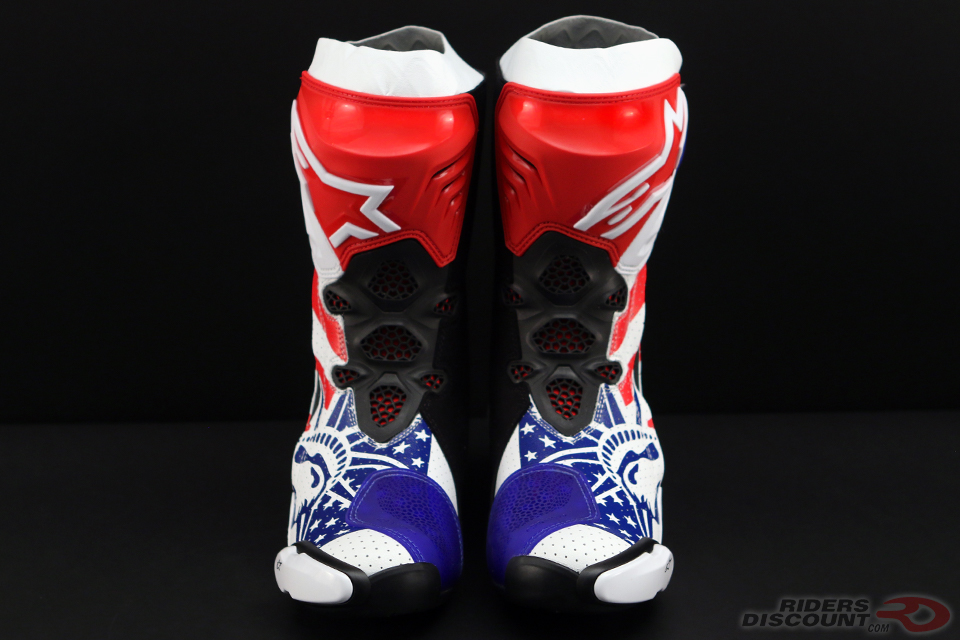 The sole of the boot is made out of lightweight rubber that is flexible for when the rider changes positions. Additionally, the boot contains a replaceable, co-injected TPU/aluminium toe slider for added toe protection. The protective polymer heel plate slider is also replaceable.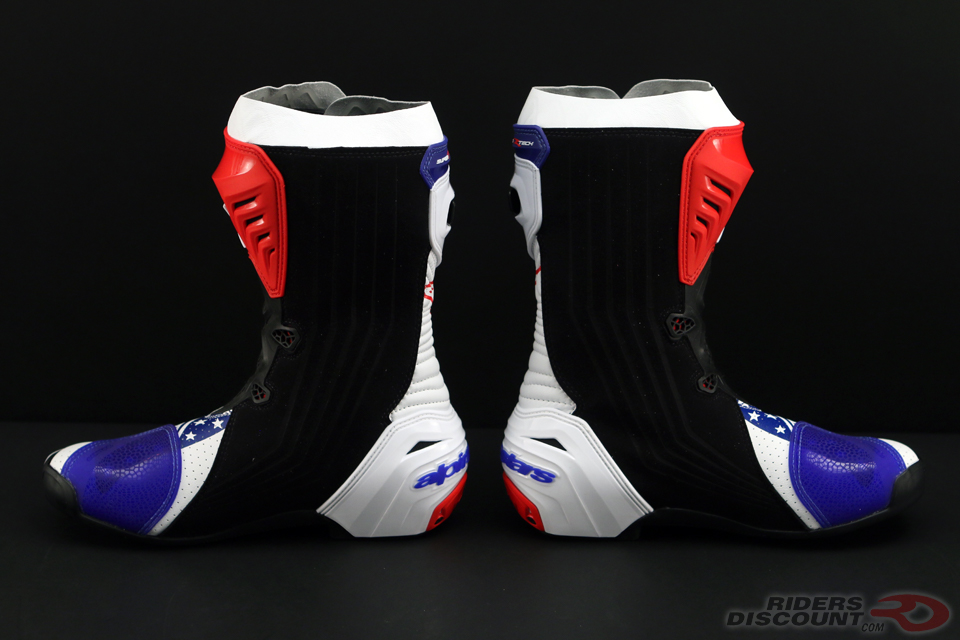 The Supertech R has accordion microfiber stretch in both the Achilles and the top of the boot, making it easy to put on and take off. The boot is equipped with both a TPU zipper and a Velcro tab to ensure the boot stays closed during use. It also features a micro-adjustable ratchet top closure for a safe and precise fit.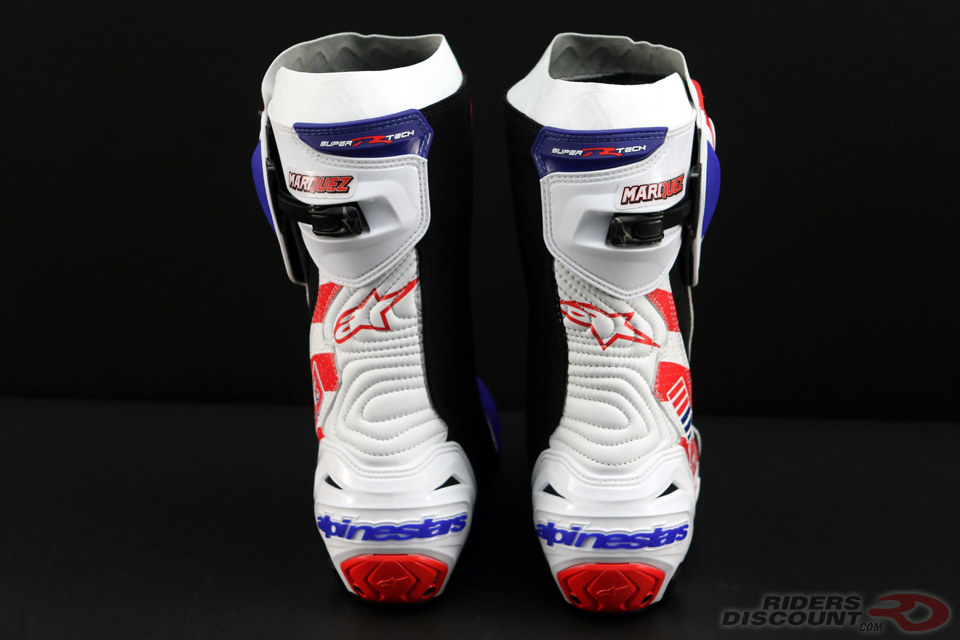 A completely removable inner ankle brace incorporates protection around the side and back of the foot. 3D mesh material wicks moisture, keeping feet cool and dry.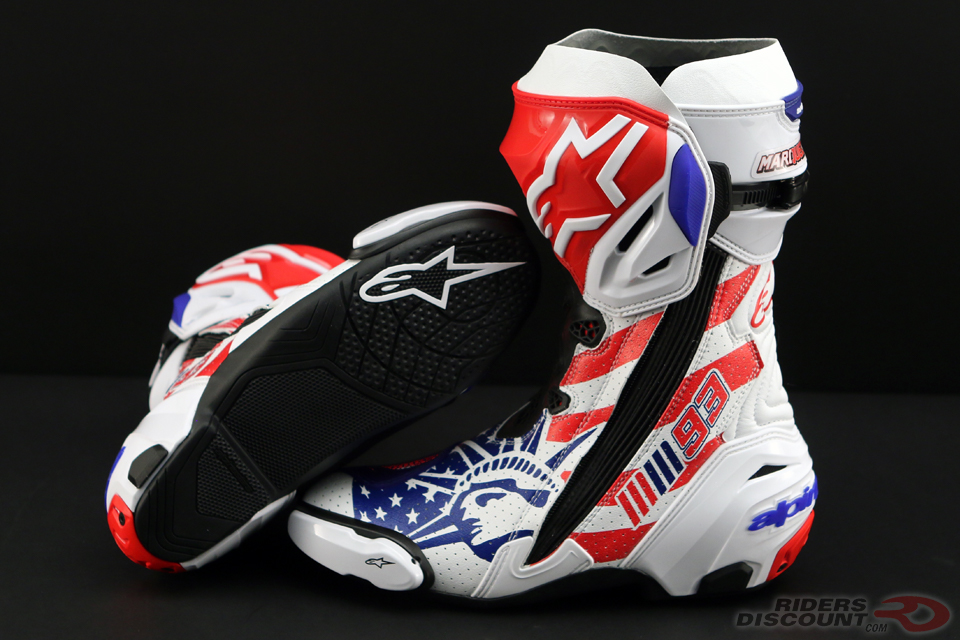 The Alpinestars Supertech R Marquez Boots are CE certified to EN 13634:2010 standards.
MSRP $499.95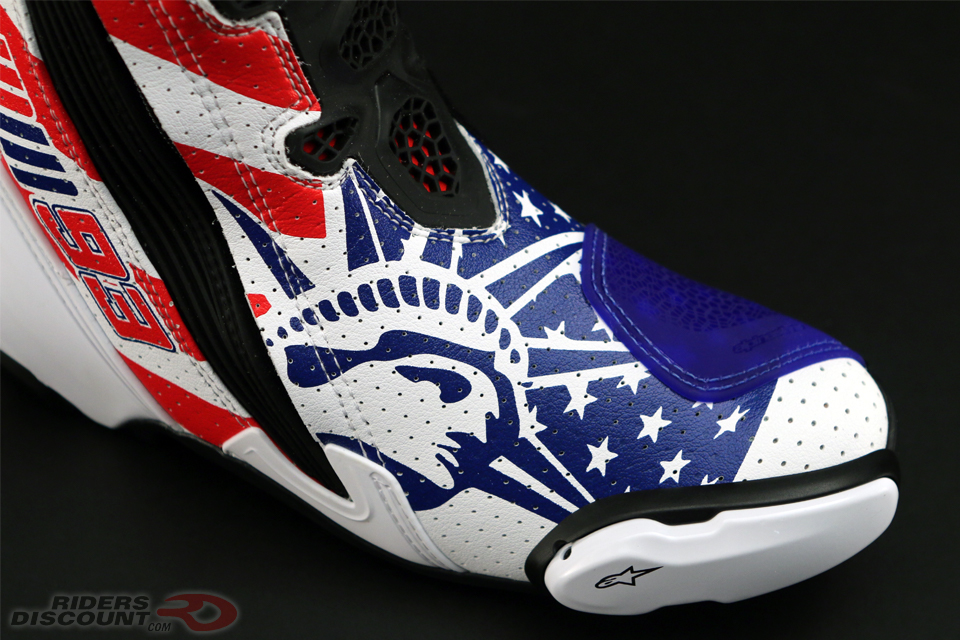 Not yet listed on our website, you can order your Alpinestars Supertech R Marquez Boots by calling
MIKE
at 866.931.6644 ext.
804
. Is email more convenient? Send us a private message through this forum or write to us at FORUM at RIDERSDISCOUNT dot COM, and we'll get back to you right away!
The best thing about these boots is that they are the same price as the standard Supertech R boots.
We are sold out of the size 45. We currently have two left in size 42, one in sizes 43 & 44 and two left in size 46. Give MIKE a call today to get yours before these EXTREMELY LIMITED boots are gone!
So now the 44's and 45's are gone. So two left in size 42, one in size 43 and two in size 46. The train is leaving the station, make sure your on it.
No one in FL buy these!
---
2013 ZX10R
Ohlin TTX rear shock, Brembo 19X20, Rifleman throttle insert, Graves Slip-on, Yoshimura engine and frame sliders, Woolich USB, Motoholders Carbon Fiber Intake and stay, Woodcraft clip-ons, -1, +2 gearing, EK 520 chain, Spielgler brake lines, Vortex rear sets/GP Shift, Vortex gas cap, CRG shorty levers, BMC race filter, Driven Block-off plates etc

2008 ZX10R- SOLD
Quote:
Originally Posted by
ridersdiscount
View Post
Haha.
You should take over the R6 forum from TJ so I don't have to come here to contact you.
---
2013 ZX10R
Ohlin TTX rear shock, Brembo 19X20, Rifleman throttle insert, Graves Slip-on, Yoshimura engine and frame sliders, Woolich USB, Motoholders Carbon Fiber Intake and stay, Woodcraft clip-ons, -1, +2 gearing, EK 520 chain, Spielgler brake lines, Vortex rear sets/GP Shift, Vortex gas cap, CRG shorty levers, BMC race filter, Driven Block-off plates etc

2008 ZX10R- SOLD
Currently Active Users Viewing This Thread: 1

(0 members and 1 guests)